Mont Blanc via the Goûter Route attracts a lot of people, from all horizons and with all levels of ability. The idea of climbing the route in a day, either as a personal challenge or simply as a way of visiting the "roof of the Alps" without missing the evening's aperitif, is attracting ever-larger numbers of experienced climbers. But it is still a mountaineering route, so, as always, speed must not give way to haste, especially if you're climbing alone. A short account of a blustery ascent.
It's important to get the facts straight when talking about the Goûter Route on Mont Blanc. Just because it is popular doesn't make it any less alpine; it is graded PD-, after all. But that doesn't stop some people talking about the Mont Blanc "motorway" as if it were no more than an overcrowded hiking trail. Of course, the technical difficulties are quite modest for an experienced mountaineer, but the altitude, relative solitude (on occasions) and weather can have a huge impact when climbing above 4,000 m. Not forgetting that "Mont Blanc is almost a 5,000-m peak, not a 4,000-m peak", to quote mountain guide François Damilano, who occasionally does one-day ascents of Mont Blanc with clients. As does Mathéo Jacquemoud, another guide and former holder of the record for the fastest ascent of Mont Blanc.
It is not about turning yourself into a skyrunner or speed-climber, drool dripping down your chin.
So why climb alone ? Well, why not ? It is not about turning yourself into a skyrunner or speed-climber, drool dripping down your chin. No, it's about doing a climb in the mountains for which stamina (3,800 m of ascent, 3,800 m of descent), adapting to the altitude and keeping to a schedule are the keys to a long and superb day out. All with a relatively light pack. On a smaller scale, some people like to do the Dibona in a day, whereas most climbers prefer to take their time and spend a night in the Soreiller hut. Likewise, the Aiguille du Tour can be climbed without sleeping at the Albert 1er (see our article here). So why not set off for Europe's highest peak in the early hours with the aim of being back down to toast its health before dinner ? Definitely the winning formula !
03:51 – A long approach
An early start is essential if you want to give yourself the best chance of reaching the summit. Starting from the car park at Bionnassay (1,405 m), above Saint-Gervais, allows you to get to the top of the Bellevue cable car, at 1,796 m, quite quickly.
A 22-litre pack is big enough to carry everything you need for a route in the high mountains: lightweight crampons (steel/alloy hybrid), ice axe and harness, an ice screw and a helmet. A 30-metre, 6-mm rope could also be useful should you (or someone else) get into a fix. Some people wear trail shoes that are rigid enough to take crampons with strap-on or hybrid bindings. Personally, I feel more at ease in proper mountaineering boots, such as La Sportiva Trangos or Scarpa Ribelles.
Add a water bottle and some hill food and you're ready to go. Hiking poles are also worth considering, because it's a long walk (or trot) to get to the start of the climbing – even if it's just the approach, it shouldn't be underestimated.
04:53 – Chamonix wakes up
From Mont Lachat (2,115 m), the glow of Chamonix, still sleeping, rouses you from the torpor of a mechanical plod, one step after another in the glow of your headtorch. The first signs of life begin to emerge from the darkness. Down in the valley but also in the distance, on the Aiguille du Midi or, straight ahead, the prow of the Goûter.
07:48 – The long-awaited couloir
The walk-in ends at the Tête Rousse hut (3,187 m). Above it rises the Grand Couloir, which some doom-mongers have pompously nicknamed the "death couloir". There are 600 metres of snow-dusted rock, with occasional handlines, to climb. At this hour, late compared with the usual timing for teams who do the ascent in two or three days, there is just one party ahead of you. Roped together, they slowly pick their way across the 40-m stone shoot, despite this being one of those places where you need to move surely but quickly. Alone, you can overtake them easily, without getting in their way. There's not much snow today, so your crampons can stay in your pack. The soles of your boots grip nicely and the climbing is easy, but the pace still slows a little. For good reason : the altitude and the need to save energy, two essential factors to keep in mind. There's still a long way to go.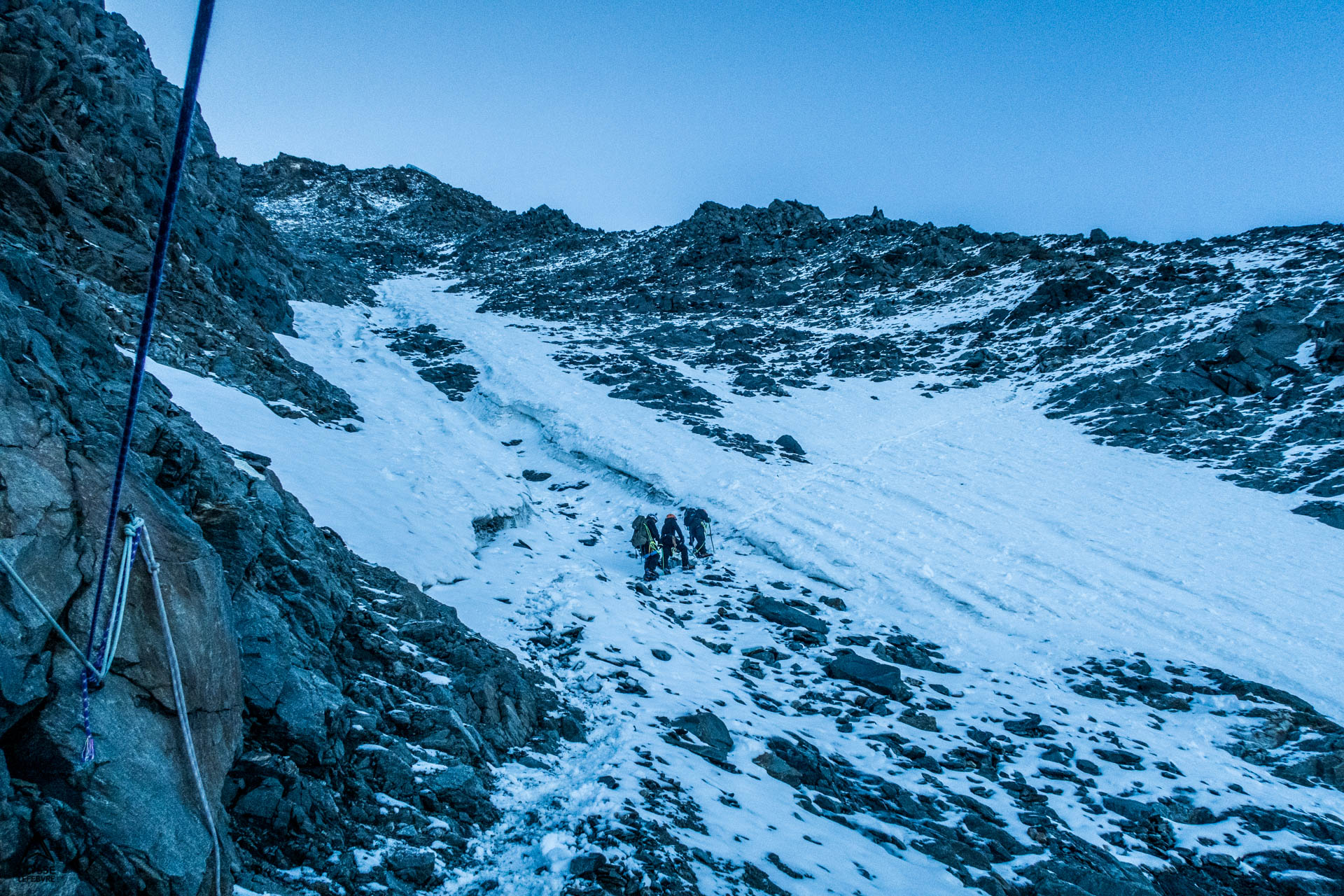 What not to do : It's better to move quickly and separately across the firing range of the Grand Couloir 
©Ulysse Lefebvre
The old Goûter hut (3,817 m) – still not taken down? – marks the end of the rock climbing and the gateway to the high-altitude world of snow and ice. To enjoy the solitude a little longer, it's best to take a food break here. At the new hut (3,863 m), a Tower of Babel just a few hundred metres further on, you will emerge without warning into the madding crowd.
Here you are : Dôme du Goûter (4,304 m), Col du Dôme (4,236 m), then the final push to the summit via the Vallot Hut (4,362 m) and Bosses Ridge (4,510 m). The route from the col is obvious but not clear. From here, you'll have to muster patience to get to the top. Another advantage of being alone is that you can move quickly and overtake other parties (politely, of course!) on the often-wide track. But don't just put your head down and charge ahead; it can be instructive to watch what other teams are doing. And you never know, you might bump into a friend.
12:04 – Summit, the halfway point
And here's the summit, windy today, stretching out in a long, wide ridge. Outpourings of joy, mixed with fatigue, are all around. Alone, for once you give yourself a well-deserved pat on the back. It's also a way of reminding yourself that the day isn't over. You are only at the halfway point and still have to get down without tripping over your crampons or bonking, which would turn the descent into a miserable struggle. You quickly take in the view, a unique 360° panorama. All around, everything is smaller, lower. Whatever people say, mont Blanc is a magnificent peak.
6 o'clock at the car
6:02 in flip-flops
6:45 at the local minimarket
No need to linger over the descent. You saw what it involves as you were going up and, more than ever, it's essential to stay focused. As always, the pressure falls away when you get back to the hikers' path, after Tête Rousse. This is also where the descent begins to feel long, physically and mentally. You start wondering whether trail shoes wouldn't have been a better option. Even if your pack is light, you regret carrying 650 g of rope for nothing… while telling yourself that it was a good thing you didn't need to use it!
After a short afternoon's hiking, at the time when the Goûter hut is sitting down to dinner, you get back to the world below and its more-sociable hours: 6 o'clock at the car, 6:02 in flip-flops, 6:45 at the local minimarket so you don't turn up for the aperitif empty-handed. By 7 pm you're sitting on the terrace while, across the valley, Mont Blanc still sparkles in the evening sun. Go on, say it, even if just to yourself: "I was there at midday. I was up there at midday; and now I'm back down here". Savour the end of a great day in the mountains, without fanfare, but without denying yourself the satisfaction of having visited the monarch of the Alps and making it home before sunset. Cheers!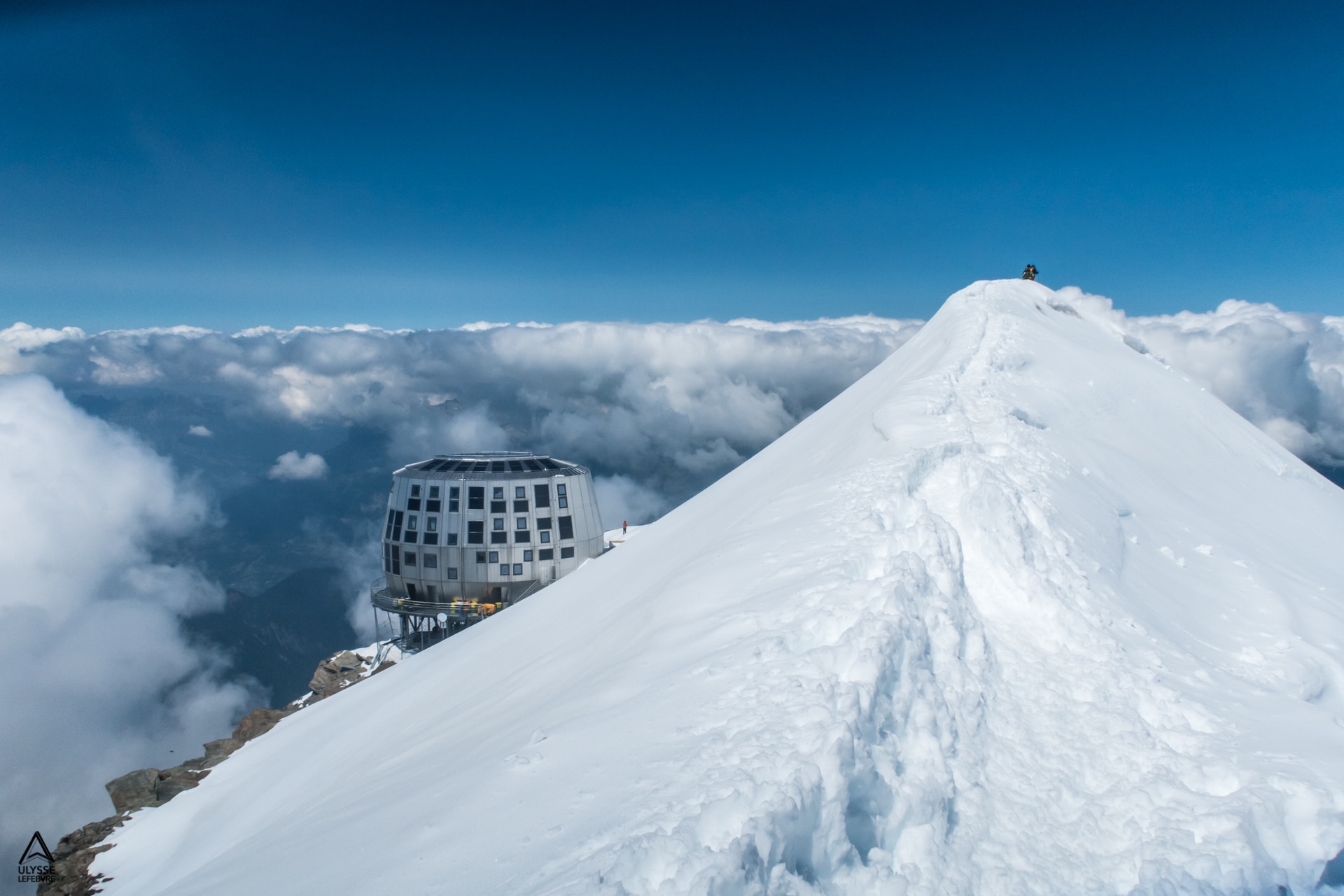 14:15 : Before heading down the Grand Couloir, the last difficult section of the day 
©Ulysse Lefebvre
Mont Blanc Range, Mont Blanc, 4,810 m, Goûter Route, PD-
This is undoubtedly the most popular route on Mont Blanc and in the entire Mont Blanc Range. To reach the summit in a day, it is essential to start early, long before the train to the Nid d'Aigle starts running, which makes the round trip a lot longer.
Access 
Le Crozat car park, in the hamlet of Bionnassay (Saint-Gervais)
Guidebook 
We would strongly recommend "Mont Blanc, 5 Routes to the Summit" by François Damilano, published by JMEditions.
Gear
Helmet, harness, ice screw, ice axe, crampons, proper mountaineering boots, 30 metres of 6-mm rope (optional), hiking poles.