In Patagonia, the Belgian Sean Villanueva and the Italians Matteo Della Bordella and Leo Gheza have started their season on a high note: as soon as they arrived, they rushed to open a route on the east face of the Aiguille Mermoz, 2732 m, Que miras, bobo ? 7b, 500 m.
In Cogne, last December, a few days before his departure for Patagonia, Matteo Della Bordella told us how eager he was to come back to this mountain range that he loves so much. And this after his magnificent opening at Cerro Torre with Matteo De Zaiacomo and David Bacci, a success that had a tragic epilogue with the death of Korra Pesce, with whom he shared the last pitches. A major route that the trio called « Brothers in Arms ». 
This season, the Italian Matteo Della Bordella roped up with his compatriot Leo Gheza and the Belgian trad specialist Sean Villanueva. Success was not long in coming. On January 10, the team completed the first ascent of a 500-meter route in the middle of the east face of the Aiguille Mermoz, Que miras bobo? Difficulty 7b.
In Patagonia, it is important not to miss a weather window
Della Bordella explained that he and Leo met Sean Villanueva by chance on New Year's Day. The latter was supposed to wait for his climbing partner, who was supposed to arrive on the 20th, but the favorable weather window decided otherwise, and it is a matter of not missing it when it presents itself.
On January 9th the trio left El Chalten to go to the foot of the mountain. After a long day of climbing, they reached the summit around 9:30 pm, and bivouacked. The next day they went down. Their route is to the right of the Vol de Nuit route opened solo by Andy Parkin in 1993.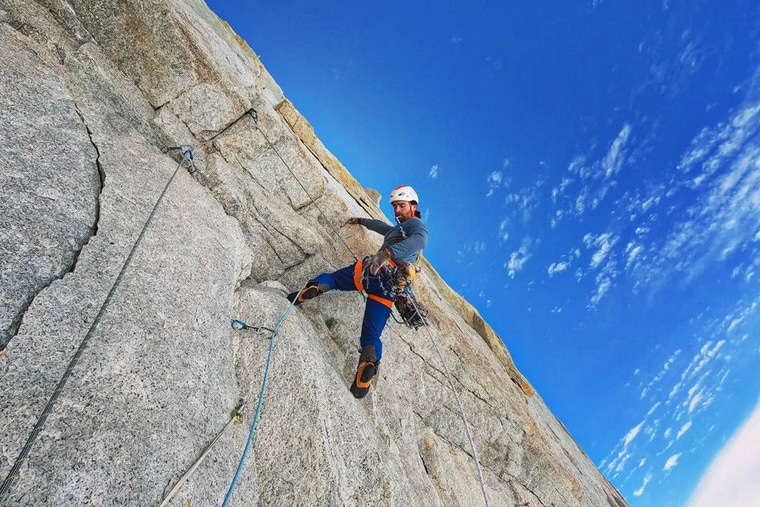 Villanueva doing his favorite thing : climbing and opening new pitches.