The Piolets d'Or 2021 have just awarded a special mention to the Catalan climber Sílvia Vidal, in recognition of her "enormous contribution to the solo climbing of big walls over the past two decades". From Alaska to Chilean Patagonia, via Pakistan, India, Spain and Mali, Sílvia Vidal's commitment and stamina have shone through since she started climbing in 1995. Her expeditions can be counted as months spent alone carrying 150 kg of equipment on her back or at the end of a rope. Walking, climbing, hoisting, climbing and walking again: this is how Sílvia Vidal lives the adventure, on the most beautiful big walls in the world. Interview.
You just received a special mention from the Piolets d'Or 2021, that honors your commitment and your philosophy in mountaineering. What does it mean to you ?
Sílvia Vidal:  It has been a nice surprise. It's recognition for the style of expeditions I do.
Speaking about commitment and philosophy, there are many different ways of considering commitment. What is yours ? How do you define the commitment in mountaineering ?
Sílvia Vidal:  I understand it as a way to be true to yourself when and although you endure a risky and tough activity.
You're a master in soloing. You like to climb alone (but secure) and to spend days in big walls : as in 2020, when you spent 16 days walking through Chili and 33 days climbing Sincronia Magica (1 180 m, 6a+ A3+). When did you climb alone for the first time ?
Sílvia Vidal:  In the first climbing year. I was drawn to solo climbing right from the start.
Things went fast as one year later in 1996, you receveid the "Piolet del Oro" from The Spanish Mountain Federation, for your solo ascent of Principado de Asturias (A4) on Naranjo de Bulnes in Northern Spain. Do rewards can change a way of climbing ? Have you been tempted to look for more difficulty, for more commitment after that ?
Sílvia Vidal: How do you climb doesn't depend on the awards you could receive later.
There is too much effort, fears, commitment, cold, hunger, uncertainties… when doing an expedition like this. Only your motivation and real desire to live those experiences can make it possible.
An award doesn't change or help the moment you live the experience but it helps later to consider and to promote it.

During an interview in 2014, you said "solo climbing is a necessity to me" ? Is that still true ?
Sílvia Vidal: It's still a necessity because these intense experiences take me out of my comfort zone. There's always a before and an after each expedition.

Qu'est-ce que cela t'apporte exactement ?

Sílvia Vidal: Changes.
Nous sommes tous capables
When you don't climb and recover, you give some talks about climbing and motivation. Is it important for you to share ? What message do you want to convey ?
Sílvia Vidal: Sharing the experiences is how I assimilate what I have done. Without  that part, the experience will be just half lived.
What I share is that we are very capable: we just have to dare to experience something new, out of our controlled area.

In concrete terms, how does solo climbing work ? How do you transport your equipment (walking and climbing) ? And how can you stay secure all time ?

Sílvia Vidal: I'm secured by the rope and an auto block climbing device, but I would not say these activities are secure; long climbing fall, rock fall, seracs, crevasses, river crossing…
I carry all my equipment and supplies in backpacks and haulbags. 6 containers 25Kg each one, 150Kg in total, that I carry up and down during weeks to climb a wall and return.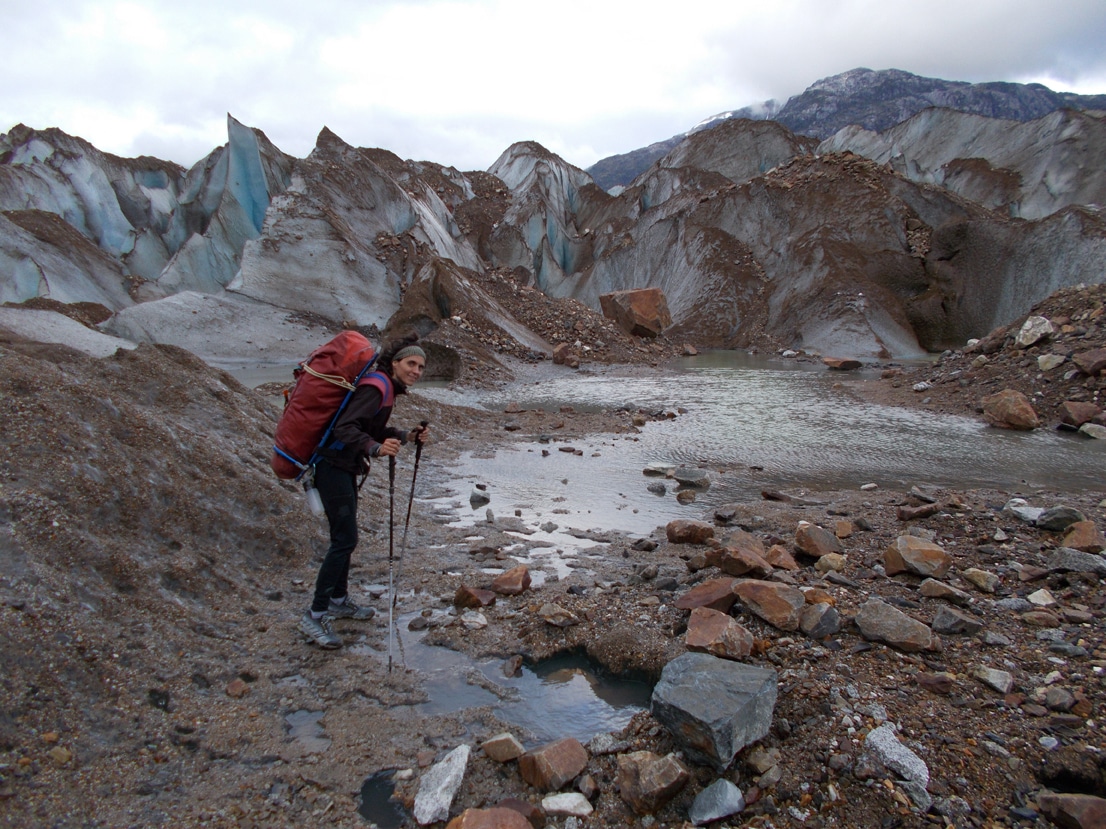 And what about food ? You never know exactly how long you'll be away, do you ?
Sílvia Vidal: When going to an unknown area and with no information about how high, how long will the wall be, it's difficult to have a good logistic.
I eat lyophilized food, and I take as much food as days I planned to stay in the valley. To decide how much food I'll take, I recall on previous similar experiences, learning  it by trial and error.

if you don't have mental force
it won't work anyway
When you talk about solitude, one must hear : no company, neither phone, nor radio, nor GPS, nor weather forecast. In the motivational talk you propose on your website, you tell you spent "55 days without speaking or communicating with anyone". That's exactly what the Piolets d'Or 2021 honors with this special mention, right ? This is not just about physical strength but about force, mindset ?
Sílvia Vidal: You need both things; physical and mental strength. To carry all the equipment (150Kg during weeks), to drag the haulbags (over one thousand meters wall), to climb a big wall (during weeks), requires a lot of physical shape. But if you don't have mental force it won't work anyway.

I'm not a solitary person, never been
What we all want to know is : how do you do ? How do you handle with solitude, especially in front of difficulties ?
Sílvia Vidal:I don't have to do anything regarding solitude; I'm fine when I'm alone.  I'm not a solitary person, never been, I'm surrounded by family and friends, but I know how to be alone, of natural form and only if we are talking about a chosen solitude. The solitude that you don't choose, it's something different.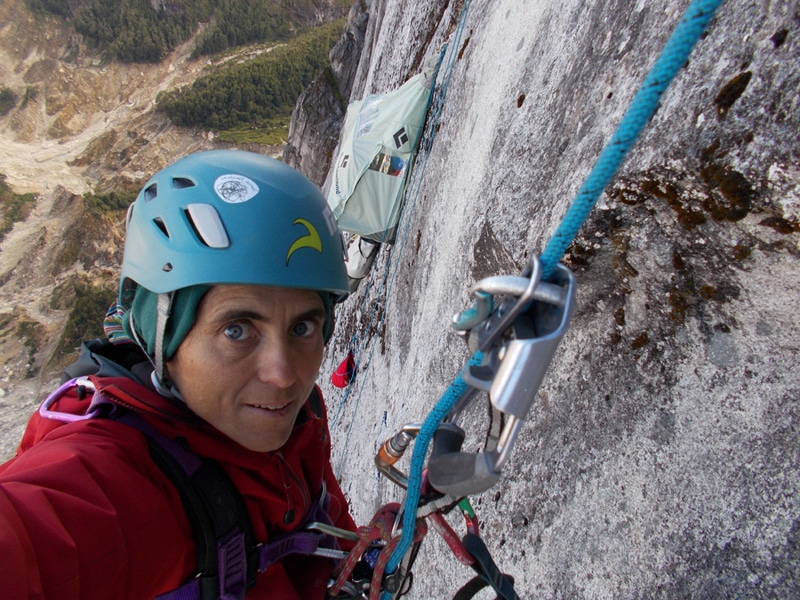 J'ai parfois l'impression que ce sont les projets
qui me choisissent plutôt que l'inverse
Free solo has some media success again these last years. Could it be your thing ?
Sílvia Vidal: No.
How do you chose you projects ? How do you take the decision to go for an expedition ? What are your criteria : difficulty, remoteness, level of information, first ascent or no, distance from home…?
Sílvia Vidal: Sometimes I think it's the project the one that chooses me. I decide to go for the next one when a wall picture, video, someone's information, arrives…
The feeling I have the first time I see the image, will tell me if it's time for another expedition or not.
I have to feel that I really want to go there, despite the lack of information or the fears that will immediately appear. Anyway  it has to have some kind of adventure and remoteness, to be intense and in real solitude. The rest is not determinant.
I just go for an expedition
every 2-4 years
You sometimes climb with people, as in the first ascent of Amin Brakk (Sol solet, 5850 m, Pakistan), for which you were nominated a Piolet d'Or in 1999 with Pep Masip and Miquel Puigdomenech. How do you chose your rare partners ?
Sílvia Vidal: We choose each other.
Do you sometimes climb and enjoy easy and accessible routes ? Maybe as a training ?
Sílvia Vidal: I just go for an expedition, every 2-4 years… Meanwhile I rock climb as much as possible; easy and not so easy (for me) routes.