He has skied the Baruntse and the slopes of Everest. Chris Davenport is a guide living in Aspen. He and has climbed all 54 of Colorado's 14,000-foot peaks in one year. We skied with Chris, guest of the last edition of the Arctic Ice Festival. We talked about his undiminished passion for freeride skiing, ski touring and the development of his own brand, Peak. 
He has skied many mountain ranges around the world. Based in Aspen, Colorado, Chris Davenport is a multi-tasked professional skier. From a youth spent competing in alpine skiing, Chris Davenport was quickly drawn to the great wilderness slopes of Alaska, where he repeatedly competed in freeride events. Later he focused on the high Himalayan peaks, followed by original achievements such as ski touring the 54 highest peaks in Colorado. Today, he mainly exercises his passion for the mountains as a guide: from Japan to La Grave, via the Antarctic Peninsula where he has been skiing from a boat for the past fifteen years.
At last week's Arctic Ice Festival in Lavangen, Norway, Chris Davenport told us about his journey, the highs and lows: he climbed Everest in 2011 and skied the slopes of the South Col, he lost dozens of close friends like Hilaree Nelson on the mountain. Recently, together with Bode Miller, he launched a new ski brand, Peak, which has made a name for itself in the United States – and includes two backcountry-oriented models, Chris' personal DNA. Interview. 
AS A KID, I THOUGHT : IT WOULD BE So cool TO SKI EVERY DAY! CHRIS DAVENPORT
Alpine Mag : Chris, where does your passion for the mountains come from?

Chris Davenport : Sometimes the best things in life are very simple just to go for a walk in the mountains, summer or winter, all you need is the proper equipment, then you go home and you feel good about what you did. That's what has been  inspiring me since I was a kid. I was 13 years old and I remember one day I was on a chairlift with my friend, it was snowing in the east coast of the US and we were having the best time skiing. It probably wasn't even good to ski, but it just seemed extra and we looked at each other and said something like : "Wouldn't it be cool if we could ski every day for the rest of our lives?" And that stuck with me. I didn't think about it for years, but when I grew up I remember that moment and kept that idea of the kid who wants to ski every day. That's what makes me the happiest. And I've done enough skiing that I can now share my experience with people, I can share my expertise, my knowledge, my passion. And I love helping other people – my clients – put a smile on their face and giving them the best trip.
You started out as an alpine racer, then moved on to freeride, and then did a lot of ski touring in the wilds of the Rockies. You put ski touring in the spotlight in the US!
The way I see skiing is that it evolves with us in our life. When you're a kid, you like to play on the piste, you become a racer or free rider. One of the most important things about skiing is it's not one dimensional. There are many different experiences you can have in skiing, and they all make you feel good! So a five year olds skiing on the piste has the same smile, as a freerider who just went off a cliff, as the ski tourer who's out in the mountain, or as the 80 years old skier who's just having fun. It's still the same feeling, it doesn't change, we just change with the sport.
In some destinations, and in the US, you use the helicopter, which is a polluting tool for skiing. How do you see it? 
I think that helicopters can bring people to the mountain so they can see what it's like. It's a good thing because they discover the mountain, even this way – and they wouldn't go otherwise. I think in the end they realise how much the glaciers and the mountains are ressources and spaces to be protected.
BOat ans skiing go very well together
You've done a lot of skiing in the Antarctic Peninsula, with a boat, roaming. Where else do you take your clients?
Chris Davenport: Anywhere they want (laughs)! We go skiing in Greenland, with a boat. I love being on the ocean. For me, boat and skiing go very well together, because the boat can take you to places where there are no roads, no towns, etc. I like both, I like to be on the ocean, I like the boat life, it's really fun and you get to know people because you're always together: eating, skiing, etc. It's a good experience. Among the top destinations, or destinations in demand, people want to go to Antarctica, Chile, Morocco, and of course across the Alps…
Ski touring is a growing market and more and more people are doing it, including in the resorts. What do you think?
Ski touring in the resorts is super popular where I live, in Aspen and Colorado, and it's been going on for 15 years, so it's not new. It's a good introduction to ski touring. It's easy, because you have a piste going up and going down,… And it's free! You just have to buy your equipment. Once you've learned how much fun it is to ski uphill, then you want to hire a guide and go into the massifs, or at least do some backcountry near the resorts. Backcountry is a good introduction to ski touring, just like going to the gym is a way for many people to discover climbing. It's even where some of them feel the need to go and be outside. When we were young, we climbed outside because there were no gyms. So we had to find a way to climb!
At that time, you would never have imagined goingto Everest to ski!
CD: No, never. And I did it in 2011. My first trip to the Himalayas was in 1998, at 7000 metres, in Baruntse, I did the first descent on skis. It was really cool, with a very good partner and friend of mine, David Bridges – he was super strong, a very good climber – who died with Alex Lowe.
I started in 1998 with Baruntse, which is a very good start. It was fantastic and I became quite addicted to the Himalayas. So I went back the following year to Makalu, and I had a very good trip. But I was young, I didn't make it to the top, I was feisty and super strong, so I went a bit too fast and got an oedema, end of game. I went down below the base camp, recovered, went back to the base camp and went back up, tried to reach the top, no luck. I learned a big lesson that was very important for me: no matter how strong you are, you always have to go slowly when you are at this high altitude.
Then I went back in 2007 to Annapurna to ski and the avalanche conditions were dangerous, we were just trying to ski some nice slopes. I was with Jerome Ruby and Dédé Rhem, it was a good experience. After that trip, I started to do more and more guiding and people were asking if they could go skiing with me in Aspen or anywhere in the world. I started working in ski touring in Aspen, we went to 4000 meter peaks in Colorado, and then Denali. We had an amazing trip to Denali, a beautiful summit, some skiing, and after the summit a buddy said to me "Chris, what do you think if next year we go to Everest?" I got a big smile on my face and decided to do it! We trained a bit more, worked harder, and we were ready. We went to Everest and had a perfect trip. No drama or anything like you hear about. And a perfect finish at the summit. There was only one person with us at the top.
We went to the summit and it was perfect, No drama
Did you bring your skis to the summit?
CD: I didn't do it, but I wish I had. We went to the summit and it was a really cool moment. It was so powerful and so wonderful, I had tears in my eyes at the time. No matter all the negative things people say about Everest, it's crowded, too commercial, etc., when you walk on the highest point on the planet, it's pretty damn powerful emotions! We were all hugging and congratulating each other. But the thing about climbing a mountain: when you get to the top, you're only halfway. The descent is the most important part. And my wife said to me, before I left Colorado, "Chris, whatever you do, don't call me from the summit. Call me when you're at the bottom" That was a very good point, and I think if I were writing a book or a biography about my life, it would be called "don't call me from the summit", because it's really important! Many accidents happen on the way down. People are tired, there is a lack of concentration.
So yeah we had a great run, super skiing. I skied the week before, when we were acclimatising, going up the face of Lhotse and we skied the face, then we went back to camp to recover, and then for the summit attempt, I wanted to be very present for my client and not think about the skiing, just think about him. So it was a good decision. Although on the day of the attempt there was no wind, it was sunny, I could have skied from the summit without any problem, I think. These experiences are really great. Some people collect cars, wine or art. I collect mountains, it's my collection, and it's not something I own, I just hold it in my mind.
I suppose you were shocked by the death of HIlaree Nelson, whom you knew.
Along with Jim Morrison, they are two of my closest friends. I skied with both of them a lot. I met Hilaree in Chamonix in 1995. We were there for a Red Bull competition and Hilaree, my wife and I were competing. Hilaree got first place, my wife second. We became friends with Hilaree there. She lived near us in Aspen, so we always hung out. It's very, very sad.
It's unbelievable how dangerous what we do is
There is no other sport like it
Is there always a price to pay for skiing the highest mountains?
CD: Skiing those big mountains is very dangerous. Hilaree and I had this conversation about a year ago, and I told her that, because I personally walked away from those high risk things. I stopped because I got this far and I'm still alive. But I have about 50 friends who have died all over the world. It's amazing how dangerous what we do is. There's no other sport like it. It's really crazy how many top people have died.
Hilaree told me that I was right, but that she was still passionate and still wanted to do things on skis. We talked about her children, I was just trying to show her friendship, love, tell her what I was thinking and doing with my life.
Of course, when the accident happened and she died, I wasn't shocked, because you roll the dice every time in the big mountains. You can be the best poker player in the world, you will always lose. When I see Kristin Harila, announcing her return to the 8,000, it's really risky and, gosh, I hope it's successful.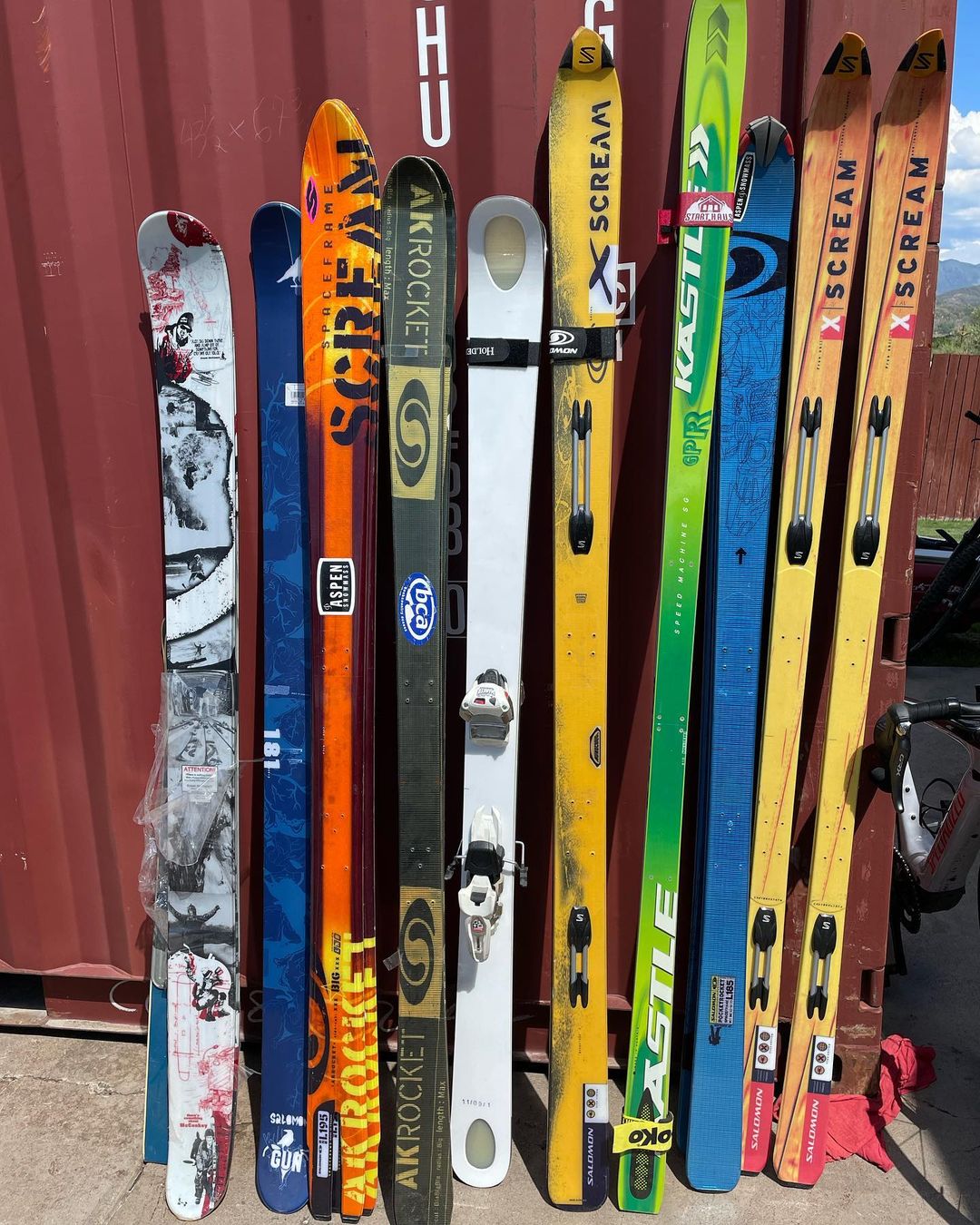 Chris' personal collection, at home. ©Chris Davenport
Tell us about the new ski brand, Peak, that you are developing with Bode Miller?
A big part of my career, which I have really enjoyed, has been working in the ski industry. I think it's a great honour to be able to work in it, not just as an athlete but as a businessman, because all I've ever wanted to do is be a skier and be close to the ski world.
I have influence and, above all, I can bring 27 years of experience. I also know the consumers because I am a guide. I have the ideas for these different models and I have great partners in the company with Peak Skis. When I was still with Kästle, they came to me and said they were starting this direct-to-consumer business. I've known these guys for a long time. I thought this was a really cool opportunity for me to start something new, to build something really big with a little bit of luck and it's a really great business experience. The challenge of doing this is just like a challenge in the mountains. There are risks, financially.
This is the first season of Peak, which has two backcountry-oriented models…  
They are high performance touring skis, so they are not super light. They are derived from the standard models: the Peak 98 SC and the Peak 104 SC. In our case SC means "side country".
Other brands like Kästle or Faction like to mix their freeride performance DNA with ski touring. 
Yes, because the person who wants to ski on the slopes of ski resorts also wants to be able to do ski touring on this ski, a hybrid ski. For me, a ski like the one we used here in Norway – with a couloir, then variable snow – a Peak 98 SC or 104 SC, you can do so much!
At the moment I am working on my personal collection, called Dav, because that was my nickname. My collection will come out next season and it will be backcountry skis. We are working on that. We never want to compromise between uphill and downhill performance, we have to have both, so we have to figure out what material to put in the ski, its weight is in the middle of the market. Currently the skis are made in Slovenia. See you next season in the Alps!