Born in Seattle, in love with Chamonix and Patagonia, Colin Haley is one of the best American climbers. After a series of remarkable solo firsts, he is now hanging up. Last summer, conditions that were too harsh in Patagonia made him think : the desire to do big solos is no longer there. In fact, Colin Haley has just returned to Patagonia in February, but roped up with Alex Honnold. You don't go solo by chance, and Colin Haley knows it : his solo story began when he was only 17 years old. Part one of the lucid confession of an exceptional climber.
I'm currently beginning the long journey back from El Chaltén, concluding my shortest-yet trip to Patagonia, and by far my least productive. I have by now made a total of 16 trips to El Chaltén, and the biggest, most stable window of good weather I've ever seen was during the past two weeks. However, August is mid-winter in Patagonia (it's the equivalent of February in the northern hemisphere), and as often seems to be the case with big, mid-winter systems of high-pressure, it was pretty darn cold.
During this window, low temperatures in town ranged from -8C to -12C, and the summit of Chaltén is 3,000m above town, so I think it's pretty safe to say that low temperatures up high in the mountains were easily below -20C. In addition to the cold temperatures, travel in winter is more difficult, and of course there are fewer than 12 hours of daylight. Because of these factors, I think that no big climbs were completed during this humongous window of good weather, despite at least a couple teams attempting Chaltén, and one attempting Cerro Torre.
One of the factors that resulted in me doing no climbing is that on the journey down to El Chaltén I got sick. While I was fortunately never extremely ill during the trip, I have been sick the entire time, and still am sick now while departing. This is my fourth consecutive big climbing trip that has been majorly disrupted by illness, and my top priority now is to search for answers. My suspicion is that I have some sort of chronic sinusitis. My main goal on this trip was to make a winter, solo ascent of Chaltén via the Supercanaleta.
The idea seemed exciting, and I figured that in mid winter I would surely have the route to myself, which I think makes for a more legitimate solo ascent, and something that is increasingly elusive in Chaltén during the summertime on a classic route. To my surprise, two other teams of climbers went to the Supercanaleta during the same period, and since they hired porters for the approach,* it made for actually a lot of tracks on the Glaciar Fitz Roy Norte in mid winter!
Preparation for renunciation
My activity was pretty minimal : early in the window I carried a massive load to Piedra Negra, cached it, and returned to town. When I decided it was the right time to make my attempt, I spent a day traveling to Paso del Cuadrado, where I slept for the night. The following day I carried my massive pack to the base of the Supercanaleta, observed the route for one hour, decided against climbing, and carried my massive pack back out of the mountains. The main reason I decided against climbing was that the Supercanaleta was in extremely dry condition. In good conditions, the real climbing begins at the Bloque Empotrado, and up to there are just 1,000m of steep snow/névé and easy ice.
However, at the moment there are several sections of couloir below the Bloque Empotrado that are completely bare – just dry basalt dyke. These sections of basalt dyke are for sure still climbable, but it would've added a bunch more technical climbing to the route, which I thought might be too much for the short days. Given the temperatures, and being solo, making a bivouac on the route was out of the question for me. In hindsight I shouldn't have been surprised by the conditions, as last summer was apparently extremely hot, and then the fall was extremely dry, but nonetheless I definitely had not anticipated the lower couloir being dry in mid winter.
the reason I'm departing Chaltén much earlier than originally planned, is in my head : I realized that I'm burnt out on hard soloing
Being sick, having dry conditions in the couloir, and cold temperatures were definitely all factors that contributed to me not climbing, but the most significant reason, and the reason I'm departing Chaltén much earlier than originally planned, is in my head: I realized that I'm burnt out on hard soloing. Traveling from the northern hemisphere to the base of the Supercanaleta was an extremely wasteful and expensive way to realize that I'm burnt out on hard soloing, but sometimes these sorts of things can't be felt from afar.
I have done a lot of hard alpine soloing in my life, and I have already sworn it off several times before. My relationship with soloing seems to have some parallels to my past relationship with alcohol. I was never a regular drinker, but in high school and university I definitely enjoyed getting shit-faced on the weekends sometimes. While I thought, and still think, that getting drunk is loads of fun, I came to decide that the fun of getting drunk wasn't worth the toll that it takes on your body. However, as is classically the case with an addictive activity, even once I had decided that alcohol was a bad idea, I still would get drunk now and then – the temptation of a really fun night would lure me in, and the next morning I would regret poisoning myself and vow to never do it again… but then do it again a few weeks later.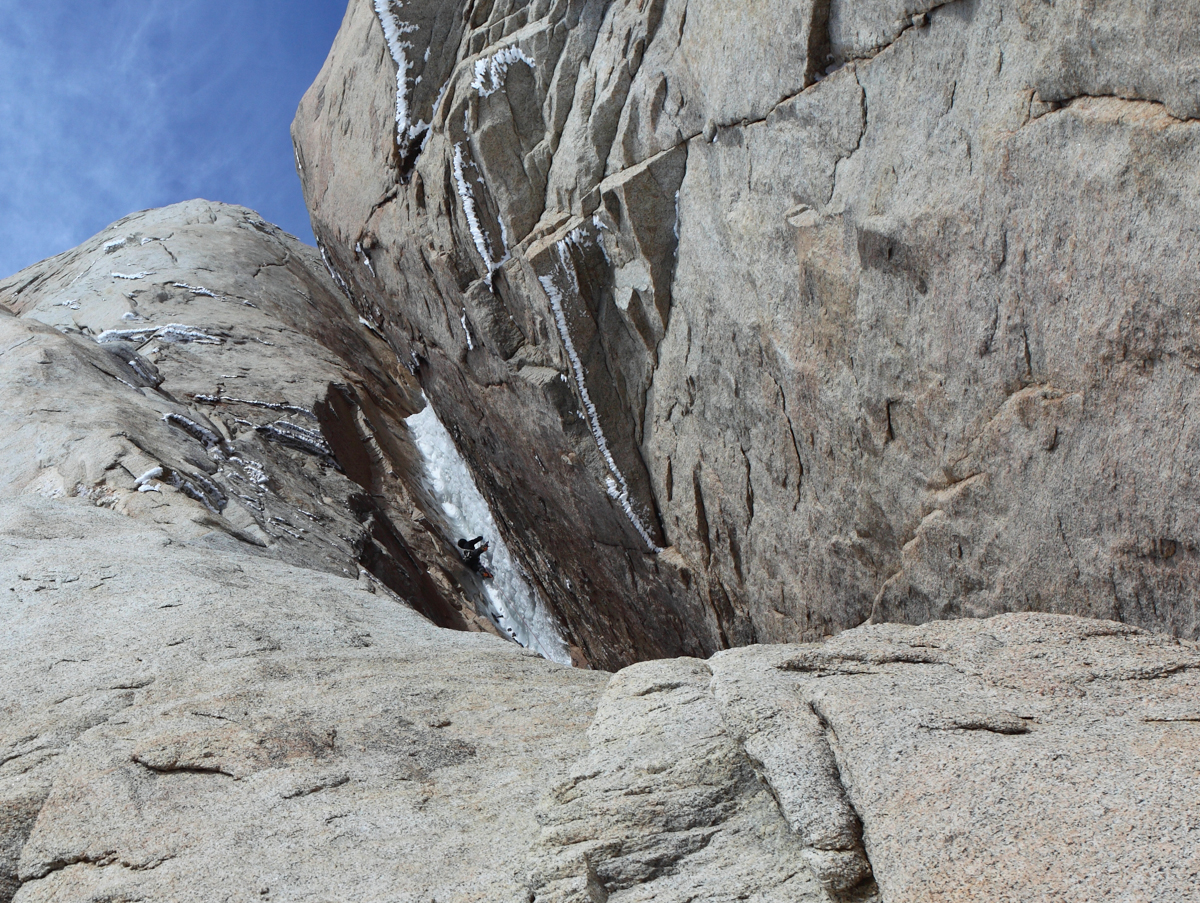 Exocet, soloing the first crux pitch, Aguja Standhardt, Patagonia, November 2010 ©Jon Griffith
unlike any time in my life that I've gotten drunk, past solo ascents I've made are proud accomplishments of mine
A story of addictions ?
I finally swore off alcohol for good on January 1 2008, in El Chaltén, during a horrendous hangover (New Years can be a big night in Argentina!), and during the decade since I've had probably a total of 10 alcoholic drinks. I've sworn off hard soloing several times before… maybe now is the moment I'll finally have a lasting realization that it isn't my best path forward. The comparison to alcohol is not a very close one though – unlike any time in my life that I've gotten drunk, past solo ascents I've made are proud accomplishments of mine, and I'm very glad I had those experiences. Also, I have no intention of quitting solo climbing "cold turkey" like I did with alcohol, but majorly de-prioritizing it.
My introduction to climbing unroped was not actually solo climbing, but simul-soloing in the Cascades with many of my mentors. We would often go out in big groups (well, at least, what I would call a "big" group – up to 4 climbers), and romp up easy classics unroped. This to me is a totally different activity from hard solo climbing, and I have no intention of quitting simul-soloing. In fact, I think it's one of the most fun versions of climbing that exists.
My introduction to actual hard soloing was when I was 17 years old. I'm not sure what inspired me at that time, but over a couple weekends in the spring I made a couple "hard" (relative to my experience and abilities at the time) solo ascents: the North Face of Graybeard Peak**, and the North Ridge of Mt. Stuart in mixed conditions. I still vividly remember the psychological intensity, especially on Graybeard, of being scared and stressed, and wondering why I had gotten myself into this position. The psychological stress of hard alpine soloing, followed by the elation of coming out unscathed, followed by swearing it off, followed by getting tempted again, is a cycle I know so well at this point. The chorus of one of my favorite songs ("Would," by Alice in Chains), always reminds me of it. I think these lyrics are about another form of addiction, heroin :
Into the flood again, same old trip it was back then.

So I made a big mistake, try to see it was my way.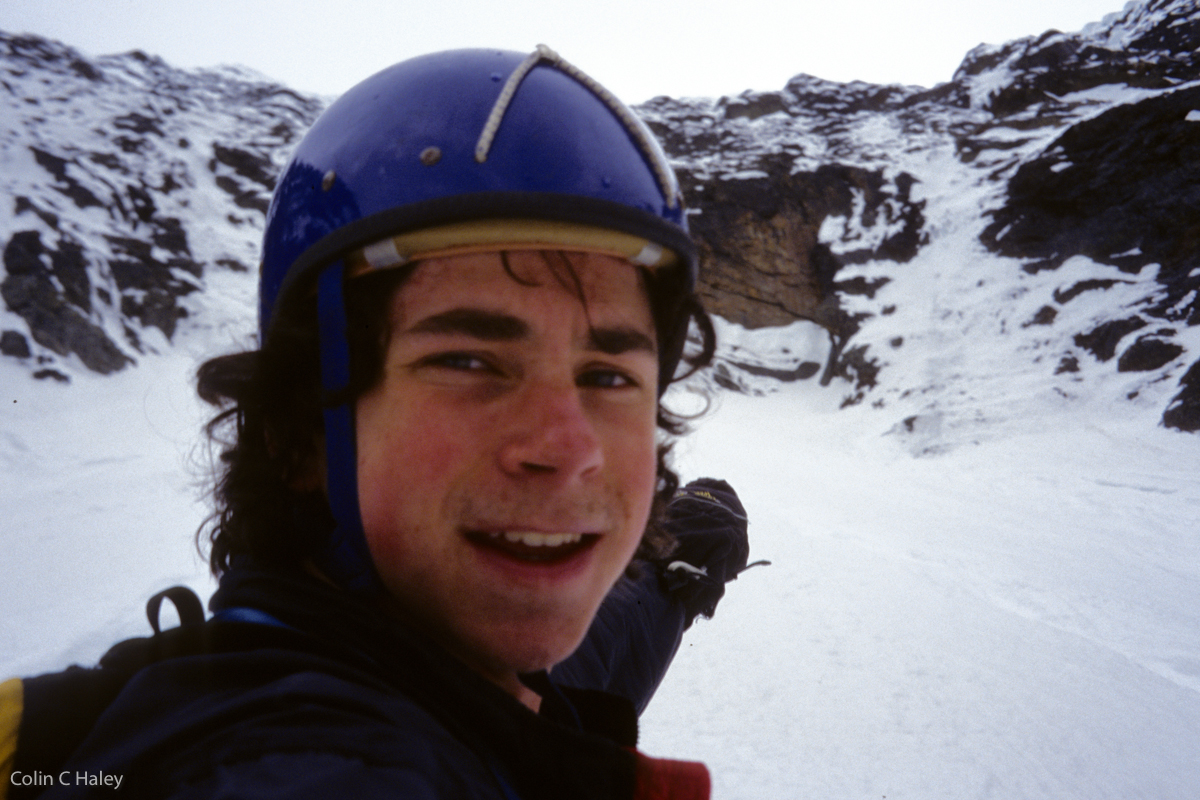 At the start of the harder climbing on the North Face of Graybeard Peak. May 2002, when I was 17 years old. ©Colin Haley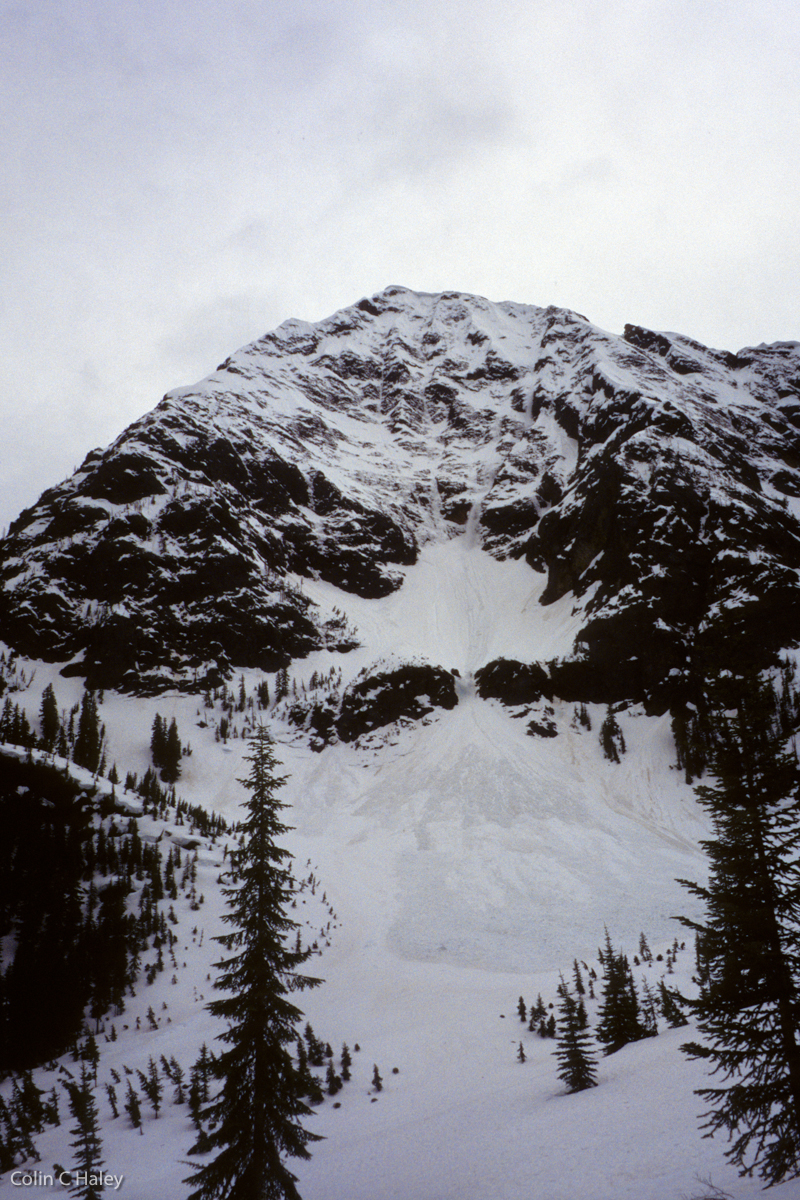 Looking back up at the North Face of Graybeard Peak after my first experience of hard-enough-to-be-stressful soloing. ©Colin Haley
I can say with confidence that at this point in my life, easily more than half of my most difficult climbing achievements have been solo ascents.
After my stint in 2002 at 17 years old, soloing took a back-seat for 7 years of my life. I was in fact doing plenty of soloing during this period, but never hard enough to be very stressful, and all my main climbing goals during this period were with partners. Soloing was mostly something I did on routes that were technically very easy for me (easy enough that you don't merely feel safe climbing unroped, but actually at ease), and it was mostly something I did when one of my good climbing partners wasn't available. That is the healthy relationship with soloing that I think I should re-kindle now.
My first trip "into the flood again" of hard, stressful soloing was in January 2009. I was in El Chaltén, and my excellent climbing partner, Rolando Garibotti, had to depart a few weeks before I did. During an extremely mediocre weather window right before I had to fly home, I soloed Chaltén by the Supercanaleta. At the time I wrote in my climbing notes: "Hardest day of my life. I've never been more tired than after this, either mentally or physically." I only finally surpassed that day in terms of psychological and physical intensity in 2016, during my epic solo descent of Sultana in a storm. Since my reintroduction to hard soloing on the Supercanaleta, I have done, and attempted, a lot of hard soloing in the past decade. I can say with confidence that at this point in my life, easily more than half of my most difficult climbing achievements have been solo ascents.
Read Colin Haley, Reflections on Hard Solo Climbing Part 2/2