Sean Villanueva blew away the mountaineering world by completing the first solo south to north traverse of the Fitz Roy massif, setting off without warning from the 5th to the 10th February 2021. We got to interview the most musical of climbers by telephone from his base in El Chalten, Patagonia.
We know that you're passionate about Patagonia, but at little less for soloing. Is this a new thing ?
 S.V. : I had been wanting to do a solo climb for a while. I get a lot of inspiration from Silvia Vidal's climbs, her philosophy, her approach to the mountain and spending long periods of time on the wall. I wanted to be up there with just myself. I have so many amazing climbing partners that it wasn't easy to leave on my own! Joking aside, I could have found someone, but I really wanted to spend time up there all alone.
I had been wanting to do a solo climb for a while
So why now ?
S.V. : I've been stuck in Patagonia since the 10th of January 2020. Nico [Favresse] managed to leave before the pandemic, but I wasn't able to leave and all the flights got cancelled. I could have gotten back with help from the embassy, but I do really like it here… So I decided to stay. Now the commercial flights are running again and I'll be able to leave. But we're right in the middle of the best season, so I'm not going to leave now, am I ?
You know Patagonia well and in particular the Fitz Roy peaks. Did this help with the traverse ?
S.V. : Yes, I normally come over every other year, or two. The first time was in 2005. I've been seven times in total. I had already done Mermoz two times, Guillaumet and Fitz Roy two times, Poincenot three times and Saint-Exupery. However, all the routes that I had already climbed weren't part of the traverse. There were only Aguja de L'S and Rafael Juarez that I hadn't already climbed.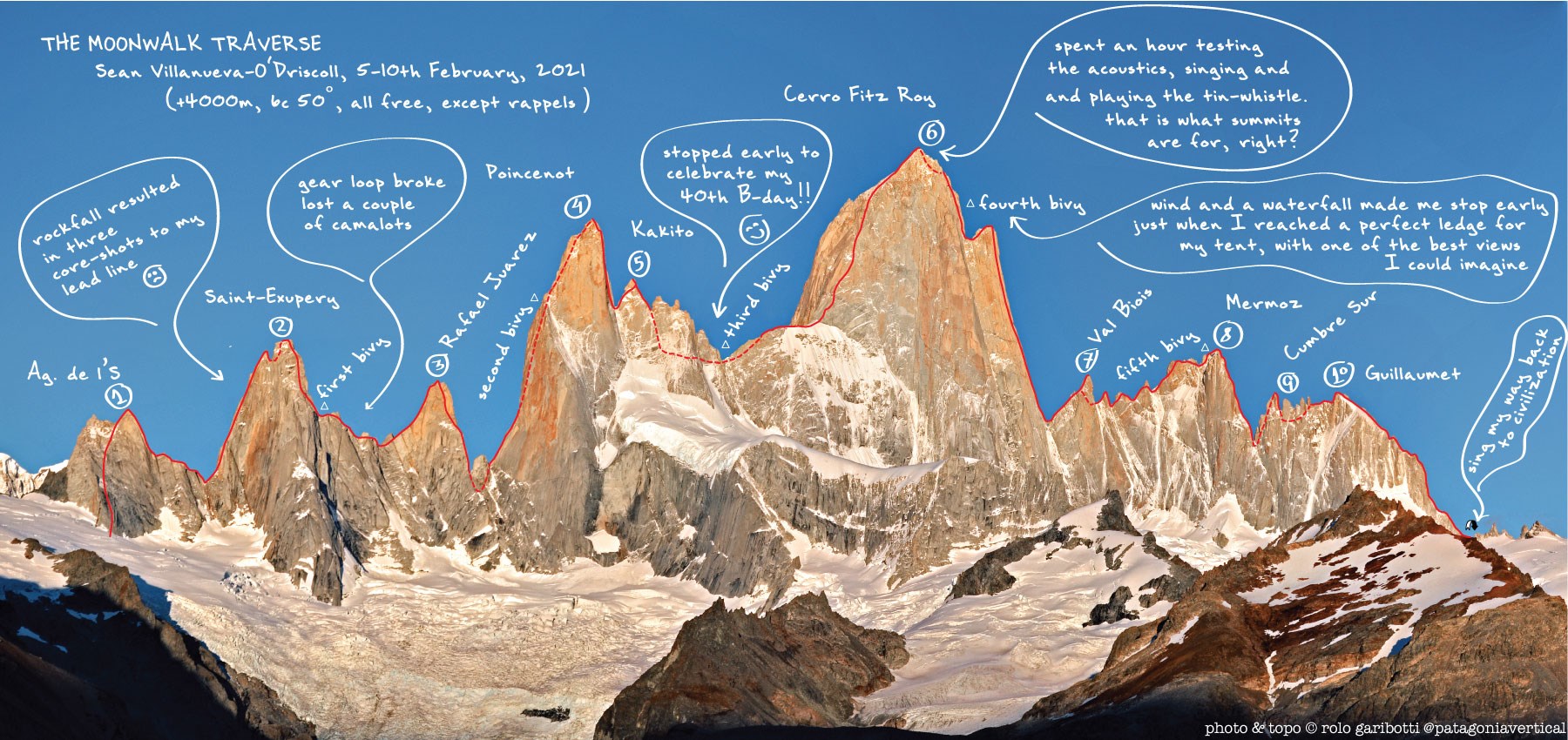 The Fitz Roy traverse climbed from the left (south) to right (north) by Sean Villanueva. Annotations by Sean. ©Rolando Garibotti
Climbing alone is hard work
And if that wasn't enough, you added other little peaks on your way !
S.V. : Yes, it would have been a pity not to go up for two or three more pitches. That makes three more peaks : Kakito, Val Biois and Cumbre Sur. If I hadn't climbed them at that moment, then I never would have climbed them. It was the right time to do it.
It's safe to say that you weren't doing this as a speed attempt. Was your ability to take your time pivotal in this climb ?
S.V. : Yes, my objective was not to go for the speed record, but rather just have a good time on the mountain. Besides, my logistics weren't great. I could have been a lot more efficient. But climbing alone is hard work: you climb up, then down, you go back up, you have to haul up all your equipment… I climbed some of the easy sections without a rope. But each time I'd tell myself: "Be careful, it's a marathon, not a sprint". I didn't want to get tired by going too quickly.
I even made a few mistakes in my itinerary. For example, it took me a while to find the right route in Poincenot. I also made a few mistakes between Fitz Roy and Mermoz. I was slower there than elsewhere but my goal was not to be really strategic and efficient.
I left for 5 days, from the morning of the 5th of February to the afternoon of the 10th.
On the whole, the days were long and hard
Did you take long breaks when needed ?
S.V. : Yes, I looked to stop on several occasions. There was one time that sticks in my mind where I had to stop rappelling due to the wind on Fitz Roy. It was too dangerous to go down in the wind with rope that could have gotten caught at any moment. So, I stopped on a ledge for the afternoon. It turned out to be the right thing to do as the next day the wind stopped and I was able to head off again.
The day before, I stopped climbing a little earlier as, on the whole, the days were long and hard. I would get up before dawn and start climbing as soon as it became light. Around midday, I stopped on a big ledge, played my flute, ate and had a rest.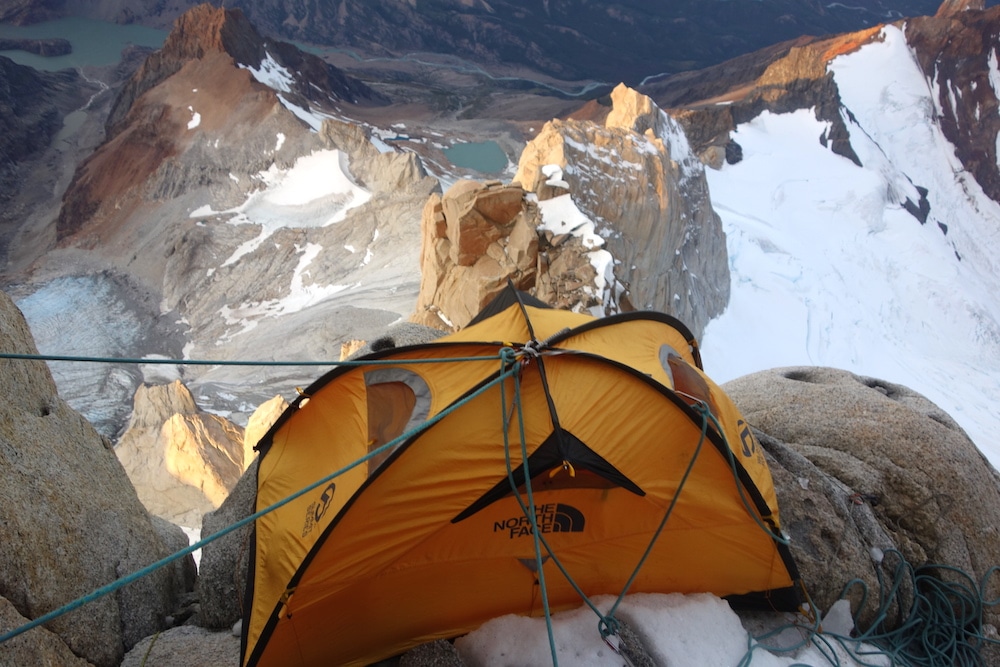 Leaving without any means of communication is part of committing to the climb
The climbing in Patagonia has largely evolved due to the accuracy and reliability of the weather forecast. Were you able to make the most of a large window of good weather ?
S.V. : Yes, I had a lot of luck with the weather. The temperatures were between 0°C and 10°C, with sun every day. It was only colder than that one of the days. I also had a few days of wind, but never as extreme as what you can get in Patagonia.
What hasn't changed in Patagonia, however, is the lack of helicopter rescue. Did you take a telephone with you just in case you had an emergency ?
S.V. : No, I didn't have a phone. Here mountain rescue is really difficult to do anyway. The team is made up of volunteers and it takes a long time to get up the mountain. In my opinion, leaving without any means of communication is part of committing to the climb and using one's strength. This adds power to the experience. It's like when you fix ropes to keep a link to the ground, feeling a lot more secure and getting down quicker. Having a telephone with you is sort of the same, you can always fall back on it. I wanted to experience being fully alone on the mountain.
It was a bit borderline though, especially on the top of Fitz
Did you pack light so you could climb easier ?
S.V. : Yes and no. I had climbing shoes and approach shoes (not the big boots for mountaineering), aluminium crampons, an ice axe and an ice screw. It was a bit borderline though, especially on the top of Fitz. There was ice and it was a little sketchy with my aluminium crampons and my little ice axe. Next time (if I do it again), I will at least take hybrid crampons with steal toe caps.
However, with my bag full of food for 10 days and all my climbing equipment, I was too heavy to free solo the mountain, except when scrambling on the really easy sections.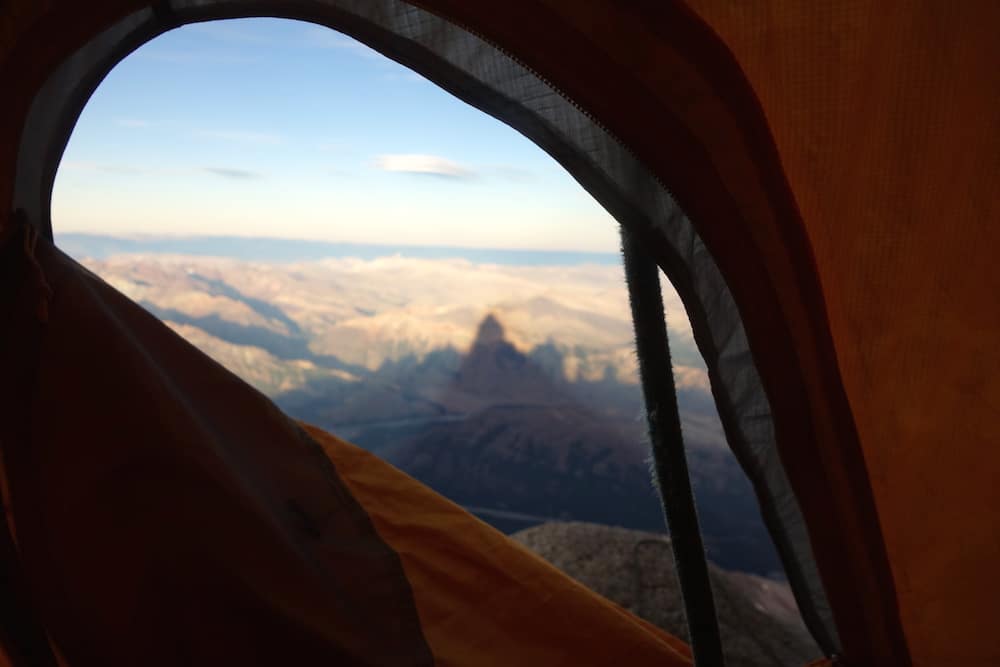 When you had to make camp, was it comfortable or not ?
S.V. : It was comfortable! I was never cold in the bivouac. I had a two-man tent, a good sleeping bag and a large puffer jacket. I think that having a tent is a great strategy because when you're bivouacking, you do everything quickly, you're a little cold and you're in the wind. Yet here, as soon as you get in the tent, you're in your cocoon, warm and protected from the outside elements. You can make yourself water easily, you can relax and rest up much better.
Had you ever climbed alone on self-belay before ?
S.V. : No, I only did one route in Taghia (Morocco) and another in Riglos (Spain)
Some falling rocks damaged my rope on the first day. I thought it was over, but I was wrong !
We're going to start to believe that you had beginner's luck !
S.V. : It's true, I did have a lot of luck with the conditions, a lot more than Honnold and Caldwell. I was able to free climb everything. They did everything on a taut rope and logically they were quicker. However, when they were there, there was a lot of ice.
And yet, things didn't start off great for you…
No ! I was hit by a rock fall on the first day on Saint Exupéry. It cut the core of my rope in three different areas. I thought, that's it,  I'm not going to be able to continue. How could I hope to continue if my rope was already damaged on the first day. This thought quickly turned into one of wanting to continue and seeing how far I could go. I tried to take care of my rope as much as I could, taking my weight off it when I was rappelling to let the damaged part pass through. My main rope was an 8.9mm (60m).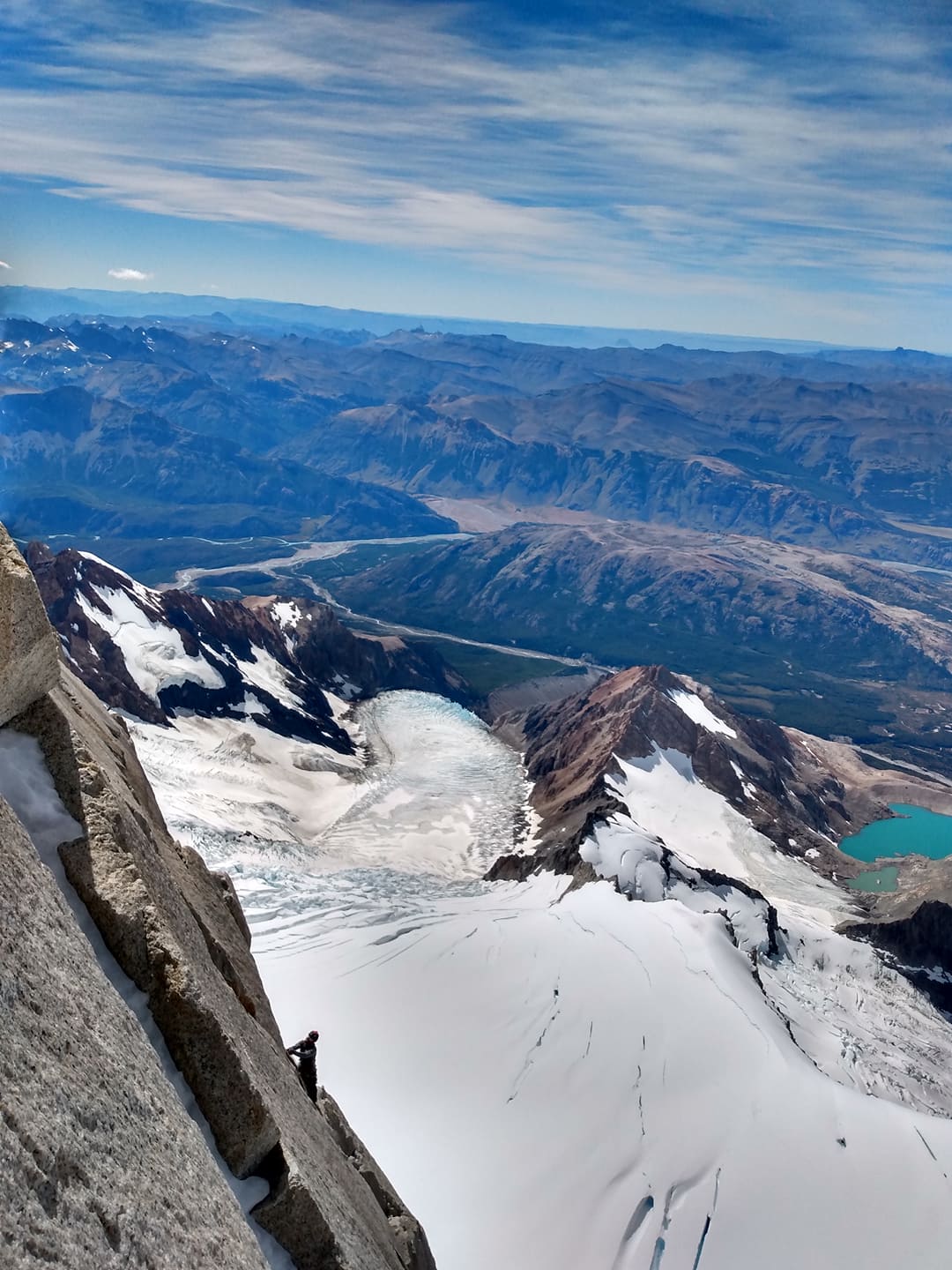 I sang and played the flute
And did the rope hold ?
Yes, until the last rappel, when the sheeth slipped off. You could see the core along one or two metres. I was glad I didn't have to do anymore rappels! (Even if I still had a tagline).
How do you celebrate your 40th birthday when you're alone on one of the most beautiful ridges in the world ?
S.V. : I sang, played the flute, nothing special. My cakes were the seven (+3) summits climbed.
Rolo ? I was scared to tell him !
Did you at least speak to Rolando "Rolo" Garibotti, the location specialist ?
S.V. : Rolo ? I was scared to tell him ! I thought he was going to try and dissuade me and say that I was mad. I warned him the morning I set off. I just told him that I was going to start with Ag. De l'S and was going to see where I ended up. In the end he was happy and wanted to help me straight away. I owe a lot to him for this ascent as the morning before leaving, when I went by his to get his opinion, he immediately gave me the weather forecast and helped me with gear [light rack, a rope, clothes because I had planned to be there two or three months so a lot of my stuff was damaged (ropes, ripped clothes, etc.)]. He gave me his best gear.
And on the way back ?
I didn't have to say anything. In the village everyone already knew. I crossed three climbers up there during my traverse who must have told everyone. I was very warmly welcomed. In the village, everyone started to applaud and congratulate me. It was crazy. People were expecting me !
Rolo was really happy for me. He admitted that he didn't think I was going to complete it because I didn't have the solo experience.  He couldn't believe it!
Do you realise what you have just done ?
It's a dream come true and I am so happy. Now I think I should get some rest. Tomorrow there's a weather window that's opening but I think I'll leave it this time. I was really tired when I got back, especially mentally. I wasn't tired during the ascent, I never really thought it was particularly hard. Everything went well and I was really lucky with the conditions. I was never completely broken or exhausted. I was always psyched, energized and just happy to be up there.
It's still a great achievement, right ?
Yes, it was still something very big with lots of commitment. It's good that I'm mentally resting now. I think I'll go back there soon. However, after the season, I'll go back to Europe, back to Belgium, even if base camp is my van.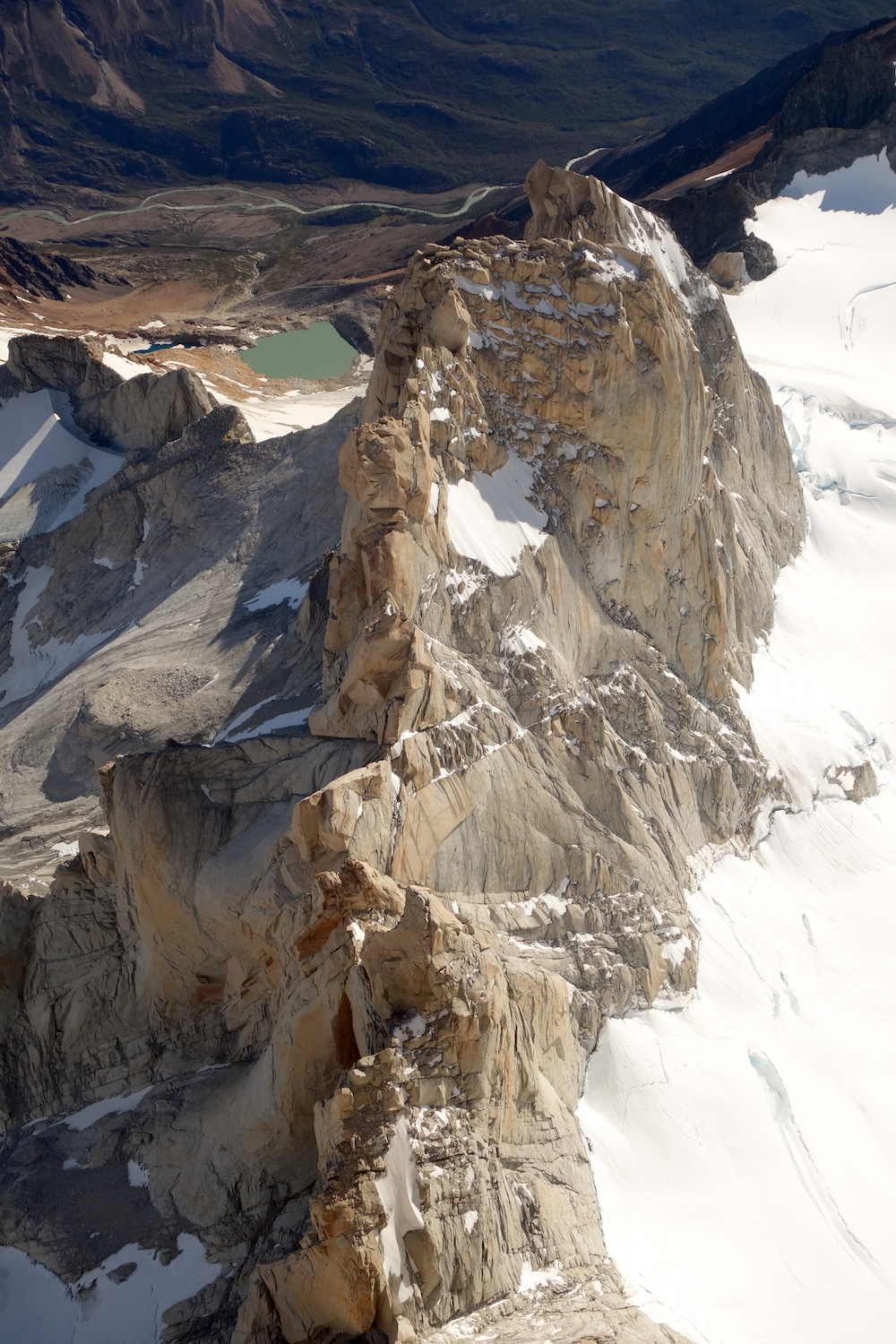 I wonder if it's not a bit over the top…
40 years old and a first north/south traverse of the Fitz Roy range. Does it make you feel young or old ?
I'm just really happy, even if I can't believe what I've done. I'm taken aback by the reaction on the internet, with the greats congratulating me, like Killian Jornet, Ermanno Salvaterra, Tommy Caldwell… I wonder if it's not a bit over the top…
What's next on the agenda, the reverse of the Torre Traverse ?
Yeah, there and back again! No, I have lots of projects, new routes and lines to open… But I'm going to get a bit of sun down in the village and we'll see when I get my energy back.
THE MOONWALK TRAVERSE
Peaks and routes climbed by Sean Villanueva, from the 5th to the 10th of February 2021, during his solo reverse traverse of the Fitz Roy range, (over 4000m [13,000ft] of climbing, 6c max, 50°) :
Day 1 : Aguja De l'S ( East Face) – St Exupéry (Austrian route, camping on the ledge that leads to Rafael Juarez)
Day 2 : Rafael Juarez (Anglo-American / Piola -Anker descent); Poincenot (Fonrouge-Rosasco/bivouacking at the Whillans – Cochrane junction)
Day 3 : Poincenot  (Whillans – Cochrane / Invisible-line descent); Kakito (new route on the east face / camping at Brecha)
Day 4 : Ritz Roy (Franco-Argentine / Casarotto descent / bivouacking on two pitches under the Goretta pillar)
Day 5 : Fitz Roy (Bloque Empotrado) ; Val Biois ; Mermoz (camp)
Day 6 : Mermoz (descending from the Argentine); Guillaumet  (Lûthi-Dominguez / descending Brenner-Moschioni / Paso Guillaumet around 3pm)