Fancy Mont Blanc far from the madding crowds ? The Grands Mulets achieved it. From May to early summer, you have everything to gain doing Mont Blanc backwards. The idea ? Hike and ski in the Balmat and Paccard passes before reaching the summit via the north ridge of the Dôme du Goûter, and descending the north face. Jackpot ?
Iknew he liked to whinge, but at some point, I had to draw the line. Listening to Whinger 1st, you'd have thought we were setting out on a never-ending sea voyage, more like the Route du Rhum than the Costa Sardinia. On the way to Grands Mulets hut (3,051m, 10,010ft), we get it all : the traverse on skis from Plan de l'Aiguille which is too flat (when do we get to do any turns ?), then the famous Junction traverse, a more or less passable chaos (less at the moment) between the Bossons and Taconnaz glaciers which is too slushy (when can we get our skis back on?) and finally the roped ascent to the hut which is too far (are we nearly there yet?). However, stepping foot on to this stranded raft at the top of a rocky peak, you'll be sure to sail away. So, it was time to share some stories from a not-too-distant past.
Two summer holidaymakers
decide to spend the day
on Mont Blanc
The right and the wrong story
It all started out well for Grands Mulets. In the year of our Lord, 1786, in August, two holidaymakers decided to spend the day on Mont Blanc. Never been climbed before ? Crowned with terrifying legends ? What's more, far-removed from the average Alpine climber ? No way ! Our two pioneers of mountain tourism were equipped with walking sticks (or alpenstocks as they were known at the time), and decided to set off on La Côte mountain, on the most direct route to the summit in sight. While they decided to overnight up there, it wasn't on the site of the current hut, built in 1960, but on the site today named 'Balmat gite' on the IGN maps that Jacques Balmat, fittingly (it's a well-weaved story) and Michel-Gabriel Paccard used. The next day they made a beeline for Rochers Rouges (Red Rocks) – morale high – before reaching the summit, via the north face, if you please. Suffice it to say that this route is laden with history. Following the first ever path to a summit which is today trampled by thousands, almost makes you feel like a pioneer.
Yet, the story also has a darker side which tarnished the image of Grands Mulets for a long time. Not far below the hut, an area of seracs sees mountaineers and skiers quicken their pace on approach.  The accident in 2003, which struck down three young mountaineers among a group of young members of the French Federation of Mountaineering and Climbing, left a deep scar on collective memories. The section is no more exposed than Tacul or the Goûter corridor. It is unquestionably an objective risk which one must bear in mind. The risks may be reduced by steering as far clear as possible and not picking up the pace…
Nowadays, the Junction also holds back a number of hopefuls. Yet, it is almost always passable. Ludovic, the hut keeper for ten years, is a sight to see working away in this chaos of ice and snow. With axes, ropes and unfailing motivation to offer his passing climbers the best possible welcome, Ludo marks out routes, sets up fixed ropes and makes the section much safer and clearer for the public.
Traffic report
It is easy to complain about Mont Blanc's excessive visitor numbers, the type of tourists it attracts, or the extortionate fees when you're broke. So, it's sometimes advisable to check out the other side. But before heading to the southern side, in Italy, the Grands Mulets route offers a whole host of advantages in terms of progress. Here's a run-down of them as the holiday traffic builds up :
Fewer people ! That's the whole point of an alternative route. While Goûter hosts 120 climbers every night, Grands Mulets opens its doors to half as many, and is rarely full.

 

So, you avoid the jams. Don't forget your ear plugs though : it only takes one snorer for it to feel overcrowded.
It's stunning ! The arrival at the hut is superb, the glacial surroundings incomparable at this altitude and at this level of access. Some even deem it Himalayan, but at any rate, it offers a wonderful high-mountain immersion for relatively little effort. The Grands Plateaux (the great plateaus) are aptly named, and the size of their ice monuments will blow you away.
You can ski ! Who has never been told that it's a great idea to do Mont Blanc on skis ?

 

You can ski from the foot of the hut and sometimes far into the northern ridge of Dôme. After that, out come the crampons for the steepest section, especially if there isn't enough snow. "I remember being there in sheer ice, and even arranging pitches and belays with ice screws", confides Ludo. So, make sure you check the conditions and pack appropriate kit. After that, it's skis on and up to Dôme pass (4,236m, 13,898ft) then the standard route to Goûter via Les Bosses ridge. On the way down, either you can take Les Bosses again, or, icing on the cake, you can opt to ski down the north face. It's easy to spot the traps and the route on the way up, so why deny yourself ?
Who has never been told
that it's a great idea
to do Mont Blanc on skis ?
THE HUT IS A GOAL IN ITSELF
GME – Grands Mulets Express. That's how you might describe the swift ascent of Mont Blanc and especially the speedy descent. To make sure it is 'by fair means' through and through, without any motorised means, the starting point is around Mont Blanc tunnel and up to Balmat gîte then the Junction. While it can take many hours on the Gouter side, the return trip to the valley on the Grands Mullets side can be over in a flash. You still need to be careful when passing through the Grands Plateaux and find a route which is as far as possible from the seracs. But if you make good progress you can be sitting on a terrace back in Cham' in the afternoon sunshine, while you wouldn't be there until beer o'clock via Gouter.
Three mountains for the price of one ! The XL version for the return leg is by Mont Maudit, via Brenva pass then Tacul, before reaching the Aiguille du Midi. A great hike to consider if the conditions are settled, requiring a minimum physical condition.

 

And an open Aiguille du Midi cable car service…
Life is not just about Mont Blanc ! Curious-minded mountaineers setting off from Grands Mulets open themselves up to other objectives. Who has heard of Wilson peak (or Pitschner dome for those who do not err in the face of five consecutive consonants), a very attainable objective on skis, in the type of aforementioned high-mountain atmosphere ? Also, the hut is a goal in itself. "It constitutes a large proportion of visitors from June", Ludo explains. A way of spending the night in the high mountains in a spectacular setting.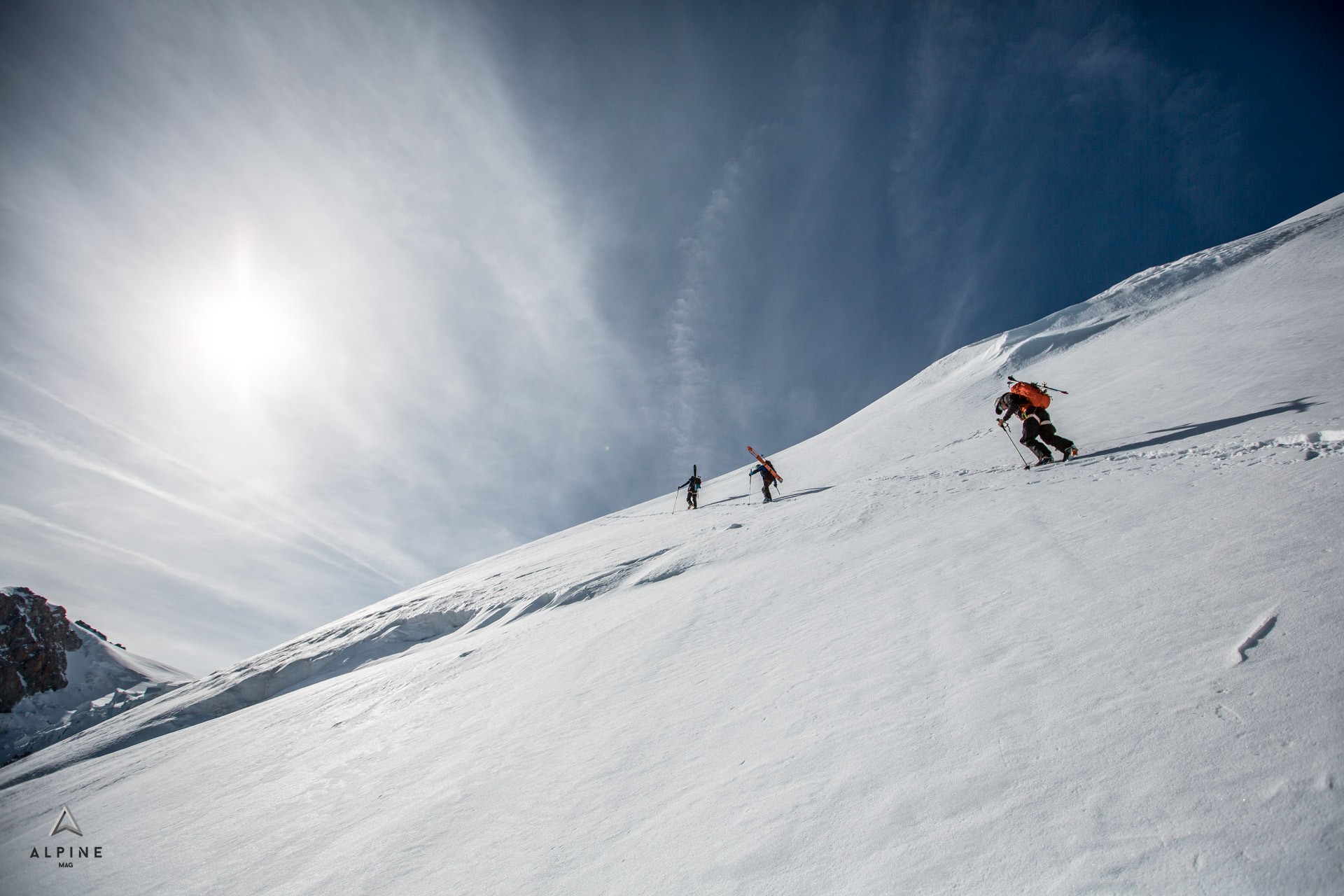 First steps on skis along the back, on the north ridge of Dôme. ©Ulysse Lefebvre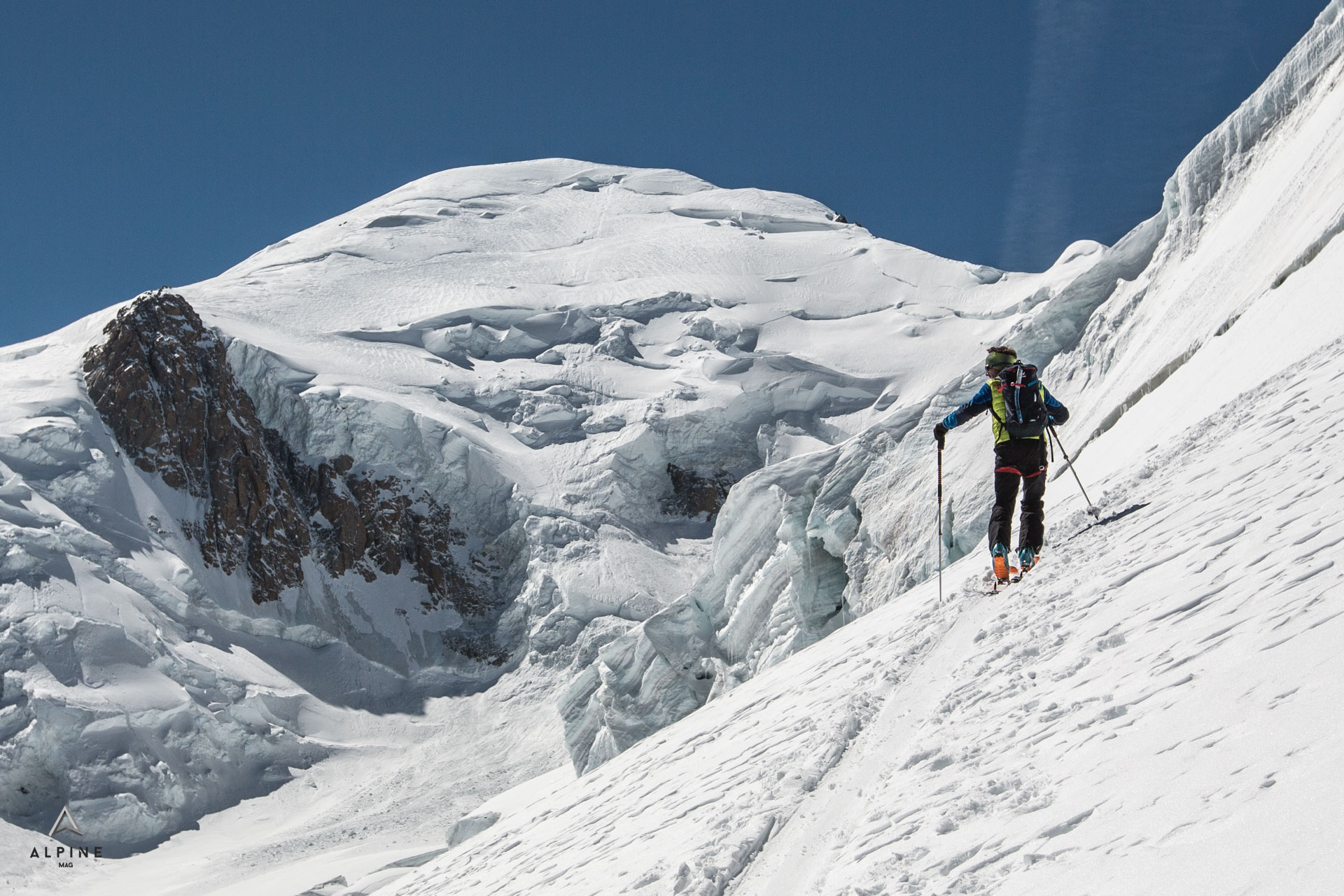 First glimpse of Mont Blanc and scouting the north face. ©Ulysse Lefebvre
The stranded hut
When we met Ludovic in 2017, he told us that even more so than elsewhere "you have to enjoy solitude to be a keeper at Grands Mulets". "There have been weeks go by when I haven't seen or spoken to a single person." No-one, at all ? Some say that Ludo talks to the rocks, leastways, he makes visits to some of them, like the huge erratic block lying just below the Junction which has a certain pull factor…It must be said, the hut has been somewhat abandoned over recent years, due to the reputation we referred to, but also a lack of awareness of the advantages of this hut and the route, such as extending the ski season, moreover towards a goal of choice : "The best time of year to ski on Mont Blanc is around the beginning of June, just when most people are packing up their skis and transitioning to on-foot mountaineering. Generally speaking, at this time, there is no more ice on the north ridge of Dôme, it is less cold, the days are longer, and the risk of snow is lower with spring snow conditions."
What Ludo doesn't say, is that he has been working like a madman to make his hut as welcoming as possible, on another level even. Thanks to many conversations, this fan of mountain literature has managed to put together an impressive collection. "In the beginning, there were just my books, then, little by little, I received more and more from partner publishers, like Guérin and Glénat." Outcome : over 500 works to get your teeth into, from comic books to tales of expeditions. Quite enough to satisfy a few nights spent up there. And the froth on the cake: Ludo has been brewing his own beer for the last few years, using glacier water. While it doesn't (yet) have a label or name, the range is full of character : from lager to ale, bitter to hops beer and American pale ale… Watch you don't throw back anymore, you'll sleep through your alarm !
Certain mountain sleuths make no mistake about it. One of his regular customers is none other than Christophe Prot himself. The guide likes to bring his customers here. He has even conceived another access point through Combe Maudite, arriving directly under the Cosmiques corridor then the hut, bypassing the Junction. "Christophe has taught me an awful lot, taking the time to explain techniques to me. It's thanks to him that I know how to equip the Junction and set up fixed ropes. He is a great source of inspiration for me."
These days, Ludo is hoping that the hut's glory days will soon be back. "I have been working here for many years, and I really believe in the place". It is up to us to prove him right, and to continue the story by deciding to take the plunge.
Written in June 2017. The photos do not represent the conditions at the beginning of summer 2021. Make sure you enquire about the conditions at the Junction.