This is the third time that the Spanish himalayist Alex Txikon attempted Manaslu in winter. Thirty-nine years after his first winter ascent, Manaslu was once again climbed in the heart of the Himalayan winter by Txikon and six Sherpas : Tenjen Sherpa, Pasang Nurbu Sherpa, Mingtemba Sherpa, Chhepal Sherpa, Pemba Tashi Sherpa, Gyalu Sherpa. Victim of dysentery, the Italian veteran Simone Moro who was teamed with Txikon was evacuated to Kathmandu. 

[Update January 10]
Manaslu and its snowy slopes, known to be dangerous when it snows, have hardly attracted the crowds in winter, as have most of the 8000m peaks. It was climbed like many of these giants by Poles: on January 12, 1984 Maciej Berbeka and Ryszard Gajewski reached the summit of Manaslu, 8163 meters, in Nepal. Since then, no one had repeated the feat in winter. Despite several recent attempts, the Spanish of Basque origin Alex Txikon, also an unsuccessful candidate for Everest, was unable to reach the summit. This new winter season, he intended to reverse the course of things. And he has joined forces with the cream of himalayists, including Sherpas.
Indeed, he wanted to summit with Simone Moro, whom he knows very well: the Italian is probably, with the Polish, one of the best specialists of the 8000 in winter: the first and only mountaineer to succeed in the first winter ascents of four peaks of more than 8,000 meters: Shisha Pangma in 2005, Makalu in 2009, Gasherbrum II in 2011 and Nanga Parbat in 2016, already with Alex Txikon and the late Ali Sadpara, who disappeared during an attempt on K2 since.
In fact, it was from Kathmandu, where he was evacuated, that Moro communicated about the success of his companions. "I've been waiting for this moment for five years," says Moro, who sniffed out the perfect weather window for their attempt with the Sherpas. "I climbed with Alex Txikon and Chhepal Sherpa from 4,850 meters to 5,900 meters at Camp 1. Then, ever so slowly, I reached 6,300 meters in less than an hour, Camp 2, but the constant bouts of diarrhea made me realize that I had to make a decision. It became obvious to me: I had to return to base camp before the exposure to the higher altitude became a serious problem for me and the whole group."
Yet another harsh reminder of expeditions to 8,000, and even more so in winter: it's not just about being at the top of your training, and knowing how to seize the weather window: you still need to be in shape on the day.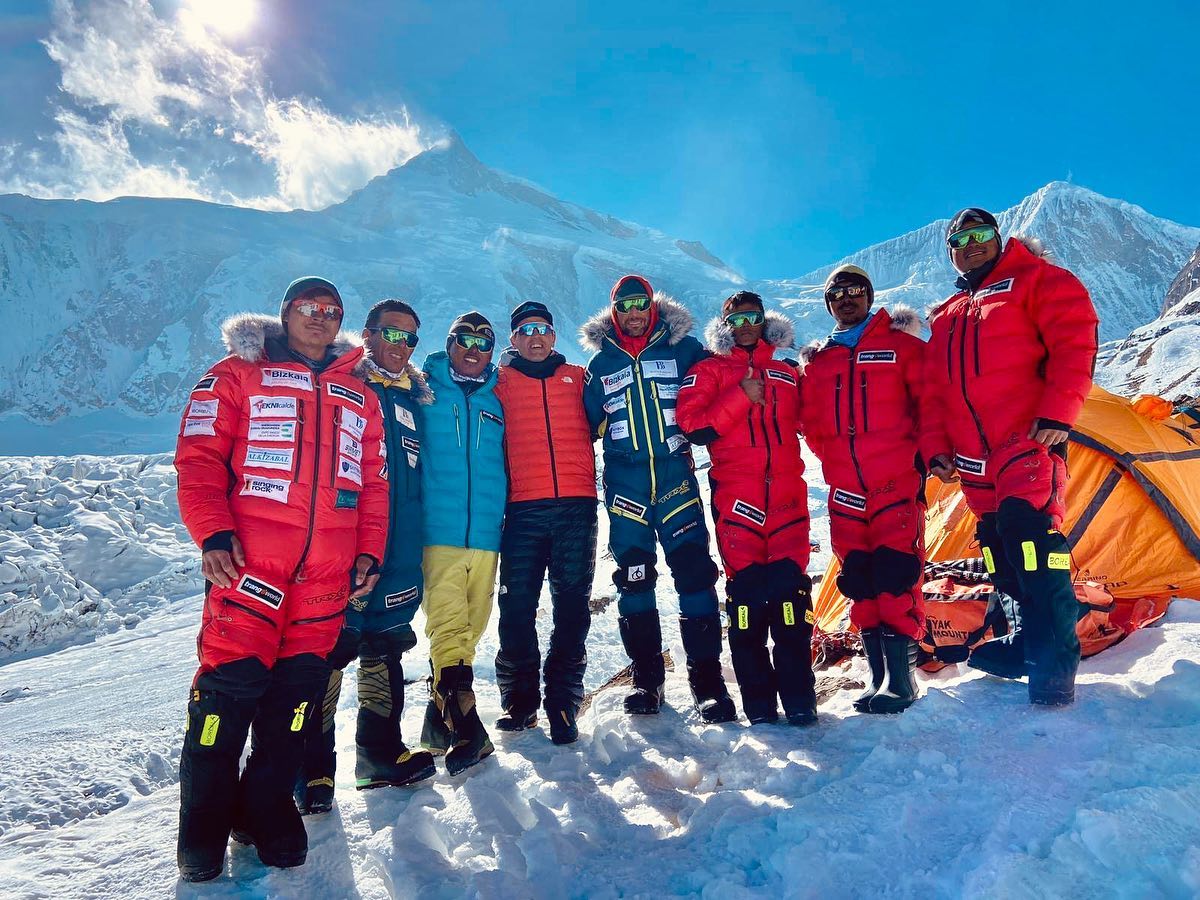 Sherpas surround Txikon, in the center (furry hood) and Moro on his left (red jacket) © Pasang Sherpa
At camp 2 there are already five sherpas who left the day before. Txikon and Chhepal tried to convince Moro, telling him that they would wait for him, but the Italian preferred not to jeopardize their ascent, after "three days of dysentery", a helicopter brought him back to Kathmandu.
Meanwhile, on January 6, the Sherpa team reached the summit: with Alex Txikon, Tenjen Sherpa, Pasang Nurbu Sherpa, Mingtemba Sherpa, Chhepal Sherpa, Pemba Tashi Sherpa, and Gyalu Sherpa became the first to reach Manaslu in winter, thirty-nine years after the first winter ascent. And hang for the second time, after the first one of the winter K2, the Nepalese flag on an 8000 in winter. Txikon, him, hangs a second 8000 in winter after the Nanga Parbat in 2016.
[Update January 10]
Alex Txikon confirmed to several sources including Explorers Web that he did not use supplementary oxygen for his ascent. He also added that if the sherpas who were with him had taken O2 bottles, the cold had prevented the correct functioning of these.
In addition, Alex Txikon reached the real summit of Manaslu, and not the antecedent – which he had only reached on his previous ascent in 2008. He posted a video in which one of the Sherpas is seen on the rocky summit of Manaslu at this time of year. He added that the route inaugurated by Mingma Sherpa for the last few meters was very clever and less difficult than it looks, but that the real summit was very narrow, and you could only put your hand on it.