Mingma Gyalje, aka Mingma G, is a man of his word. He said he would take the first winter ascent of K2 for his country, and he did it. He committed to put an end of years of controversy on Manaslu by reaching its true summit, and he provided, with no room for doubt, claiming "no more excuses" for future climbers. He is also a IFMGA certified mountain guide and, last but not least, a businessman fighting for his piece of the cake in the thriving expedition business. Part one of our portrait of Mingma, from a tough childhood to his precious high mountain guide diploma.
Mingma G is quite the character, quite far from the classic (often patronizing) perception of ever-smiling, kind-spirited Sherpa of superhuman strength and Buddhist detachment. Mingma G is tough, proud, somehow wild. He ensures he has learnt patience on the mountains, but he is actually quite fast to snap back, blunt to the point of aggressive, when responding to comments, critics or even questions he doesn't like. Hyper confident, as accomplished alpine climber is meant to be, he might be not too empathic, except with those who gain his respect first. In an expedition, he is hardly the kind of guy who keeps you going through motivation and tender words, but rather the hard man to break trail and fix ropes to the top when no one else want – or can. He's a captain rather than a coach.
His multifaceted climbing career, including all steps of the professional ladder from porter to leader and company owner with multinational clients, and his own resume in solo climbing and new routes, might lead to think he is under a strong westerly influence. But make no mistakes: Mingma Gyalje is a fierce banner-holder of Nepal nationalistic proud, a true patriot on a mission to return the leading role in expeditions to the Sherpa people and take Nepal's name up in mountaineering history, something he considers a question of justice.
mountains were not to be climbed for fun or challenge, but as a job.
Self-made man
Yet, his climb in life from the isolated valleys of Rolwaling to the mountaineering hall of fame has been not easy, as Mingma G himself told us. This self-made man, indeed, started by his own name. "We Tibetan and Sherpa put names according to the day we are born," said Mingma, whose name means Tuesday. "My complete name is Mingma Gyalje Sherpa, which is difficult to pronounce and just Mingma is a very common name, so I made it Mingma G."
Mingma G was born and raised in Na village, Rolwaling, at 4250m of altitude. Being an off-Khumbu Sherpa means an added handicap, compared to the popular trekking path to Everest, which attracts most foreigners, hosts most of the Sherpa they have contact with, and therefore attracts most donations to build infrastructure and improve the villagers' lives. "Even today, we still don't have good schools, no transportation, no hospitals, no electricity, no internet and other modern facilities in our valley," Mingma G said. "When I was a child, education was not considered a matter of any importance – but I was lucky: I was brought down to Kathmandu for my studies by my uncle, Dawa Tashi Sherpa, who in 1997 became one of the first K2 summiteers from Nepal and he is also among the few Sherpas who have climbed Everest from 3 different routes. My father used to be a guide too; he lost 8 of his 10 fingers on Everest in 1982, while working for a Japanese team," Mingma G added.
With such background, it was only logical that the young Mingma Gyalje followed his relatives' job. Also, as it is the case for most Sherpas, mountains were not to be climbed for fun or challenge, but as a job.
become a credited mountain guide was more than a blue patch on one's jacket
"I started climbing in 2006 right after I completed my school," Mingma G recalls. His first job as porter, with absolutely no experience, was with a Japanese expedition – on Manaslu! Somehow, he managed to reach above 7,000m and safely back. "On the following year, 2007, I climbed Everest, which was the first summit of my life," he reflected.
An Everest summit in his resume at 21 would have surely granted good jobs in the future – but Mingma didn't settle for that. Instead, focused on his technical education in order to become a credited mountain guide. For a Nepalese/Sherpa climber, that was more than a blue patch on one's jacket – it was a remarkable leap across the social gap which had separated "Western guides" and the expedition Sherpas (as a synonym of porters, who actually belong to several ethnic groups) since the times of the Himalayan pioneers.
After succeeding on K2 I never had fear of leading expeditions to 8,000ers. Mingma G. Sherpa.
High Mountain Guide
Getting a IFMGA accreditation in Nepal requires proving high-altitude experience even before being admitted in the training and assessment program managed by Nepal National Mountain Guide Association (NNMGA), which is recognized by the International Federation of Mountain Guides Association (IFMGA). The program includes two levels of training and assessment, one to become aspirant guide, and then an advanced stage with a final examination that, if passed, grants the applicant the full accreditation.
Mingma G took the entry exam in 2012 and completed the Aspirant Guide course in 2013, getting what he considers "a very good training" in the process. He put his lessons into practice right away, and in grand style. "In 2013 I led a team on Mt Bamongo (6400m), which was one of the toughest climbs of my life and it gave me strength and courage to climb harder," Mingma G said. It was also the first successful ascent on this 6,400m peak, done on November 30th, very close to calendar winter.
After Bamongo, Mingma G felt he was finally prepared for a mountain he had heard so many stories about: K2, the savage mountain. In 2014, he came, climbed and conquered. "After succeeding on K2 I never had fear of leading expeditions to 8,000ers, because, despite all I had heard about K2 being the hardest of all 8,000ers, it didn't seem that difficult or tough to me," he stated.
As on Bamongo, Mingma G put up together an all-Sherpa team for another first ascent: Chekigo (6257m). The climb, another first, passed virtually unnoticed by media, but it showed a new trend of young local climbers bagging first ascents on peaks in their country.
The team had planned for a third first ascent on a Rolwaling 6000er: Chobutse (Also spelled Chobuje), but eventually all dropped out but Mingma G, left alone with his goal. "I made a very tough decision doing solo on Mt Chobuje, which was successful, but I almost lost my life there," Gyalje recalled. Mingma G thought he would be able to complete the climb in one day but it actually took him three, including two edgy bivouacs, where he curled in a snow hole with no gear, clothes, food or fuel. "It was my most dangerous climb and my biggest mistake," Mingma G told the Himalayan Database upon returning. It was also, according to the HDB, the "first technical solo climb by a Nepalese Sherpa."
"The climb [on Chobutse] made me more experienced and, most importantly, taught me to remain calm. Inside snow bivouac, I learnt a lot about patience," Mingma said.
through these climbs Mingma G. had mutated from a young high-altitude staff-member into a hard-core climber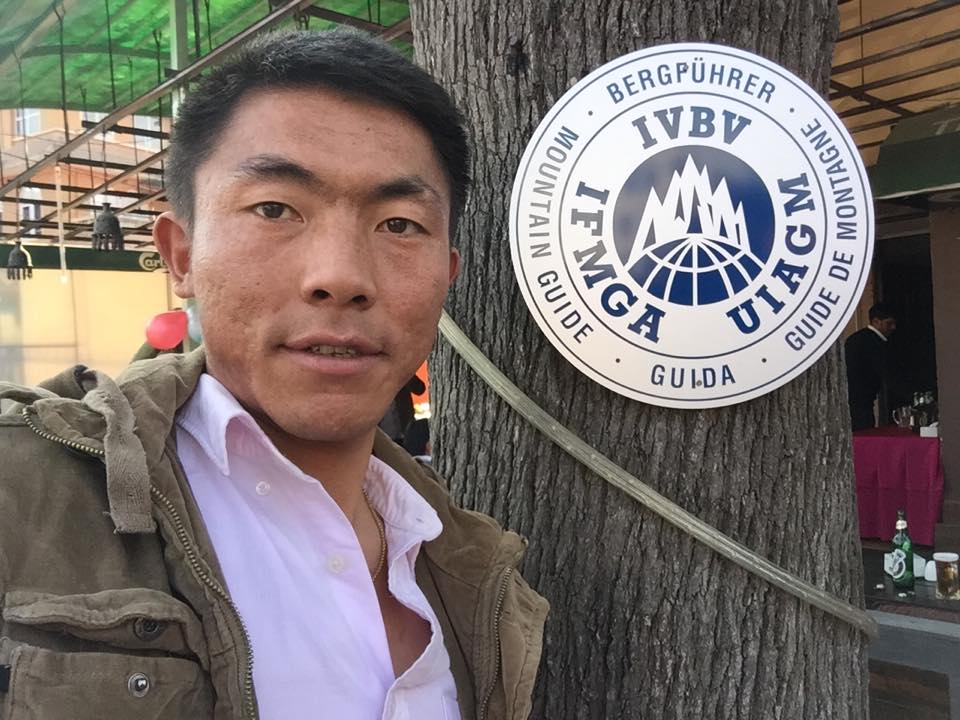 On 21 March 2016, Mingma graduated as a guide. He will be 30 years old three weeks later. ©Coll. Mingma G. Sherpa
Purposely or not, through these alpine-style climbs Mingma G had mutated from a young high-altitude staff-member into a hard-core climber, ambitious and confident. In 2016, he added another layer to his mountaineering personality by becoming a trained and credited expedition guide. "That year, I completed my IFMGA Mountain Guide course which taught me leading teams, alpine climbing techniques, safety and security," Mingma G told us. "I have to be very careful while leading a big team on an 8000m peak but I have to be tougher while climbing technical routes," he said.
Mingma is not going to dawdle, his ambition is strong and he is going to become the one we have heard a lot about lately: a sequel to be discovered in this second part.