New book column ! Yvon Chouinard left his mark on El Capitan and Fitz Roy, and established the emblematic brand, Patagonia, having started out forging climbing equipment by hand. A collection of his writings, Some Stories is an autobiographical book which sheds light on the eclectic life of Chouinard, a true nature lover, equally happy bivvying in the mountains, fishing by the river, surfing, or climbing. Portrait of a visionary, well-aware of his own contradictions.
Not much predestined Yvon Chouinard to leave his mark on the climbing and mountaineering world, either through the courses he charted or the emblematic brands he established. Not much, except the era : the sixties, which allowed him to experience the Golden Age of Yosemite, the adventure of big wall climbing, at a time without nuts or jumars. A very real adventure to the other side of the world too, road tripping to Patagonia, surfboard on the roof, ropes in the boot, which inspired the name he gave to his company. And a time when a feeling of freedom, of novelty – from surfing to climbing – was accompanied by the dazzling capitalism of the post-war boom until the Reagan years, a time of growth that was thought to be infinite, which served Chouinard's companies well, yet whose limits he understood. This new book, Some Stories, Lessons from the Edge of Business and Sport, is an (auto)biography bringing together a collection of texts published over the years, especially in the American outdoor press.
Tales of daring climbs, journeys to the end of the earth, confessions of a (reluctant) businessman (the title of one of his previous works): Yvon Chouinard has put together a whole set of texts which trace his exceptional career, his philosophy, his immense legacy – even if there are no flaws to be found other than those he has decided to share.
Being a visionary boss is not just about 'letting your people go surfing' (title of another of Chouinard's best-sellers) well before working from home became popular, and in a country, the US, bearing the marks of Fordism; it is also about making it known. Shouting his message from the rooftops is undoubtedly one of Chouinard's greatest achievements, both for Patagonia's image, but also for all the people, from bosses to employees, he has influenced. 
A practical man, with a gift for manual inventions, Yvon Chouinard started out forging pitons himself by hand, setting up Chouinard Equipment with Tom Frost (the brand which would become Black Diamond, whose logo for a long time was in the form of a capital C, for Chouinard) to sell pitons which would overcome El Cap's North America Wall a few years later.
At the end of the 1950s, and the beginning of the 1960s, Yvon Chouinard (born in 1938) survived by eating cat food, spent his springs in Yosemite, his summers in the Rockies and in Canada, then migrated to New Mexico to warmer rocks come wintertime : he was even convicted of vagrancy. Chouinard the "dirtbag" was on the road, a Kerouac who had walls as his compass. In Yosemite, in 1965, Chouinard joined forces with T.M. Herbert to open the Muir Wall, which they achieved in seven days, "without bolts and without water". But it was in 1968, a pivotal year, that he left everything behind and set off for Fitz Roy, accompanied among others by Doug Tompkins, who at the time "was having a few tents made in the back of his equipment store", while Chouinard was scraping by with his climbing hardware. They opened what was to become one of the most famous routes in Patagonia, the 'California' or 'Funhogs' on the Fitz Roy. Becoming aware of the damage pitons were causing to the granite, Chouinard was one of the inventors of Hexentrics, and the first to market nuts.
Two years later, Chouinard brought back a rugby polo shirt from Scotland, perfect for climbing. He sold piles of them and quickly realised that the clothing business was much more profitable than climbing equipment. Patagonia was born, and quickly grew, though not as fast as Doug Tompkins' brand, The North Face. The only climbers to become billionaires, according to Forbes magazine, Yvon and Doug remained friends, and while the money flowed like water, they never forgot where their passion came from: nature. A kind of Bill Gates of the outdoors, Doug Tompkins did a few great trips with Yvon and ended up buying land in Chile and Patagonia to protect it from private interests – and protect it full stop.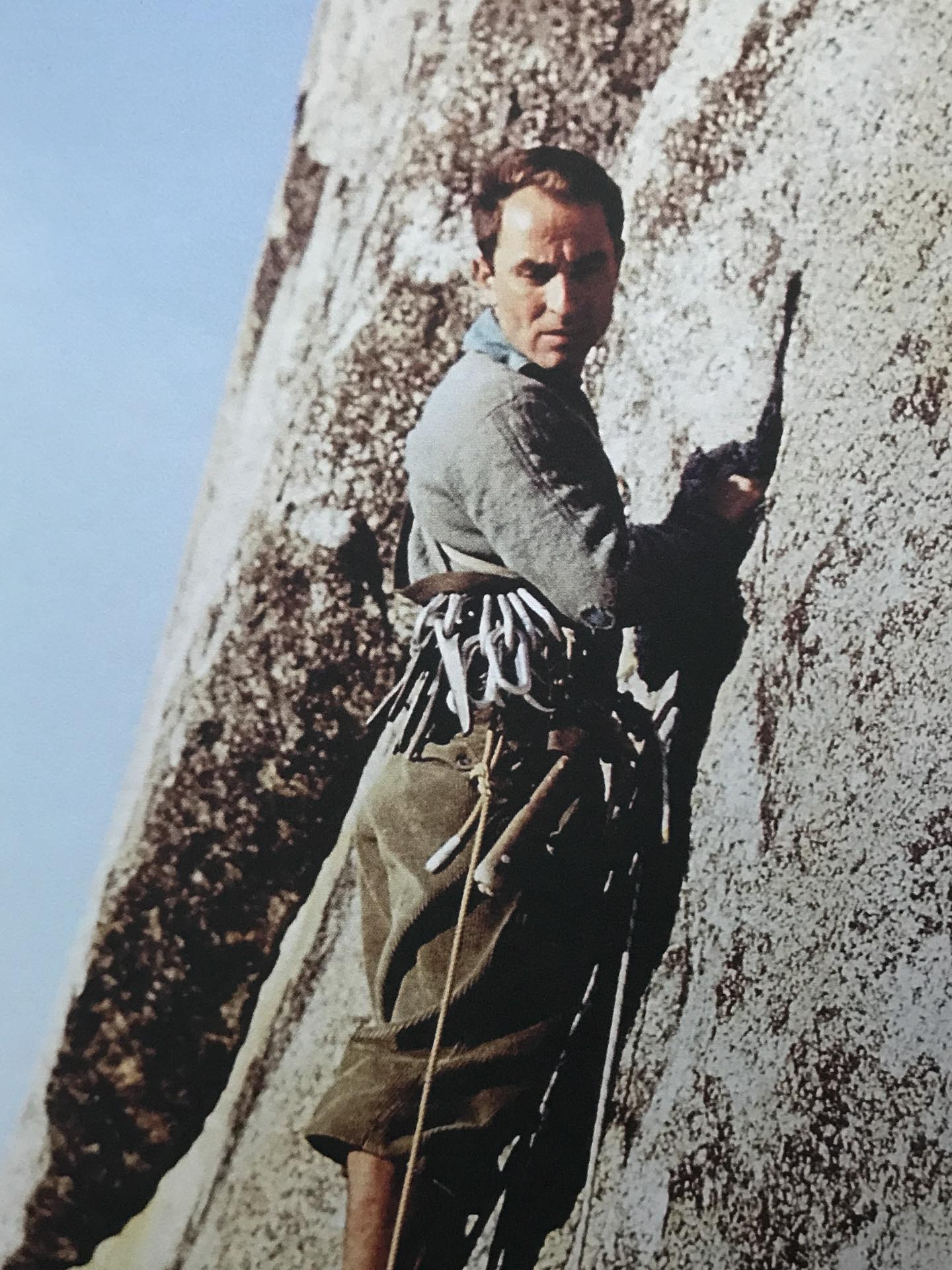 Yosemite in the 50s : Yvon Chouinard opens Sentinel Rock ©Robbins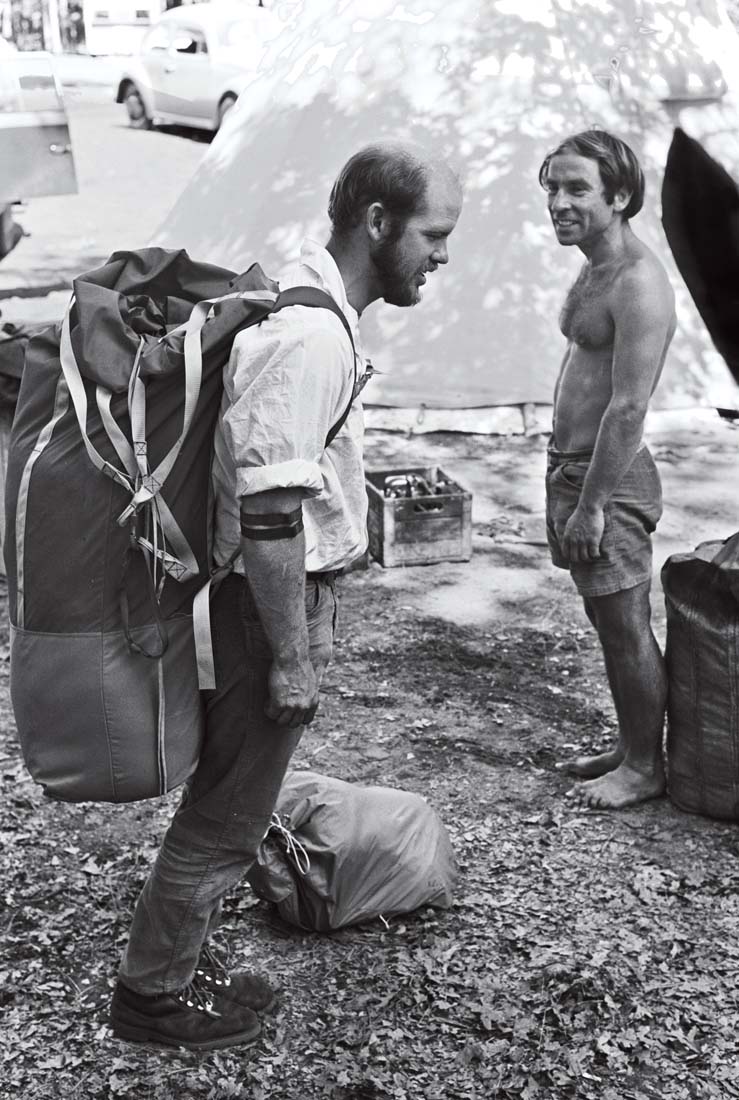 Yosemite in the 60s : Chuck Pratt and Yvon Chouinard (right) ©Chouinard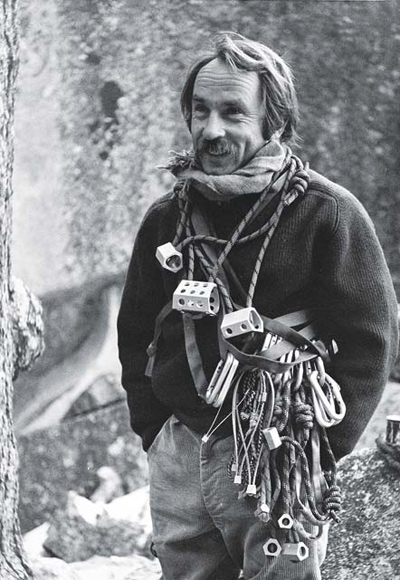 1970s : Yvon Chouinard with his necklace of 'Hexes', the advent of clean climbing ©Tom Frost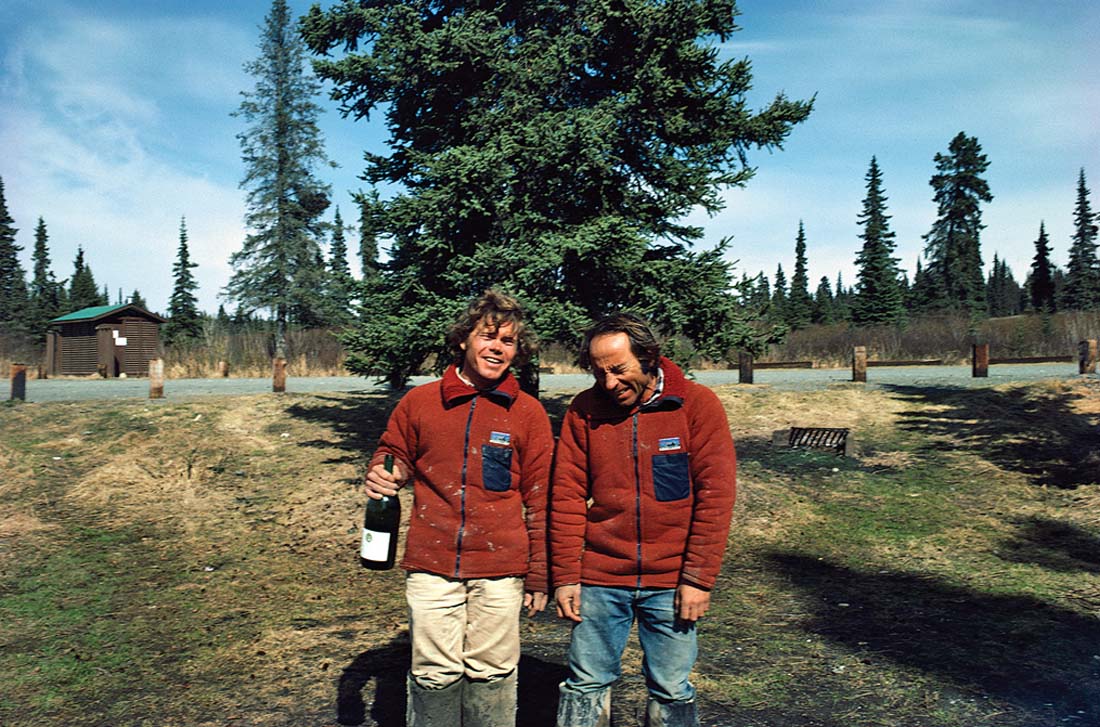 Alaska 1980 : Rick Ridgeway and Yvon Chouinard celebrate their ascent of Denali, dressed in Patagonia jackets. © Chouinard
Paradox(es)
Between two trips to Europe, including one to the north face of Les Courtes with Layton Kor "and one piton" by way of a second hand, and another to the Dolomites with Peter Habeler "and some Pierre Allain karabiners which refuse to open when they are weighed down", Chouinard's life remained that of a boss who got involved at every level, including when Patagonia went under in 1991 (before getting back on track with renewed vigour). A telling quote of this 'alter-entrepreneur's' paradoxes, Chouinard admits that in the 90s, he realised that "sustainable manufacturing was no more than an oxymoron". While everyone remembers the slogan 'Don't buy this jacket', the disruptive message from Patagonia in 2011 (page 399 of the book), which was followed by a comms campaign extolling the merits of repair over replace, Patagonia has never mentioned the sizeable deals (for fleeces) made with the American army through which, 20 years earlier, it reaped whopping benefits. In any event, you won't read about it in this book.
The writings of Chouinard depict an exceptional life, comprising extraordinary achievements both in the mountains and in business. Nowadays, Patagonia is undoubtedly one of the rare brands in the US, or elsewhere, to venture to raise their voice publicly and politically to protect the parks and lands where outdoor sports are practised, and even to protect their very existence. Provocative at heart, yet aware as a manufacturer of being a 'polluter', Chouinard has not come up with a miracle solution to continue selling new products while protecting the environment body and soul, funds at the ready.His eclectic journey and his way of doing business have certainly done more for the environment than a whole host of others, and set a trend (1% for the planet launched by Chouinard in 2002).
Superbly illustrated, the articles in this slightly catch-all book unveil both the philosophy and paradoxes of Chouinard, without nevertheless managing to dissociate the man from the brand he established. To achieve that, would probably require a biography: not an easy ask, no doubt, for someone who prefers making his own kit to other people's.