Carlos Soria is not the only person in their eighties to have attempted to climb the highest peaks in the world, but he has already done 12 of the 8000ers and achieved amazing feats in the Alpes, such as climbing Les Drus in 1962. In April 2021, Carlos Soria and his faithful companions were at the foot of the Dhaulagiri (8,167m [26,795ft]). When we phone him, he was preparing himself for his 12th expedition to Dhaulagiri, this time with bottled oxygen and assistance from Sherpas, for what would be a thwarted attempt. Here is the story of the old man man on the quest to climb 14x8000s. 
When Carlos Soria stated that there was a life after retirement, he meant that he was going to live it to the full. As soon as Soria was vaccinated against Covid-19 after his age group were called up in Spain, the veteran climber took the first flight to Nepal where he acclimatised in the valley of Khumbu before taking on the Dhaulagiri. Climbing this peak would make it his 13th 8,000m peak at a record breaking age of 82. It would also mark the end of a duel that has lasted nearly 40 years and would be his 12th attempt at climbing "the white mountain", in the same vein as Captain Ahab's hunt for Moby Dick.
However, it wouldn't be fair to compare Carlos to a man obsessed by the pursuit of an uncatchable whale : during Carlos's long 68-year career as an alpinist, he never had to call mountain rescue or report an accident and has always remained a cautious climber.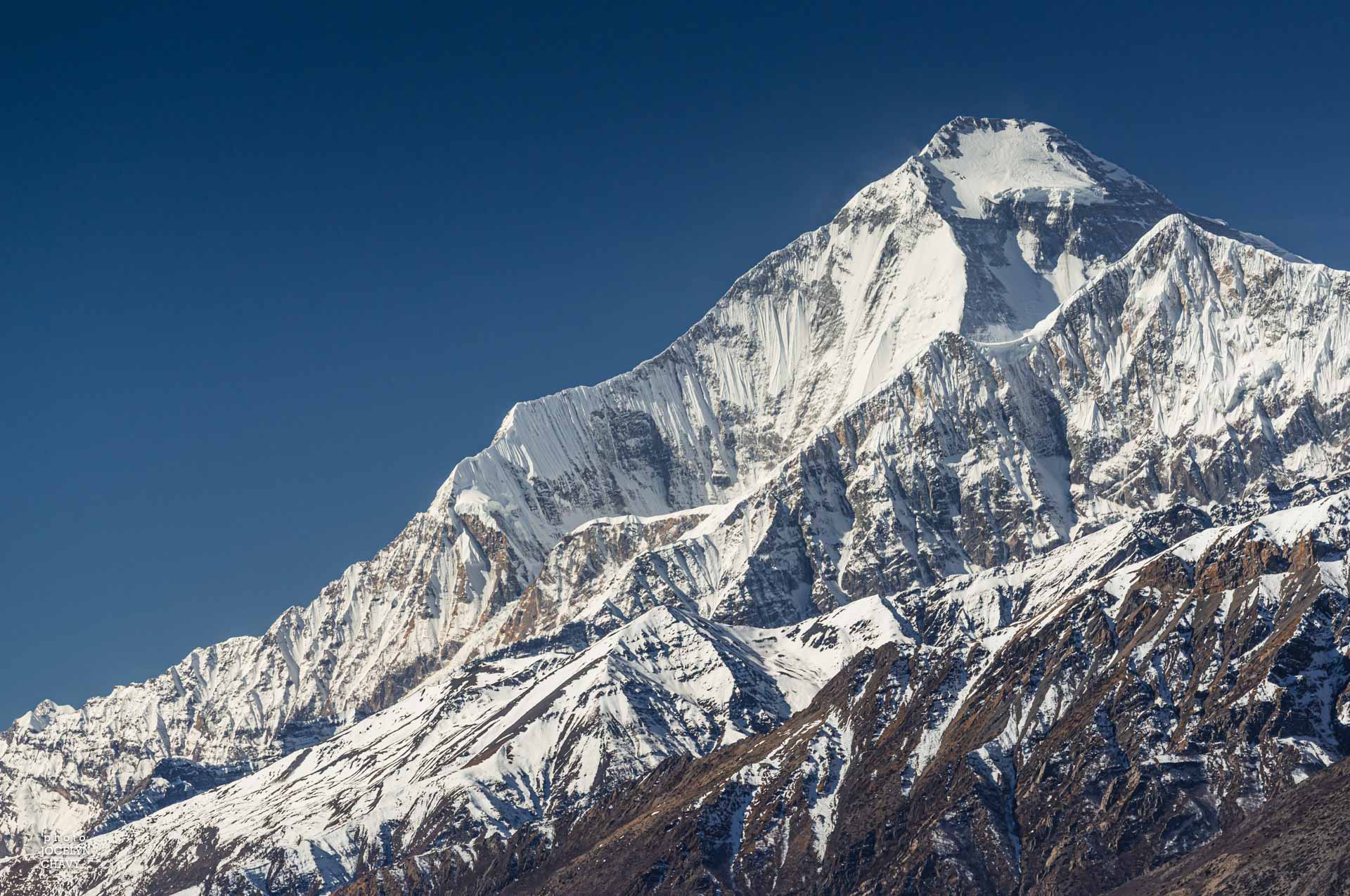 Dhaulagiri, 8,167m (26,795ft) ©Jocelyn Chavy
In the Himalayas, he makes friends on every expedition and has created a name for himself
Furthermore, he's known for being a wise and friendly man with refined manners. He prefers not talk about or criticise anyone from the mountaineering community. He's grateful for each day spent on the mountain, whether that be on a high altitude expedition or running in the hills where he lives, that he knows like the back of his hand. He never takes the mountain for granted. In the Himalayas, he makes friends on every expedition and has created a name for himself. He's particularly proud of his relationship with the Sherpa community: "They like me, they show me affection and I'm glad to know that this one of things that I have done well".
During his previous attempts on Dhaulagiri, Carlos has always come back having learned something positive from his experience, happy to be back safe and sound with lots of good memories. However, with the years gone by and the 8,167 metre summit that still alludes him, things are getting harder.
Constraints that come with age
It has been particularly hard to find sponsors. For this expedition, Carlos found them so late that his co-climbers, Sito Carcavilla and Luis Miguel, almost didn't come. But the time and attempts on the mountain have not eroded his determination. "I want to go to Dhaulagiri, I really want to go', Carlos says in the expedition's promotional video.
Although his age is one of the most impressive things about Carlos, it does not help attract sponsors. "Getting older is a positive thing! It means that you're still alive", he tells us. "But for getting funding, it is honestly, as one sponsor once told me, a hindrance".
I have been climbing mountains since the age of 14 and I have never had an accident or had to be rescued
Despite the work and determination that Carlos puts in, the sponsors take into account the chances of reaching the summit (or worse, having problems during the ascent) and can easily get cold feet. Moreover, Carlos doesn't feel that he can compete with the climbers and influencers on Instagram. "If I could I would explain to them that I have been climbing mountains since the age of 14 and I have never had an accident or had to be rescued", Carlos explains. "Try to find someone that says the same thing! Ten years ago, I climbed the Lhotse with a group of Spanish climbers and they all had to be rescued. The only guy that got back down to Lukla on his own is the old man sitting before you".
In a way, this is also the objective of the expedition: to show that life is far from being over when we get old. "We elderly people also have dreams and want to make the most of life, especially after this difficult year. We came back stronger after the Spanish Civil War, we strived to create a better life for our children and, when Covid started, we severely paid the price. So many people have died alone and isolated, sometimes even without access to the overcrowded intensive care units". Carlos wants to pay tribute to the elderly who lost their lives to the pandemic by placing flowers on the top of the summit in their memory.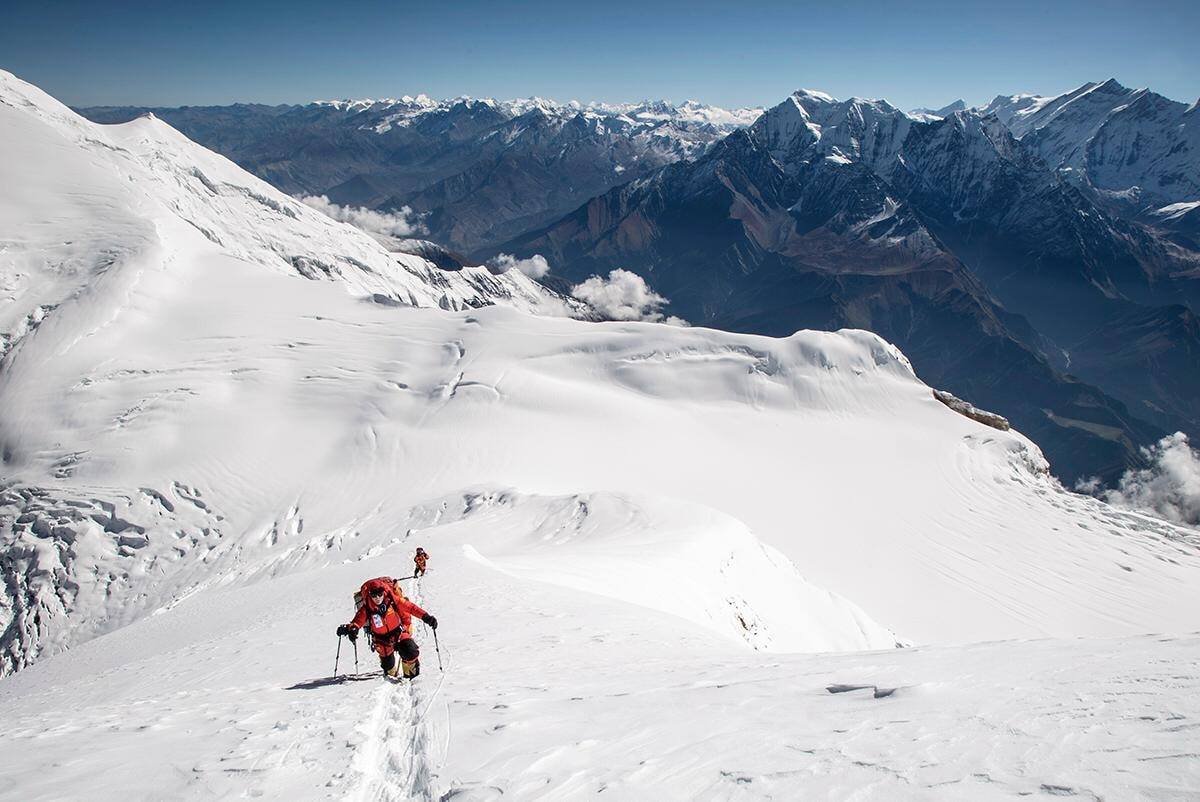 Carlos Soria on the slopes of Dhaulagiri during an attempt in 2019 ©Coll. Soria
Tired of "half-truths"
On the other end of the phone, his voice and comments are tinged with a slight bitterness, reflecting his weariness of asking for and struggling to find funding. In a way, it seems as if he has removed some of his diplomatic shell to reveal a hardened warrior, tired of remaining silent in the face of what seems to him an injustice. He has always been honest about his climbs and now feels that the world – and sponsors – prefer those who shine on social media and practice self-promotion.
"I'm not telling lies, I'm telling the truth and I'm tired of reading and listening to so many lies from the mountain community", Carlos tells us at the start of our interview. Carlos is not referring to those who make misleading statements, but to climbers who exaggerate the merits of their achievements by intentionally concealing important details. To put it plainly, he is tired of reading the statements of some climbers who claim that they had no oxygen assistance, but "forget" to mention that they are making progress using the ropes fixed beforehand through the paid efforts of Sherpas.
I have climbed nine peaks over 8,000m without oxygen, the last one at 71. This time I will hire Sherpas, use oxygen… . After all, I'm not 71 anymore!
Therefore, for his next expedition, Carlos emphasizes that he will be self-sufficient and independent from the bigger teams: "I will share the permit and the facilities at base camp, but then I will make my decisions alone with my team: Sito (Carcavilla) and Luis (Miguel López). "
The Spaniard will also be able to count on the assistance of the Sherpas and he will use oxygen from the last camp. " I have climbed nine peaks over 8,000m without oxygen, the last one at 71. This time I will hire Sherpas, use oxygen and try to carry as little weight as possible. After all, I'm not 71 anymore! "
However, Carlos is not ready to be "lifted to the top". When asked if he feels well enough to get to the summit and descend safely, he doesn't hesitate a second: "Yes, otherwise I wouldn't go. Of course, at 82, I'm not in the best shape, but I train every day, I'm aware of my weaknesses and I do my best to overcome them. "A few months ago, Carlos had surgery and lost the strength in his hands. He is training to get it back.
Even with this recent surgery, he remains confident: "On my last attempt on Dhaulagiri, it was the mountain conditions and not my fitness that made us turn back. Recently, I climbed Lenin Peak and reached the summit without any major problems. If I found that I wasn't fit enough, I wouldn't go, but I honestly think I'm capable of reaching the summit. "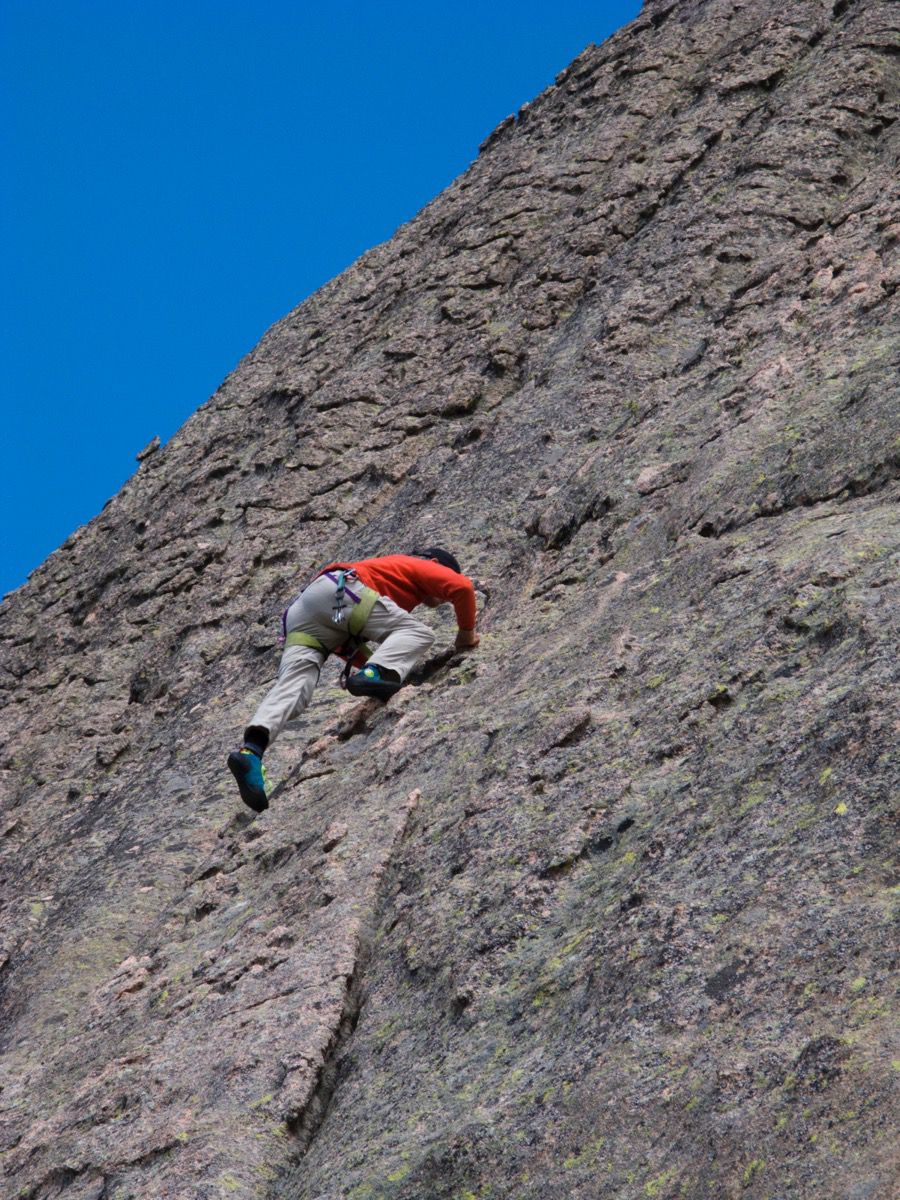 Whether it be free soloing or climbing in the snow, Soria is always training ©C. Soria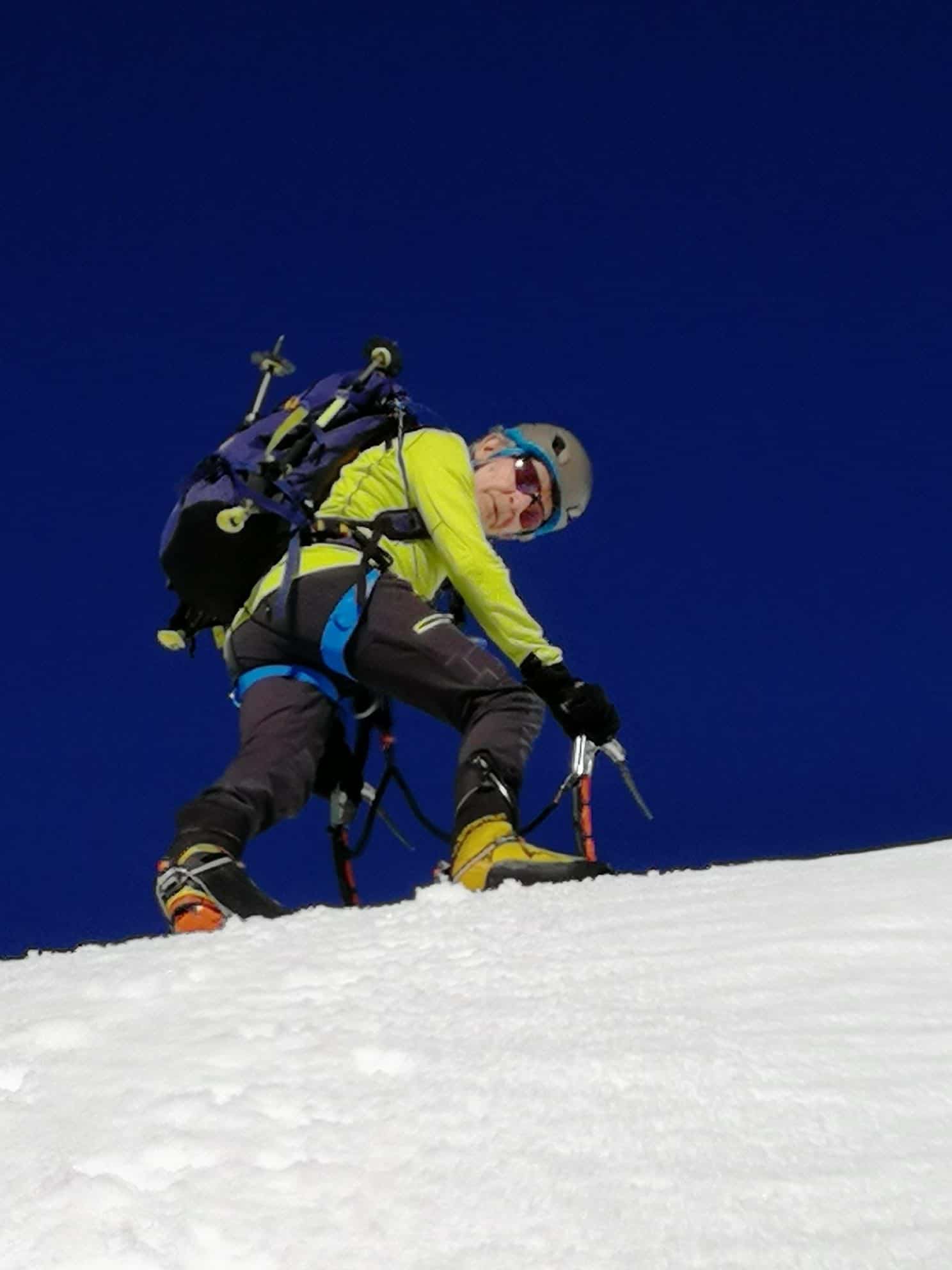 A life in the mountains
Carlos Soria was nearly 50 when he did his first 8,000m peak and now 40 years have passed since his first visit to Dhaulagiri. "When I started mountaineering, even before I dreamed of the Himalayas, there was a logical progression. The Alps were our Mecca. In 1962, I made the first Spanish ascent of the west face of Les Drus. It took me three days! Later, at the age of 50, I climbed the north face and the Bonatti Pillar in the same day. Among some of my achievements are : the north face of the Matterhorn, the Walker Spur, etc. Then Denali, Ushba and a lot of classic climbing routes in Spain. I'm best known for the 8,000s, but I have the background of a mountain climber".
Carlos Soria has also tried doing marathons, ski-mountaineering and cross-country skiing. "I trained at a time when no mountaineer was doing it," he adds, which may explain how he managed to stay so healthy. Then, of course, other things required his attention. "I had four daughters to feed, a carpentry shop and four employees to pay. I was climbing when I could. "Given all these factors, Carlos didn't turn professional until he was close to retirement age.
I want to reach the summit because I am determined to complete the 14 8000s
It seems clear that his varied sporting career has helped develop his climbing skills, his awareness of his limits and his excellent health. However, according to Carlos, his success owes more to common sense. "I've never been rescued because I've turned back many times. The high altitude plays tricks on us: we think slower and some people just forget that they have to get off the summit. I once saw a man drop dead at the top of Aconcagua! On the day of the summit, I constantly check where I am on the mountain and keep in mind that I will have to descend later. That's why there is no "relaxation time" at the summit. Once I'm there, all I can think about is getting down. The joy, the satisfaction… I only think about it once I get to base camp, when I slip into my sleeping bag".
For Dhaulagiri, it seems that this moment of joy has been postponed for too long. Some think that Carlos should forget about Dhaulagiri and climb another peak while he still can. But that's not an option for him. "I want to climb Dhaulagiri because I haven't done it yet. And I want to reach the summit, because I am determined to complete the 14 8,000m peaks. If I can do it this time, I'll take on Shishapangma, where I've only reached the central peak, which is 8,008m (26,273ft), but it's not the highest point. It would be fantastic if I could climb Dhaula now and Shisha in the fall".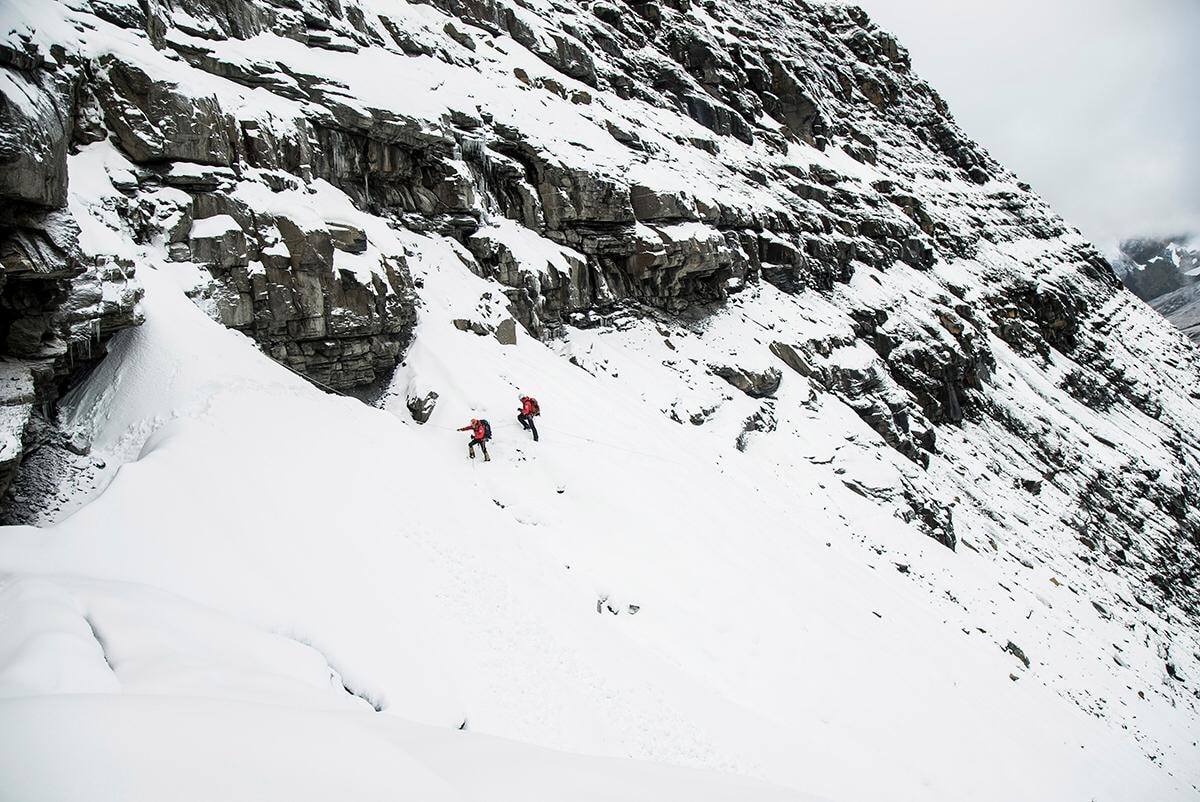 The 2019 expedition to Dhaulagiri ©Coll. Soria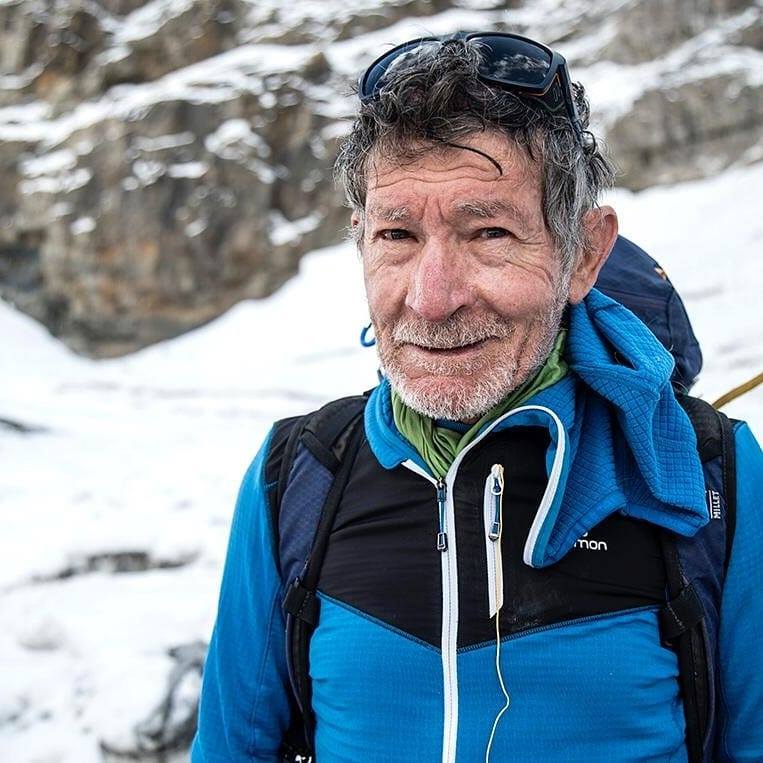 Soria at the age of 80, Dhaulagiri 2019 ©Coll. Soria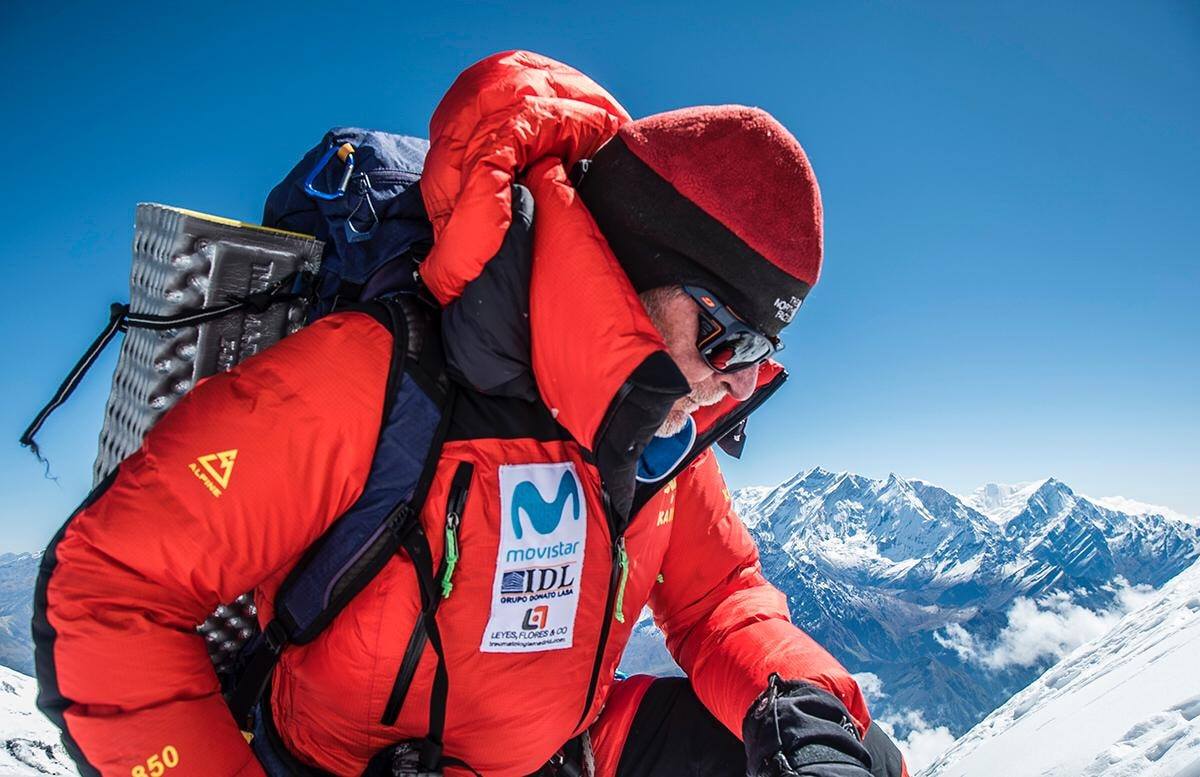 The evolution of the Sherpas and the debate on climbing with oxygen assistance
Throughout his climbing career, Carlos has witnessed the evolution of Himalayan climbing. One of the major changes is the development in skills of the Nepali climbers. "The Sherpas have always been strong, but now they are even more professional and skilled. I remember during the first Spanish expedition to Manaslu in 1973, I had to go first and fix the ropes on the most technical passage; the Sherpas could not go through this type of section on lead, but now look at them! They are even stronger, very good at climbing and very smart! Look at how well they did on K2 this winter! Today, on the normal routes, no one overtakes the Sherpas".
The veteran climber also took a stand on the current debate over the use of oxygen on the 8000s, with some climbers comparing it to doping.
"I think it's a silly debate," says Carlos. "The mountain is free, why not use oxygen ? What's important is to come back down with empty tanks, to respect the mountain and its people and not to lie about its use – if you use it, just say so. El Capitan in Yosemite was climbed in less than two hours, when some people need nearly four days. What do we do with the slow ones, shoot them ? We can't set a standard for everyone. Also, oxygen is not the only support. Some people don't use it, but use the fixed ropes installed by the Sherpas, who are sometimes paid by others. I find this less ethical than using oxygen".
Not to force others to go after me, because that would be failure.
"I agree with those who try not to use oxygen because they understand that it is the most logical way to climb, as I have done so for many years. But they have no right to dictate the rules for everyone else. Experience has shown me that oxygen is very useful on the way up, but hell on the way down, because you can't see your feet and your glasses fog up. It's awkward and disruptive".
When asked what he regrets the most, when the Alps and Himalayas were more dedicated to exploration and much less crowded, Carlos answers : "It was all great, I don't regret anything. I'm just happy to have done what I have, from the Pedriza to the Alps, the long traverses, the ice climbing, the solos without ropes, the 8,000s, etc. I enjoy everything about it and instead of having regrets, I try to adapt to the moment".
Finally, I asked him if he has considered ending his mountaineering career. "Well, I don't want to stop, but I know I'm 82," he admits. "What I'm going to do is adapt to my fitness level. What I want is to be in contact with nature and the mountains, but when I am no longer strong enough to go, I will go for a walk in the fields around my village. What I want is to act with common sense. I have never made a fool of myself because of my age, and I hope I won't this year either. What I mean by "acting with common sense" is to be aware of my limits, not to exhaust myself and put other climbers, rescuers or helicopter pilots at risk because I didn't know how to turn back at the right moment. Not to force others to go after me, because that would be failure. I will do my best".