Four members of the French Army's High-Altitude Military Group (GMHM) opened a way on the west face of Les Drus, from the 18th to 22nd February, in four bivvies. One member, Léo Billon, tells us how the idea for this challenge came about, and how they managed to conquer a route heading up the 'new' part of the west face of Petit Dru, one month after the exploit of the same GMHM rope team in Blaitière. Interview.
Léo Billon may not be a man in a hurry, but he is an unflagging mountaineer, whose style – free first and foremost – and speed combine to conquer miles of ice (read about his Ultra Ice in La Grave with Benjamin Ribeyre) or recalcitrant, and if possible, uncharted rock. He has just returned from a large-scale practice run on the north face of Les Droits. On 1stMarch, he was with his other GMHM companions, Didier Jourdain and Jacques-Olivier Chevallier, on Écailles épiques, a dry tooling route to the left of Tournier prow, opened by the Pessi-Ratel-Sfilio trio ten years ago. Anyone would think that Léo Billon prefers winter bivvying to balmy valleys! "On Les Droites, I did the cooking and made tea," he laughs, back from this north face which took them two bivvies, plus one at the foot of the face.
Nothing to make you averse to bivvying or porterage? "For Les Drus, we did some porterage a week earlier, it has to be said though, that access via Les Drus moraine really is problematic", Léo Billon tells us. The reason : with the ski lifts closed (or destroyed by the fire), there was no way of going through Les Grands Montets. The adventure to Les Drus – "an expedition only a ten-minute drive from my house" – therefore went via this moraine above the Sea of Ice, a "sordid" cliff of earth and blocks which had to be avoided while abseiling down under the Flammes de Pierre (flames of stone). But why go climbing on Les Drus, on this mythical west face, in this part whose grey tone evokes the monumental rockslides which took out Bonatti pillar in 2005, then literally ripped the west face apart unveiling brand new features ?
"I came up with the idea of going to Dru. Thomas suggested the Lafaillle route, to the left of the American direct route ; having done the whole of this one myself, I was keen to try something new. It appeared to be doable, because between the American direct route and the Papas route it looked like uncharted territory." And for good reason. Rockslides have wiped out 40 years and a lot of routes up the west face : to name but a few, the Thomas Gross route, the French Directissime (opened by the GMHM in 1982, we'll come back to this), the Marc Batard route, as well as a sizeable section of the Bonatti pillar opened in 1955 by the great Walter on a solo expedition. In 2011, two local climbers, Martial Dumas and Jean-Yves Fredriksen, decided to go and check out whether the west face of Les Drus was still climbable. It took them eight days and they carved out the Papas route. In 2015, two Spaniards also took a shot at it.  But the GMHM boys had no idea about this, until they came across the anchors set by the Spanish roped party. Neither were they aware that another ascent team, comprising Korra Pesce and Will Sim, had set off to the right of their line, on a blend of what remained of the Bonatti pillar and the Papas route.
As the four members of the rope team are live streamed on social networks from Montenvers by the High-Altitude Military School's cameraman, Léo feels doubt creeping in : what if someone has already done the route here, since the rockfall ? Checks are carried out, "a Spanish party made an attempt, but stopped 300 metres short of the summit. No-one can say they have reached the summit, by far", explains Léo Billon. "At the bottom, we stuck to the same course, from the first third on we opened a new route, and then the same one again for seven pitches until we reached the key section where they turned back."
Three hundred metres stand between them and the summit. What would become the 7a pitch is "probably the crux of the route", Léo tells us. "The rock is completely disintegrated. You have to pull on the holds, and everything moves. It's worn away, and it's hard to stay protected, with big loose blocks. After the slight overhang at the beginning, where the rock is solid, just like along most of the route, as I regained my balance I saw that it was bad, a good 15 metres of rock all embedded, just what you don't want to see in the mountains. It's because of this pitch that I'm reluctant to recommend the route. It's silly really, because the rest is in pretty good condition", explains the GMHM's dynamic leader. When you think of Les Drus, you imagine sand, and the characteristic smell of granite dust, don't you ?
A tight knit team
"In winter you're safer from small rockslides, but when you go there you don't think about all the instances of rock fall which have already happened, mainly at the end of summer or in autumn. What worried me was coming across a deteriorated pitch, which would prevent us from getting through, and putting ourselves in danger during the climb. In fact, we did, but we managed our way through. And my friends belaying were protected." Indeed, the new wave of GMHM climbers are still green. Léo Billon himself doesn't lack experience. But for Thomas Auvaro and Jordi Noguere, major winter expeditions are still a novelty. They could all count on the experience of 'reservist' or 'retiree' (from the GMHM), Seb Ratel, a "machine" according to his comrades, who has many large-scale climbs and expeditions under his belt.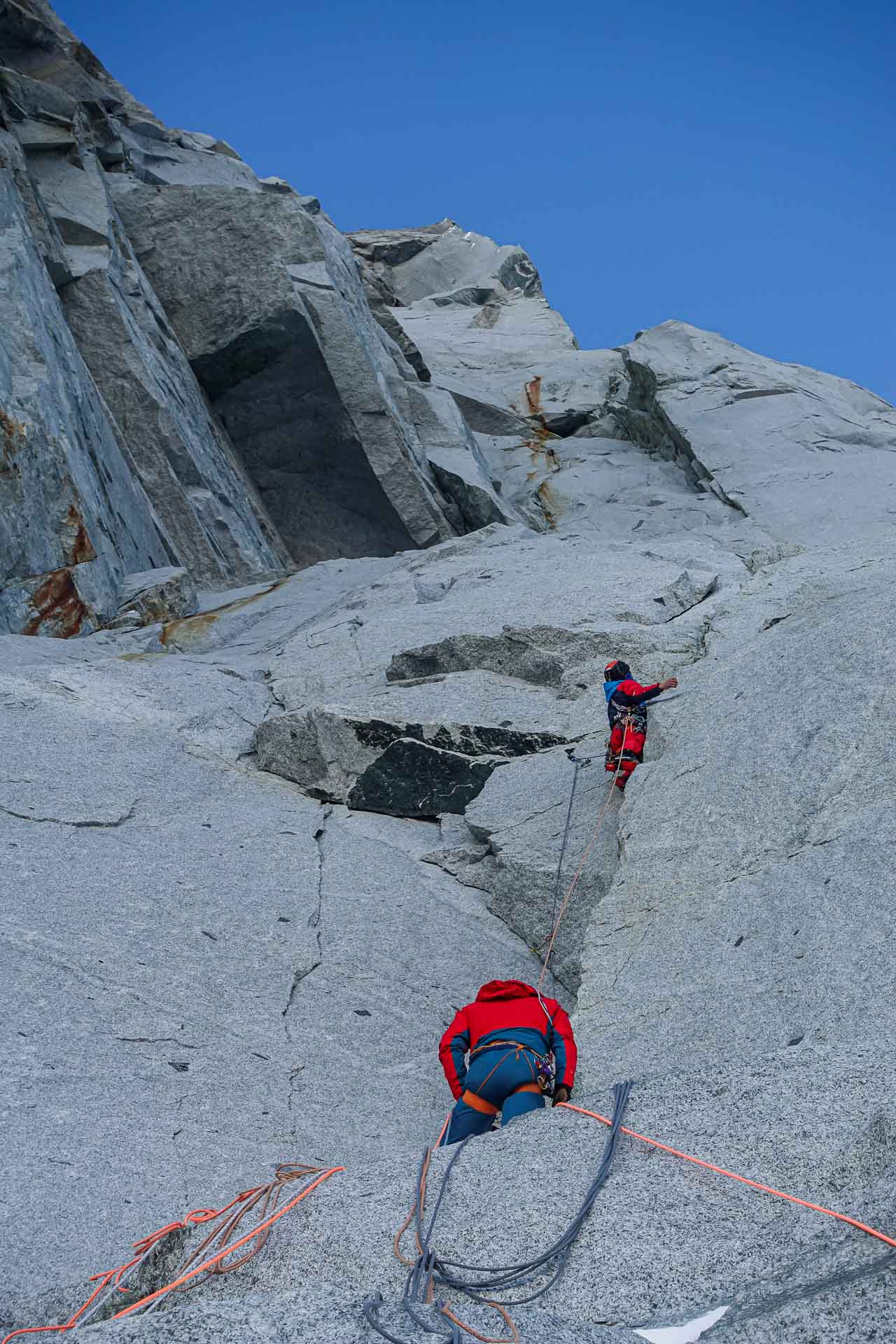 20th February, deciphering the second part of the wall, a steep maze. ©GMHM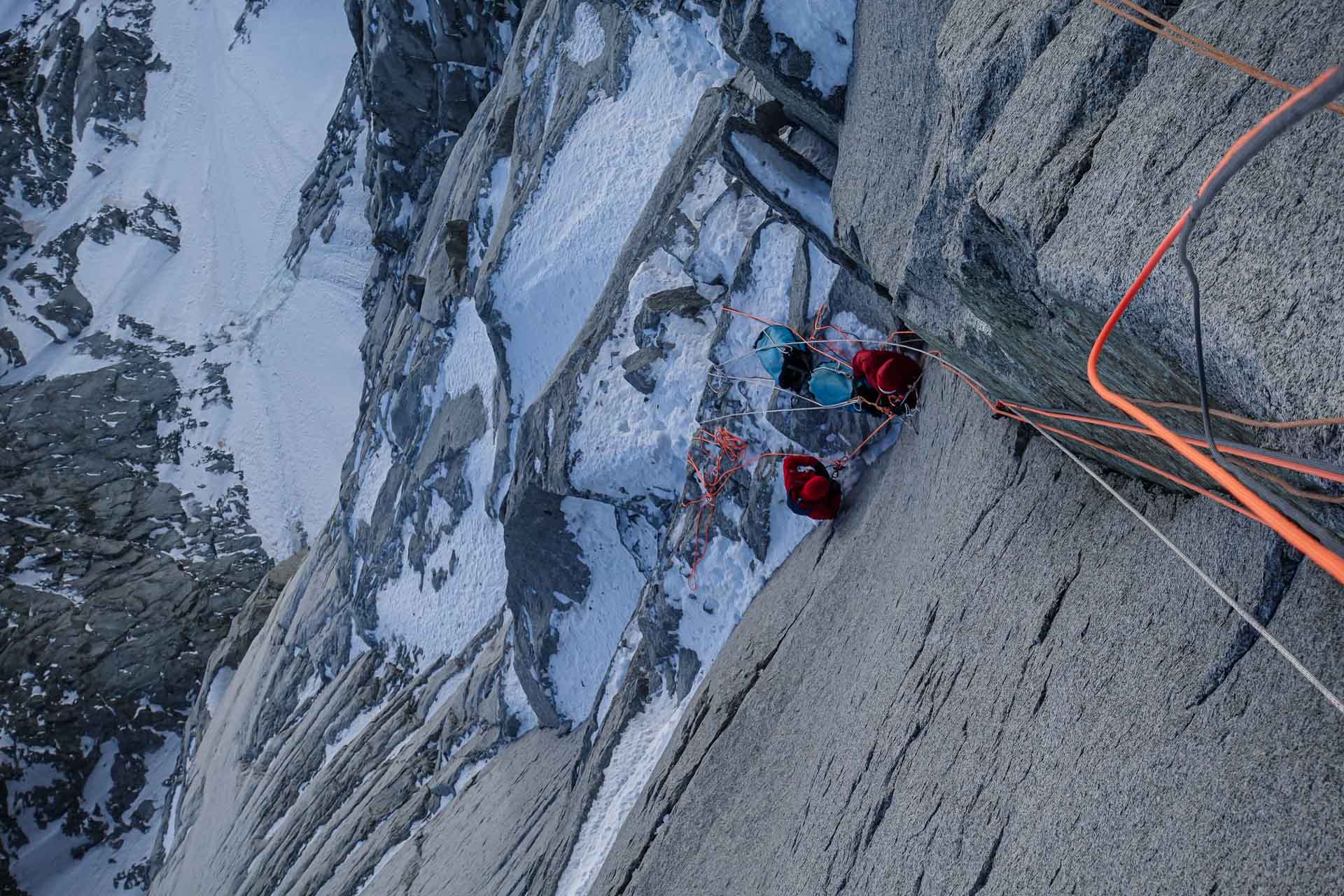 In the shadow of Les Drus, 20/02 ©GMHM
New school Les Drus
Léo Billon's experience on Les Drus may have been the latest, but not the least. "It was my sixth ascent". To his name, the Pierre-Allain in winter (with Benjamin Ribeyre), the Lesueur also in winter with Benjamin Védrines and Camille Marot. Once again in summer via the American Direct (west face) with Octave Garbolino and Camille Marot. To that, add twice up the south face for good measure. A fervent fan of Cham's symbolic granite obelisk ? "I'm no more drawn to Les Drus than any other mountain. Well, ways like the Pierre-Allain or the Lesueur, they're like the entry-level routes of the north faces, so, after opening Blast in Blaitière last January, I decided to sign-up again, but this time with even heavier bags!And my colleagues were up for it."
Four bivvies later, the west face has its new route : BASE, M8+/7a. A new route, or a rather new first. Back in 1982, a GMHM rope team set off on the west face, which has been making eyes at French mountaineers since it was first done in 1952 by the French pioneers Guido Magnone, Lucien Bérardini, Adrien Dagory and Marcel Lainé. In 1982, the ascent team comprising Christophe Profit – behind the incredible full solo version of the American Direct – Michel Bruel, Hervé Sachetat, and Hubert Giot opened the 'directissime' over two expeditions right through the middle of the west face, which has since joined others in the scree at the foot of the face.
Styles have changed : artificial is over, long live free climbing, but with ice axe in hand when necessary. "Clearly, some of the pitches would have been much more difficult in climbing shoes and relying on hands rather than ice axes, maybe 7c for the M8 pitches", explains Léo Billon, open to discussion. "With the cold and mainly the amount of snow and ice in some of the cracks, free climbing would be possible using dry tooling, in which case it would take less time." For that matter, completing the face in five days is quick, and a lot quicker than the Papas rope team, or the relative solo feat by Lafaille. "When you embark on this seriously impressive face, you don't take less than 5 days' supplies!" adds Léo Billon. "Seb and I agreed that we were going for heavy Alpine style", he jokes. But contrary to the expedition to Aiguille de Blaitière one month earlier, Les Drus is the steepest wall in the range. "I had never climbed such a steep face in the Alps, for my part", says Léo.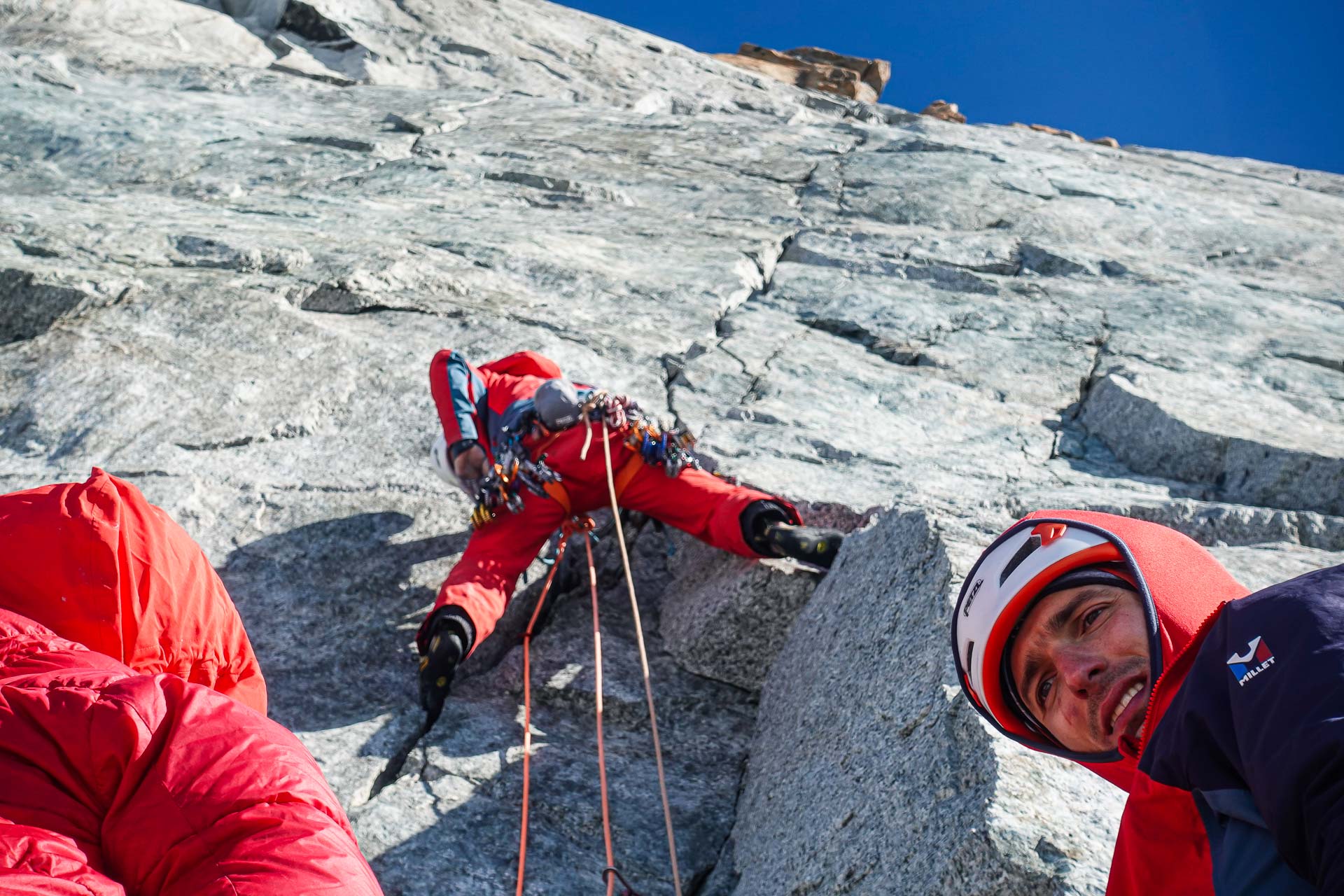 21/02, upper part, at the SW corner of Les Drus. ©GMHM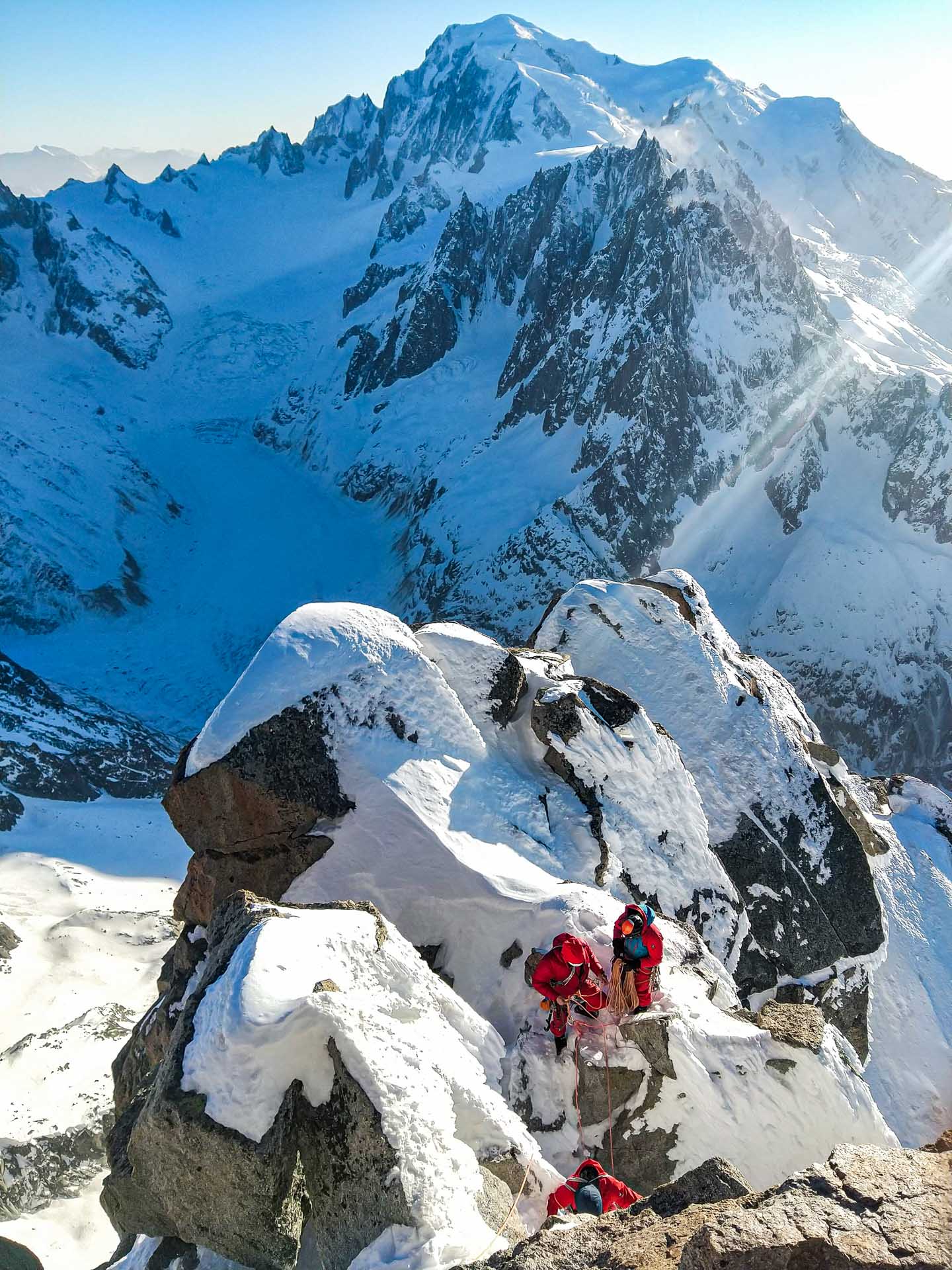 21st February, summit day ©GMHM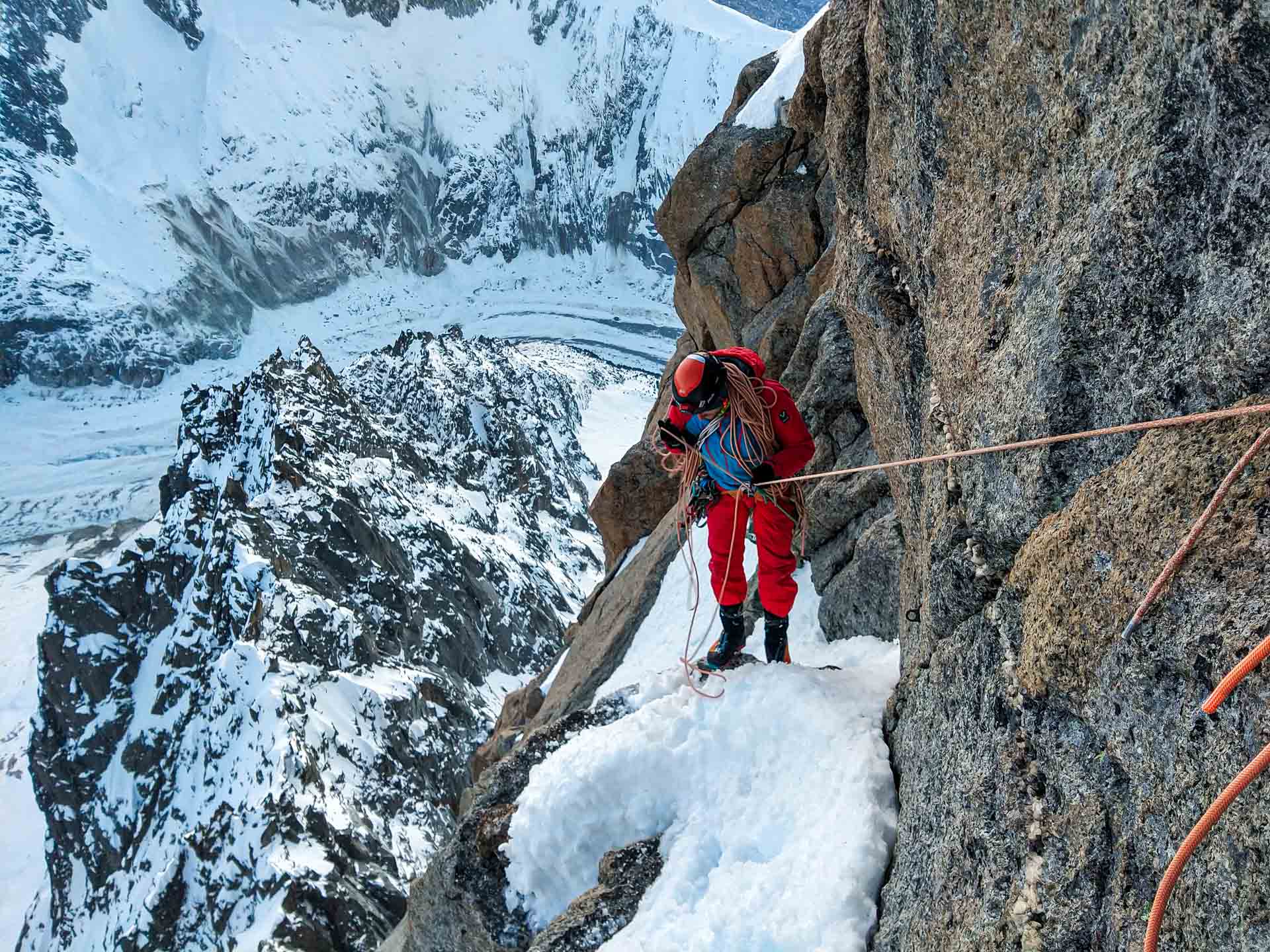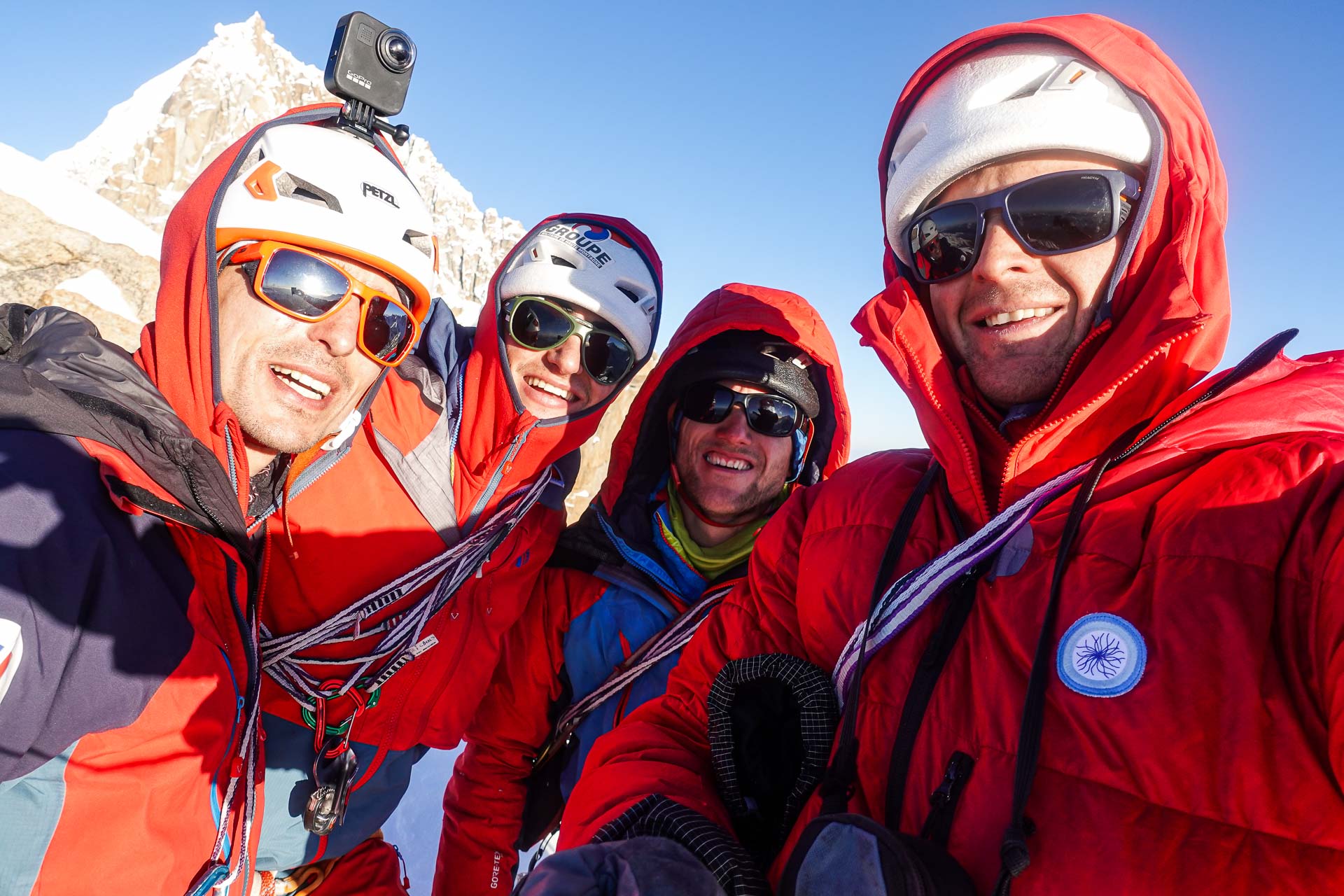 WHILE THE WHOLE TRIP WAS AMAZING, ONE OF MY FAVOURITE MOMENTS WAS AT THE FOOT : I WAS SO HAPPY TO BE ATTEMPTING THIS FACE ! LÉO BILLON
What about the live stream on YouTube ?
"JP Tauvron works at the High-Altitude Military School, it was his idea to live stream the ascent, his dream as a logistics expert, and even better for being an opening ! We had to make a decision about the group's course of action, as it's important to share our expertise. But we also had to accept the chance of potentially struggling, and for the leader, the risk of an accident happening, live. We decided to go ahead with the live stream, knowing that it would be one more thing to manage. Initially, it was a bit of a bind to keep communicating, but I actually liked it, and we wanted to share a bit of our experience up there. And that's what we did", confides Léo.
The best part of a 3,000 ft face is not necessarily the summit. It may simply be the moment when the dream becomes a reality, the few minutes when, at the foot of the wall, you know that you're finally setting off. "While the whole trip was amazing and reaching the summit of the deteriorated pitch was a relief, while we reached the bottom without any hitches, one of my favourite moments was at the foot : I was so happy to be attempting this face !" A Léo Billon happy to keep the wonderful (and awe-inspiring) mountain adventures coming, while waiting for a potential expedition to the Himalayas this autumn with the GMHM. With some unusual feedback nevertheless : "everything is closed at the moment, it's a bit strange coming back from the mountains, you can't even celebrate with a pizza !"