Everyone has one, or several, at home. 40 years ago, fleeces ousted woollens : offering just as much warmth, they are water-repellent, wind-proof, breathable and cosy ; an ideal combination in the mountains. But how did fleeces, a game changer for outerwear, come about ? Here's a short story of a big invention.
Fishermen, sailors, hikers and mountaineers, have all worn one. The fleece quickly established itself in the 80s as a thermal revolution: out went the checked shirts and Rébuffat-style woollen jumpers, in which the previous generation would sweat away before shivering at the first shower of rain. In 1981, the fleece was invented by the American company, Malden Mills, these days known as Polartec. So, exactly 40 years ago the fleece was born, an everyday item for mountain enthusiasts, and one we couldn't do without today, just like head torches and ski touring bindings with inserts.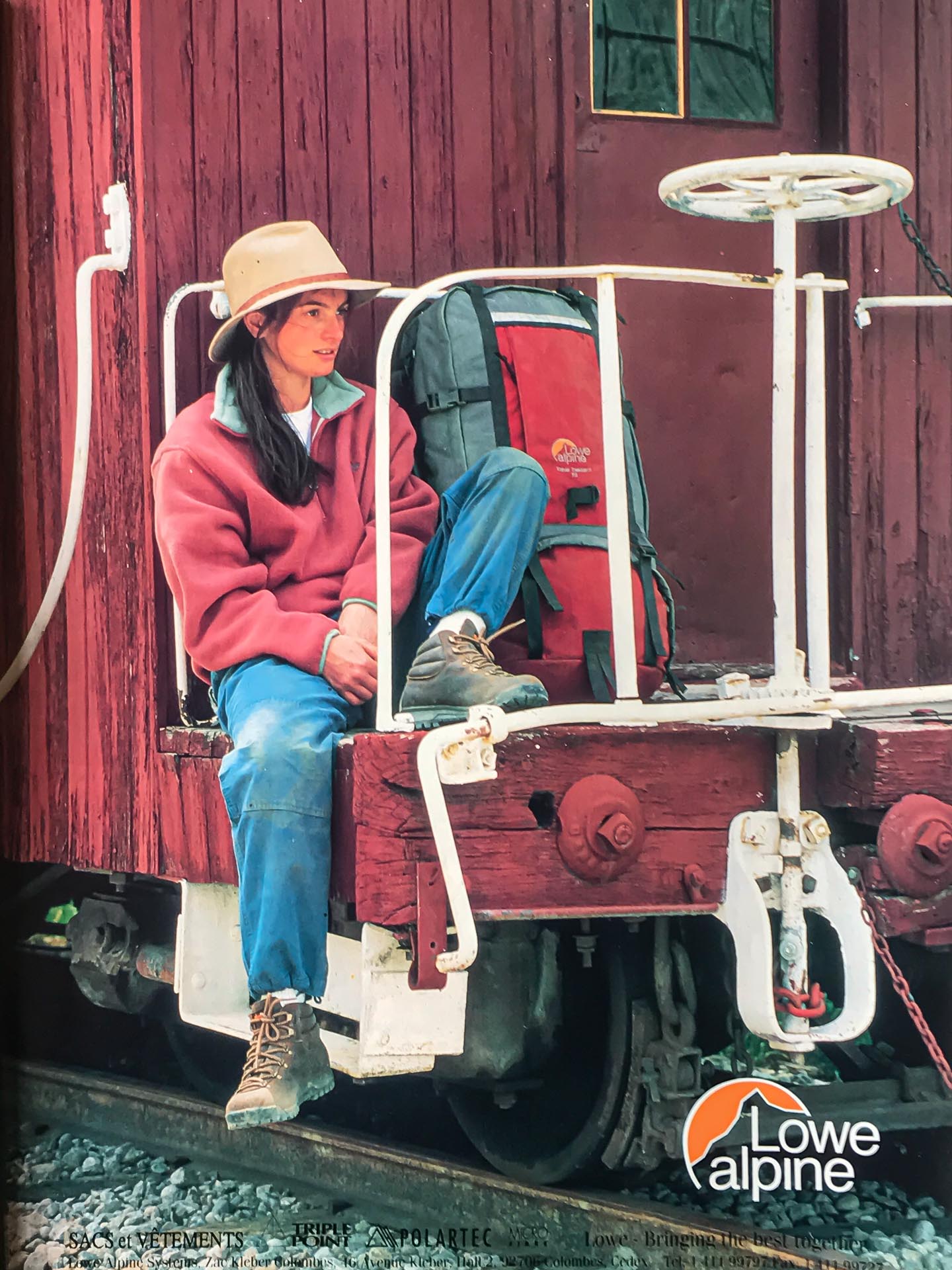 Lowe Alpine Polartec advert. With an influencer from 1994.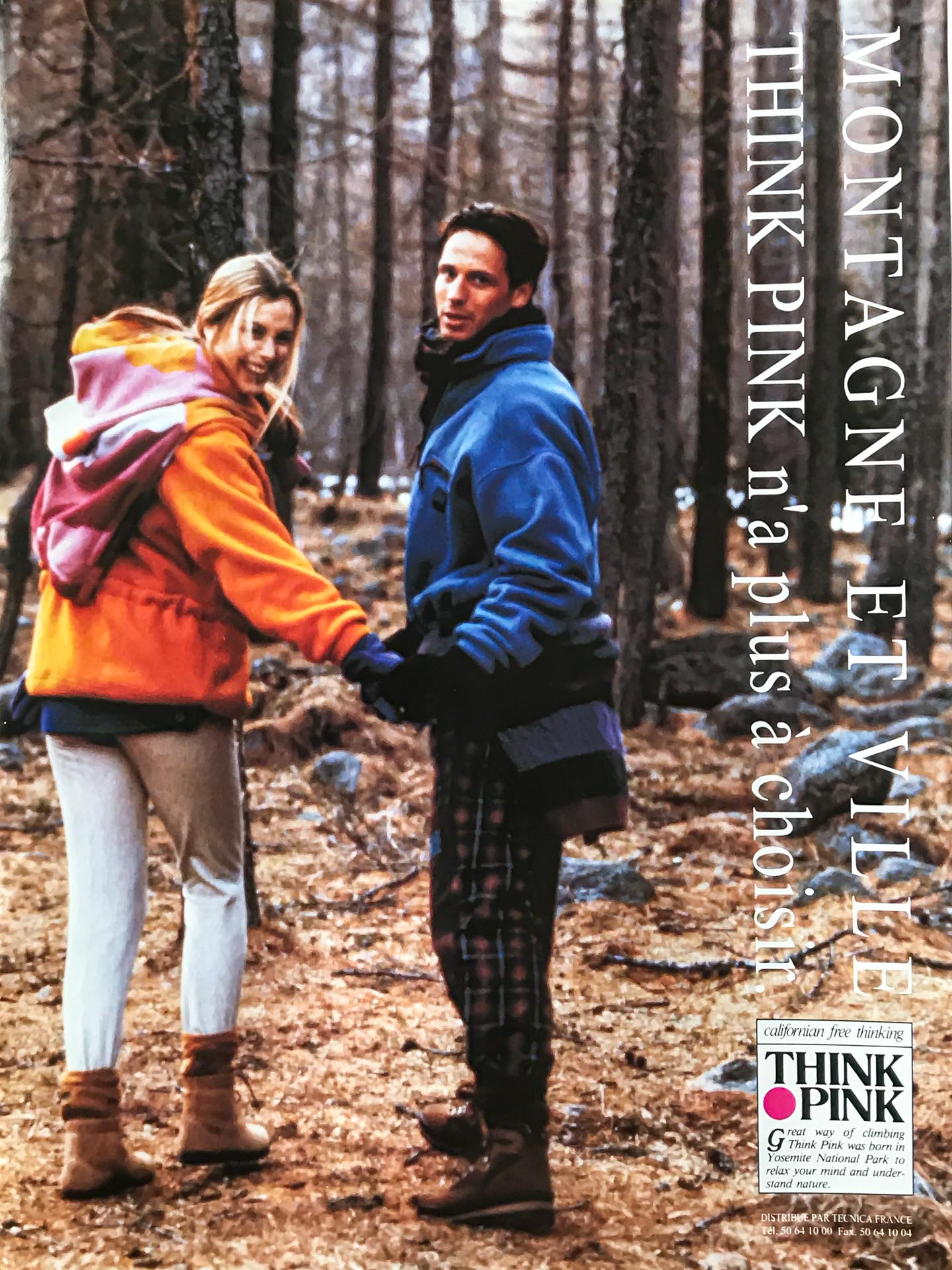 Think Pink advert. 1993, the legendary Californian brand used Polartec for its fleeces.
From wool to 'fiber pile'
Fleeces have evolved greatly since then, but this outerwear revolution didn't happen overnight. Just like all brilliant ideas which seem obvious with hindsight, the concept of 'polar fleece' had been brewing since the 50s, made possible since the advent of polyester fibre. At the beginning of the 60s, the Norwegians at Helly Hansen came up with 'fiber pile', a type of knit with a bobbled look, designed for sailors, who had long-suffered drenched – therefore heavy and inefficient – woollens, just like amateur mountaineers at the time.  This was the first step towards warmth and breathability. However, the fabric only had one side, let the wind through, and was not comfortable. The engineers behind what would become Polartec came up with the idea of merging two techniques to create a new double-sided material which would be a game changer. The Polar Fleece was born.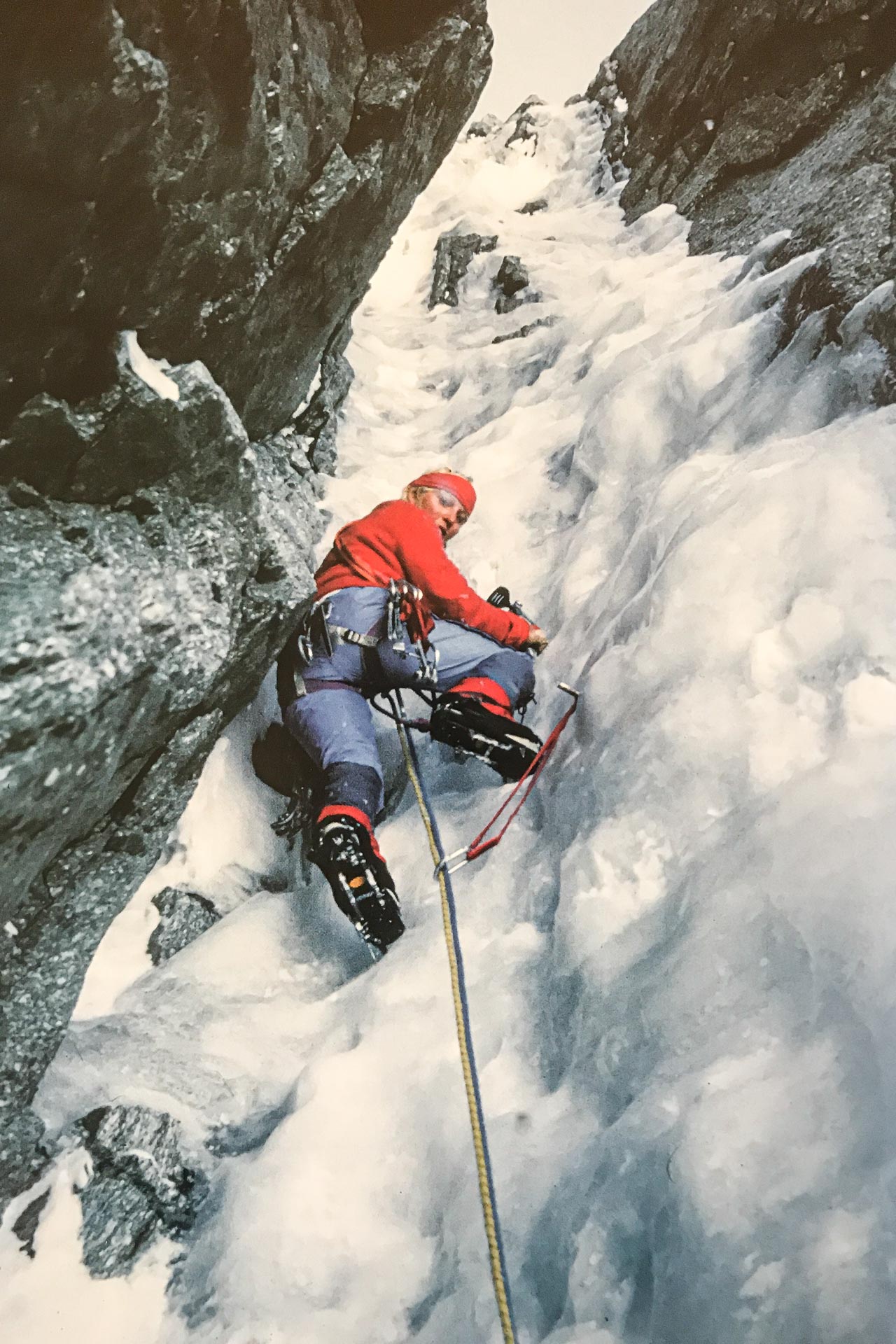 Without a helmet but dressed in a fleece, Sylviane Tavernier, one of the first women guides of Chamonix, France, at the opening of Petit Viking gully, glacier d'Argentiere, in 1984.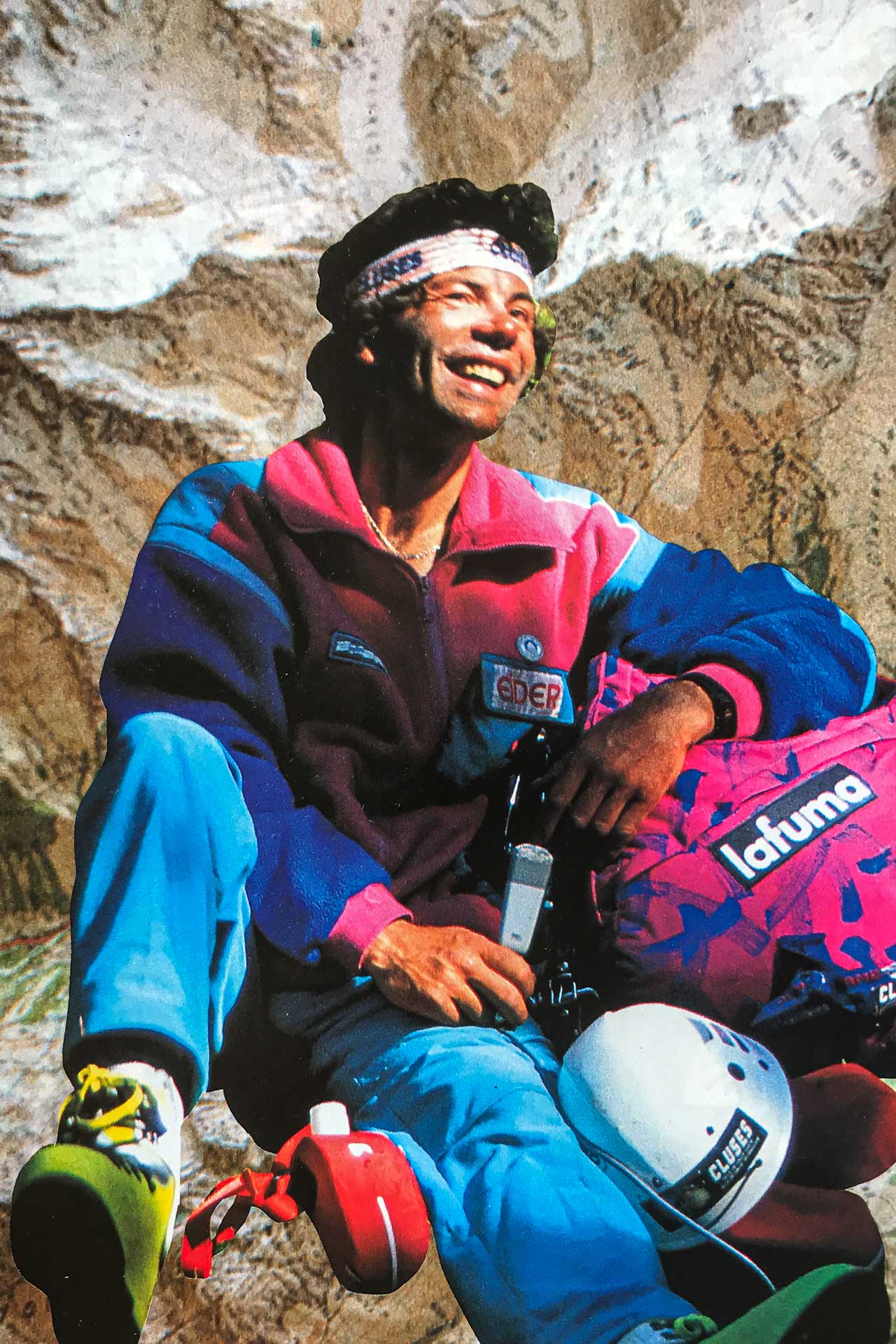 Sporting a fleece, with his sponsors' logos, Patrick Gabarrou, during his series of the 7 north faces of the Mont Blanc range in 1988.
A world-wide success
Just like wool, fleeces keep you warm, but unlike the former, they are soft to the touch, fluffy, wind proof and last but not least, water repellent. The double-sided fabric makes it breathable and provides insulation, keeping warmth in while letting moisture escape. By inventing the fleece, Polartec completely changed the way we dress in the mountains, on the slopes and at sea. They were a big hit in stores, with emblematic models such as the Snap-T by Patagonia in 1984, whose fleece fabric was produced by Malden Mills. The fleece revolution also brought with it a break from traditional styles and colours: reds and blues were cast away to be replaced by flashy colours and baggy cuts, precisely the trends that are coming back into fashion nowadays for street wear and lifestyle items.
FLEECES ARE SOFT TO THE TOUCH, FLUFFY, WIND PROOF AND LAST BUT NOT LEAST, WATER REPELLENT
Fleeces met world-wide success: in 1991, Time Magazine ranked Polar Fleece by Polartec as one of the 100 most significant inventions of the 20th century. Magazines would spotlight "turbo" climbers like Christophe Profit or Patrick Gabarrou wearing fleeces, with yokes bearing their sponsors' logos. Just like them, trendsetting climbers at the end of the 80s would be seen in one or two pink, purple or yellow fleeces, lycra tights or ski pants, depending on the time of year, shoes with fluo plastic shells, a head band… and no helmet… which is fine for having a drink outside at Choucas, but less so for getting past rimayes unharmed.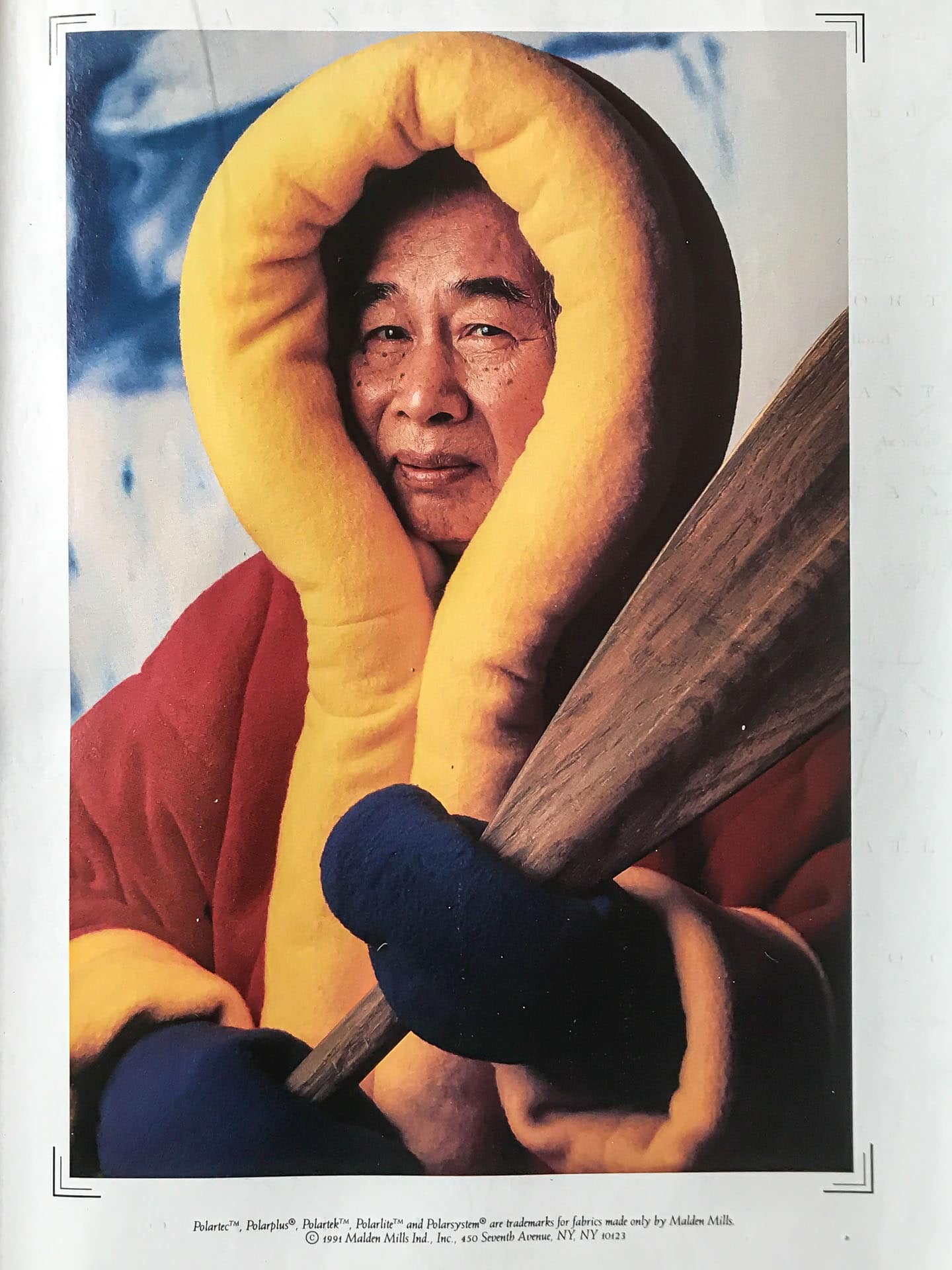 Polar Fleeces adopted by Inuits ! Polartec advert by Malden Mills, 1991
Polartec advert from 2012.
Recycling since 1993
Since then, fleeces have become one of the most copied items in the world. But Polartec will not be outdone. Well before awareness of climate change took hold, before the 2000s when global warming started to become a global phenomenon, Polartec began a scheme back in 1993 to make new fleeces from recycled plastic bottles. Since then, Polartec has reused and transformed 1.8 billion plastic bottles to produce 45 million fleeces! Nowadays, another aspect which sets the original Polartec apart from replica versions is the former's ability to produce over 65% of its fabrics from recycled plastic bottles. The brand's best-sellers, Power Dry, Alpha, Thermal Pro, as well as the latest arrival, Power Air, are all available in 100% recycled versions.
POLARTEC HAS THEREBY RECYCLED 1.8 BILLION PLASTIC BOTTLES
Power Air, the Polartec range's new arrival
The brand has never stopped inventing: in 1988 Polartec created the softshell with Power Shield, a new category of outdoor apparel resistant enough to bad weather – wind and showers – to deal with most conditions. Which is how "grab your softshell" became part of everyday language, just like fleece ! Twenty years on, Polartec invented Power Air : produced by the Polartec Eco-engineering programme, this weaving technology was designed to reduce microfibre shedding. Over time, fleeces tend to shed fibres: no more with this fibre encapsulation technique that reduces shedding to 80%. Fewer microfibres in the environment, and less micro waste making its way into our oceans. It's no coincidence : technology is part of the brand's identity, and Polartec continue d'habiller tous les pratiquants.