If you are of the belief that exploration is a thing of the past, or if you are tired of listening to armchair and social media pseudo adventurers, then read The white darkness, by David Grann. It will bring back your faith in adventuring, and the ability of certain rare figures to embody it, even in the 21st century, at the risk of being consumed by their dreams.
The story of Henry Worsley is one of a man who spent his entire life in pursuit of an adventurous ideal. A great fan of Sir Ernest Shackleton, this British army officer was a strapping young man whose physical capacities were only the tip of his personality. So vast and powerful was his mental strength, that he aligned with the motto of his polar hero: "through endurance, we conquer". He did not waver from "Shacks'" own compass, both figuratively and literally, which had been given to him by the granddaughter of the explorer to help guide him through the great white continent.
Recognised by his subordinates, friends, family, and expedition companions as a leader with exceptional motivational strength, Worsley spent his entire life constantly and uncontrollably drawn to Antarctica, between missions in Afghanistan and the US.
through endurance, we conquer
The journalist David Grann, a specialist in what Americans refer to as 'non-fiction', the type of reports combining investigations and literature, excels in producing biographies of this type of hero, driven by a blinding dream which ends up consuming them.
Known for having written the story of Percy Fawcett, made into a film, The lost city of Z, the journalist tells the story of Henry Worsley with his reputed narrative skill and fictional enthralment. The layout of the book is surprising, incorporating modern typography and enough black-and-white photographs to transport readers into the heart of the white continent, whether period photos of Shackleton's expeditions or more recent ones of Worsley. It plunges into the depths of polar mythology, full of tales, portraits, sensational slogans to be regurgitated in personal development and leadership conferences, as well as routes and dates marked out on maps.
Yet it is darkness which stands out when all is said and done, at the end of the last tunnel of the final journey. Beyond any geographical considerations of Worsley's three expeditions to the South Pole, and the physical feats required, or the exploits and firsts even, it is indeed his character and selflessness which come through in this mad epic of a life spent chasing the 'world's meridian axis'. From successful expeditions to the search for perfection, David Grann helps us "break the outer shell" of his hero, to quote Shackleton, who spurred each moment of Worsley's life. Piece by piece, the armour crumbles.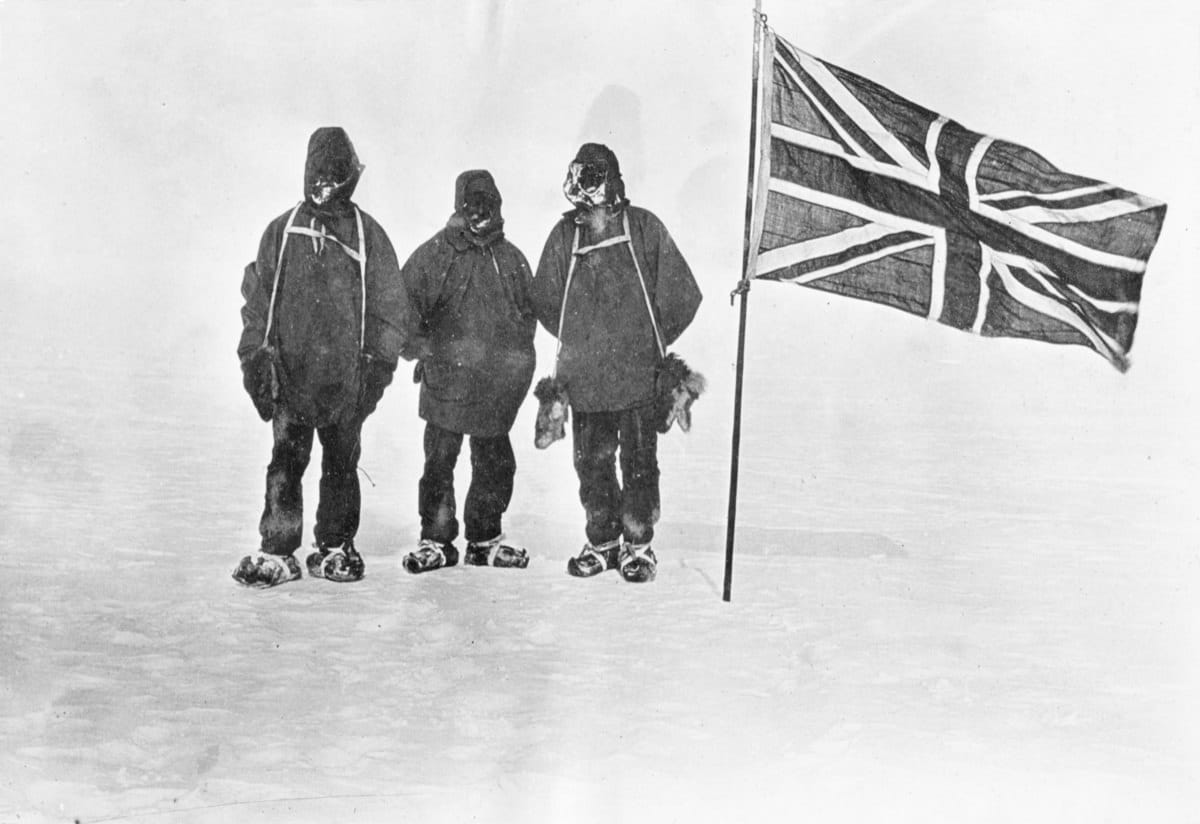 Worsley's first trip to Antarctica: 9th January 2009, he planted the Union Jack at the same spot where Shackleton's team did so 100 years earlier. The most southerly point ever reached by mankind, at 88° 23′ S, 162° E.
Worsley, Adams and Gow would continue to the South Pole. © Henry Worsley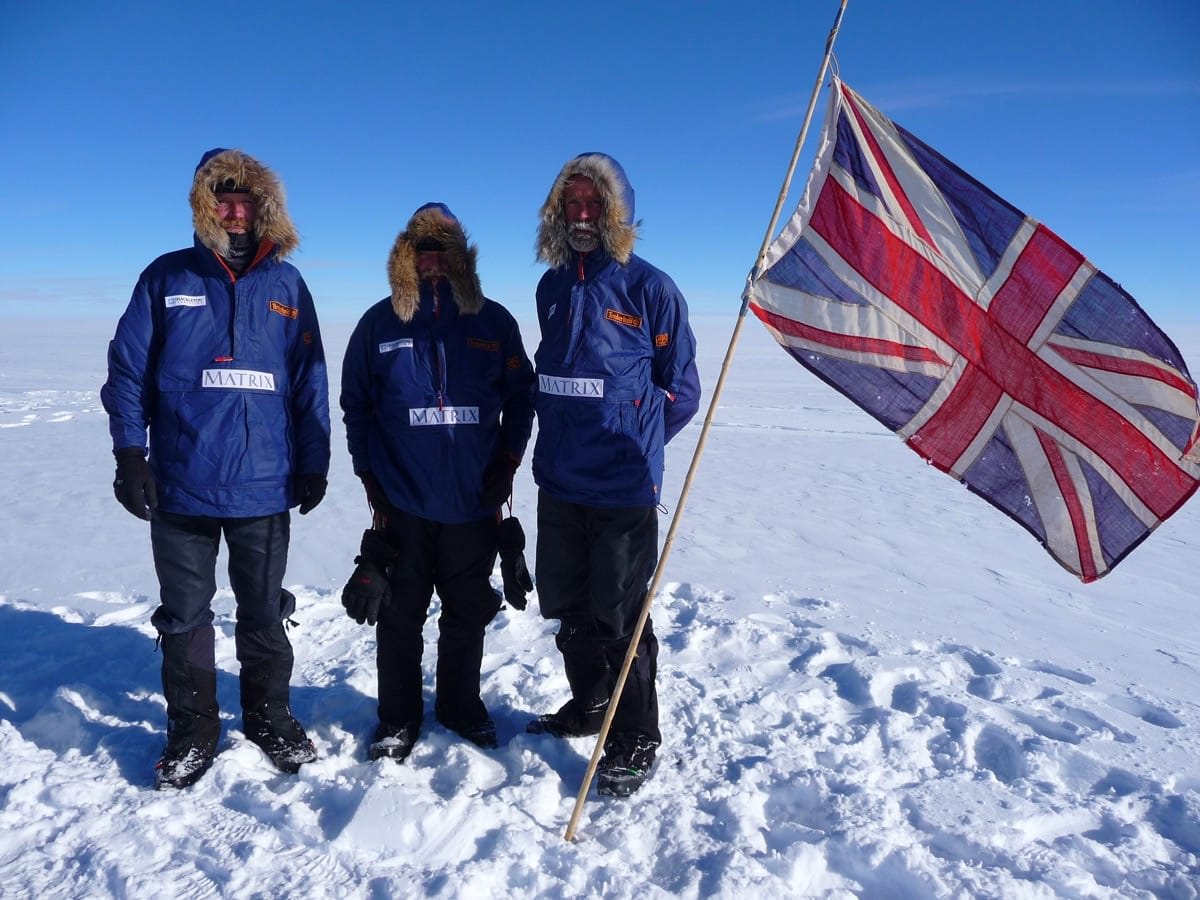 Piercing style and broken tooth
His expeditions are incredibly challenging and unpredictable. The conditions incomparably harsh, yet the author saves us from a battery of superlatives. The wind, the cold, the distances, the weight and the solitude are felt differently. Worsley's temperament ends up merging with Grann's style. No time for pointless qualms, it's onwards, one ski after the other, one sentence after the other. No frills.
Even breaking an incisor on a frozen cereal bar gets only a short mention. It is easy to imagine how this event could be portrayed as the climax of many current-day expeditions, remarking solely on the record or the achievement. But no, Worsley eats his cereal bar and poses for a photograph, cigar perched, smiling. And then onwards, ever making the historical parallel with his peers in whose steps he treads, with the clear ambition of outdoing them.
HEROES REFLECT
THE SOCIETIES WHICH ADMIRE THEM
Gradually, you get a sense of his understated character. Worsley isn't one to plough on blindly, with only his polar fascination in mind. No, he continues to work for the army, to go on family holidays.
It is rather a gradual process that sees his passion turn into an obsession and consume him. Until it has spread even to the darkest depths of his mind, and then his body.
David Grann quotes the historian Max Jones, who points out that "heroes reflect the societies which admire them". As such, Worsley projects the image of a man of integrity, honest regarding his passion, uncompromising yet endowed with humility which makes him human, far-removed from the improbable (super) heroes to whom no-one can relate. For that matter, his wife and children are mentioned throughout the story. Even becoming the ultimate heirs of his work. For even heroes have a family.
So, if you are feeling weary, jaded or disenchanted, read The white darkness. If your pantheon of explorers was beginning to gather dust, chances are Henry Worsley will make a clean sweep.