The ascent of Annapurna (8,091 metres) will not take its place among the "Everest sprinter's" list of accomplishments.  At 69 years of age, Marc Batard, who holds the record for the speed ascent of Everest in less than 24 hours, has nothing else to prove in the Himalayas. All that remains is the pleasure of going back to relive his exploits undertaken in this world above the clouds. But not at any cost. While a large group of climbers on oxygen headed for the summit, Marc Batard decided to turn back. We interviewed him over the phone in Kathmandu few weeks ago.
What happened on Annapurna ? Why did you turn back ?
Marc Batard : I decided not to take on the huge risks  of climbing the route chosen this year. Between Camp 2 at 5700m and Camp 3 at 6700m, you have to climb a mid-section that is several hundred metres long with seracs looming over you and a constant risk of icefall. After leaving the ice shelter we dug at Camp 2, Pasang and I set off with the idea of meeting up with Bertrand Delapierre and Yorick Vion who were already at Camp 3, so we could climb the summit together. I was prepared to take the risk, but at 10 am I decided that taking this route was going to be too dangerous. When I told Pasang, my rope partner, that we were going to turn back, he was so relieved he started crying.
Are there any other routes on the north side that could be used to get to Annapurna since Lachenal and Herzog did it in 1950 ?
Marc Batard : Above Camp 2 at 5700m, Annapurna is full of seracs which pose a huge threat to a large part of the mountain, therefore making the ascent objectively very risky. The only way that is a little less risky is the Dutch Rib trekked in 1977. Once you get onto this ridge, you have to weave in and out of a small area of glacier, but it's much, much smaller than the route on the left of the ridge which was chosen by the Sherpas this year.
When I told Pasang, my rope partner, that we were going to turn back, he was so relieved he started crying
An emotional Pasang just before turning back. ©Marc Batard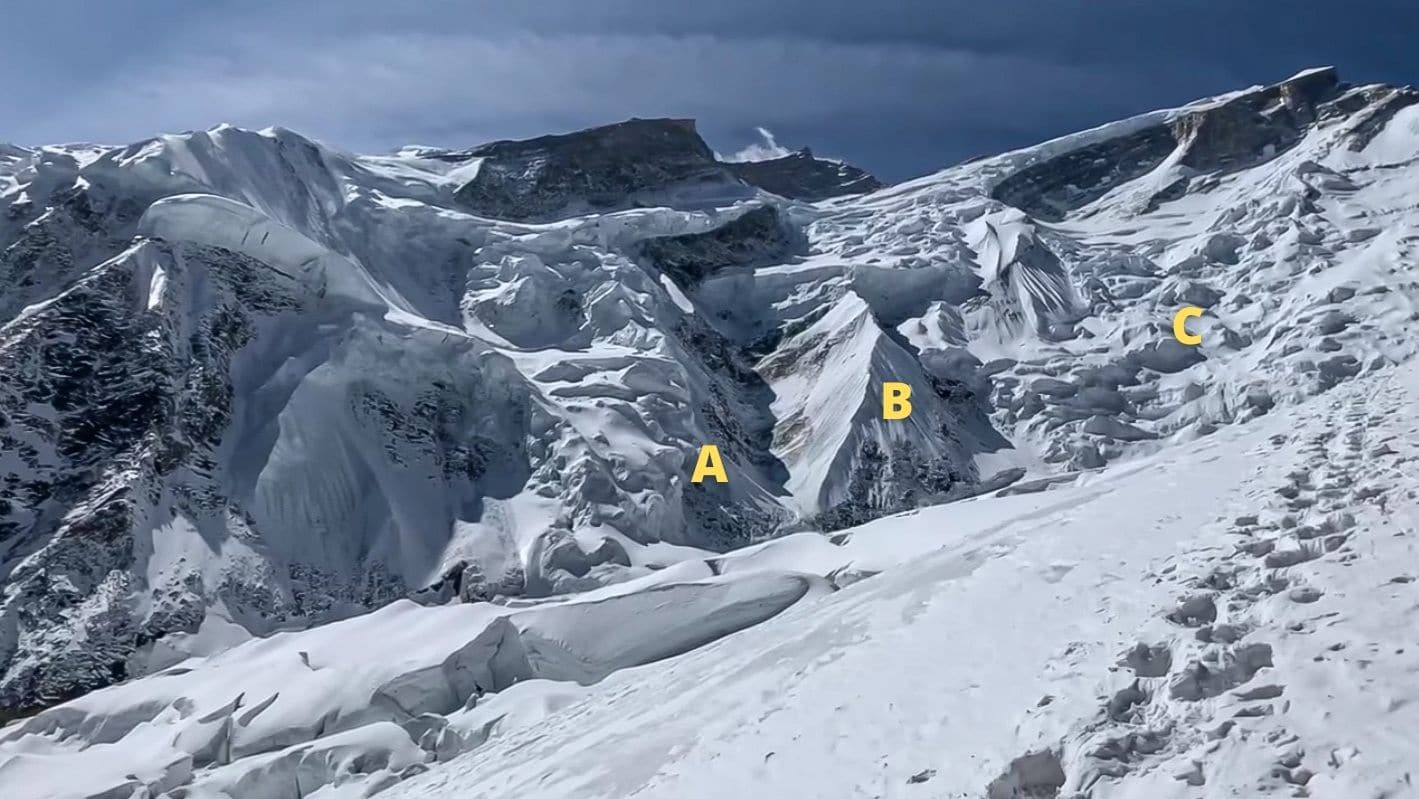 The north face of Annapurna. A = The route chosen this year. B = The Dutch Rib – the least exposed of the standard routes. C = The route taken during the first ascent in 1950. ©Marc Batard
Why do you think the Sherpas chose this route ?
Marc Batard : Before the ascent, I went to see the boss of Seven Summit Treks at base camp. This Nepalese organisation leads many clients to the summit. I asked him why he didn't want to take the Dutch Rib route of 1977. I figured that he didn't want to prepare the route because his team of Sherpas were simply not up to the task. They either didn't want to take the ridge due to this year's large ice build-up after the dry winter, or they didn't have the technical experience required. But it's not their fault if they lacked technical experience. If they had someone leading and encouraging them, then I think we would have seen a different outcome.
I cannot forget that Muhammad Ali Sadpara, who I was meant to climb Everest with, possibly died from an ice fall on K2 this winter
Did everyone resort to using the route on the left because the Sherpas had prepared it ?
Marc Batard : Yes. I met Carlos Soria in Madrid last year and he told me that he had been really scared on that section. And there you had climbers going for it, hearts in mouths. A huge piece of ice actually nearly hit Bertrand and Yorick when they were climbing the couloir. It was difficult for me to give up. I had done Aconcagua two years in a row, was confident with my chances and in good shape to do a "small" eight-thousander. But this time, from the 5600m mark, you walk on or directly below the fallen ice for hundreds of metres. It was a no go for me.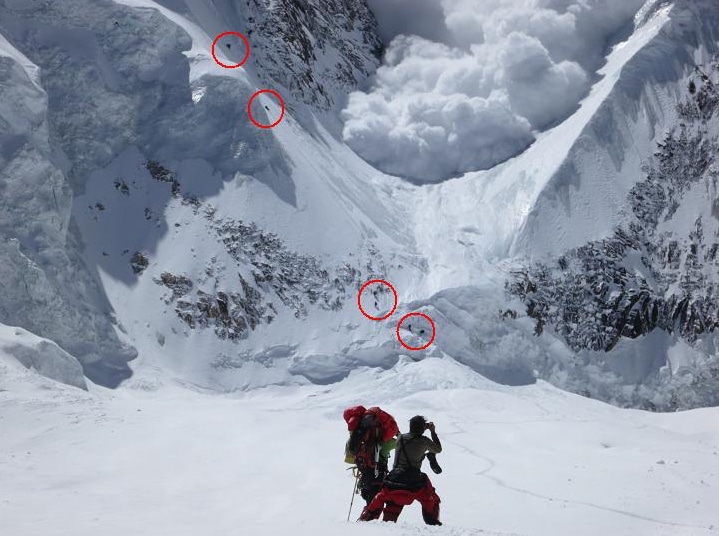 In 2012, an avalanche falls onto the route taken this year, just to the left of the Dutch Rib.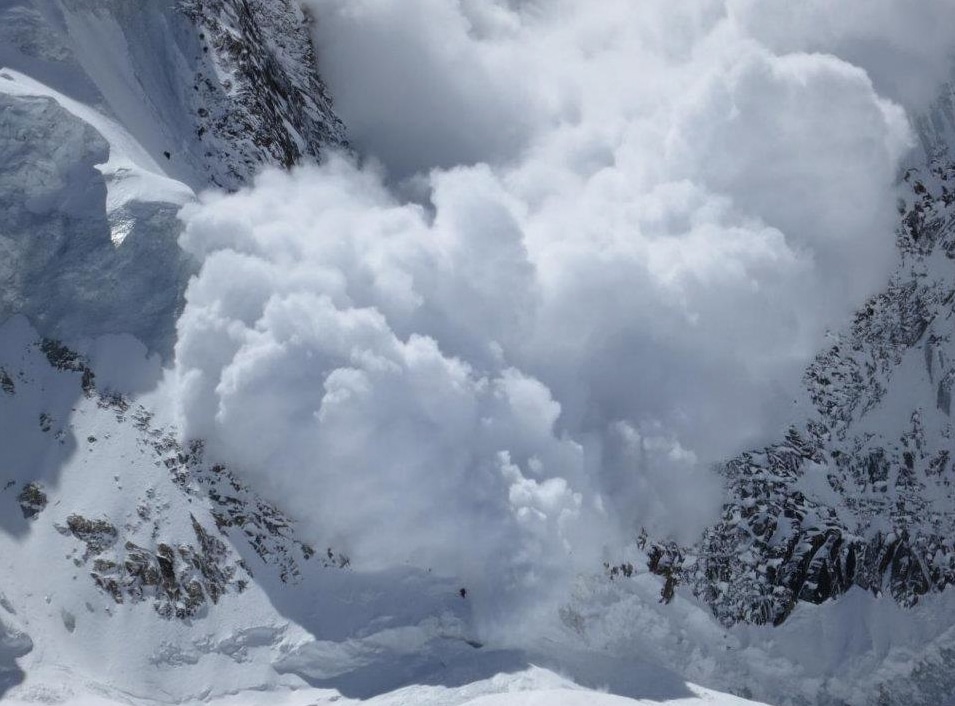 Did it take long to decide ?
Marc Batard : I cannot forget that Muhammad Ali Sadpara, who I was meant to climb Everest with, possibly died from an ice fall on K2 this winter, near the Bottleneck actually. Of course, no one knows how he died, and maybe we never will. I was introduced to him by a friend and we hit it off straight away. He was an amazing person. He agreed that we would go to Everest together. At base camp on K2, I met his son Sadji and his client Jon Snorri who were very nice. Muhammed and I were even meant to climb Annapurna together. Sadly, Ali Sadpara never came back from K2.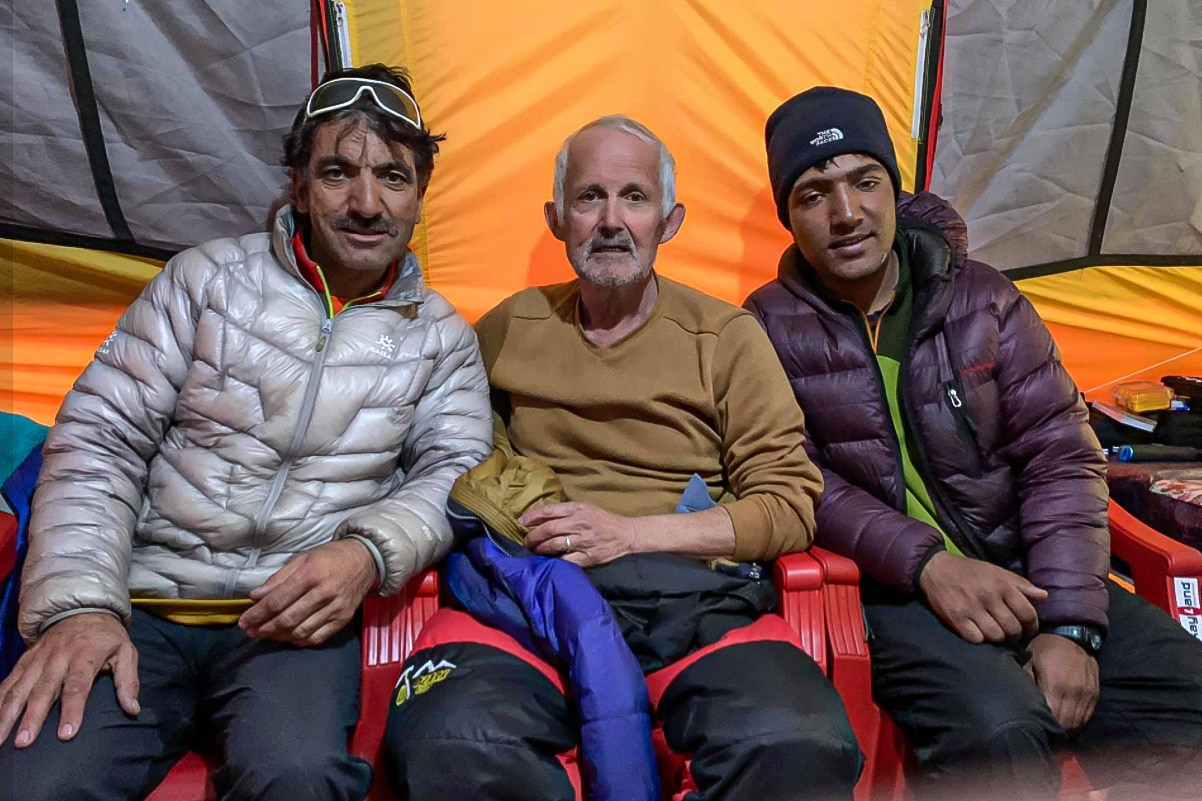 Marc Batard sat between father and son Sadpara before the accident, this winter on K2 ©Marc Batard
Having reached the summit of Annapurna, one guy called a helicopter to pick him up from camp 3. He had no signs of frostbite or injury when I saw him at base camp. It was ridiculous !
With 68 summiteers (half Sherpas, half clients) still looking to make the ascent this season, you could say that Annapurna has become the "mainstream" 8000m peak to climb. Could one draw parallels with the commercial expeditions that take place on Everest ?
Marc Batard : There's potential for a huge disaster. Not everyone is aware of the danger between Camp 2 and Camp 3. It has been hugely commercialised, which was already the case when I was a guide on eight-thousanders 20 years ago. But now, you've got helicopters as well. Most of the people at base camp don't even walk there. It only takes two days to get there by foot, but most arrive and leave by helicopter. One guy from Taiwan even called the helicopter from Camp 3. It was ridiculous! He was airlifted back to base camp, with no signs of being injured, and then left straight away for Dhaulagiri.
Recently we saw Sherpas calling a helicopter to bring up food and ropes to Camp 3 at 7200m. Could you discuss the emergence of "heli-doping" ?
Marc Batard : There was a lack of coordination where you had a line of clients behind the Sherpas, without any fixed ropes above. Their clients lacked the technical capability, so they called the helicopter which hauled up everything they needed. On the whole, I've noticed safety is still a problem 20 years on. The Sherpas are often physically strong, but proper safety measures can be  overlooked. On Annapurna, one IFMGA Nepalese guide  told me that there were lots of mistakes made with the fixed ropes and a piton had fallen off. Bertrand confirmed to me that the fixed ropes were often put in poorly up there.
This winter on K2, I noticed that base camp was exposed to risks of icefall and avalanches due to a hanging glacier. It should have just been relocated by two or three hundred metres, but this wasn't done. We are aware, though, that disasters happen at base camps like on Kang Guru, or not far from base camp on Everest. When you know that Seven Summit Treks have 100 clients on Everest, and that Nepal has given out more than 350 permits, you're pretty much bound to get queues in the Ice Fall and on the final arête… with risks that we're aware of, like slow ascending, etc. The clients aren't much better : on Annapurna there was one Westerner from the southern hemisphere that didn't know how to use crampons.
In terms of marketing and media, it probably sounds better to climb Everest at the age of 70 rather than 69
When will you go back to Everest ?
Marc Batard : I'm looking to go back with Pasang and Sadji Sadpara in 2021. I wanted to go earlier but I will be celebrating my 70th birthday next November. In terms of marketing and media, it probably sounds better to climb Everest at the age of 70 rather than 69.
In the meantime, I'm preparing an international conference on high altitude climbing. It will look to improve safety measures by bringing together the 27 countries that have mountains over 5000m. It will be hosted in Albertville, France, with the support of the Montagne et Humanismes Association.