The ascent party made up of Pauline Champon, Mat Détrie, and Louis Pachoud repeated the Zmutt Nose route on the north face of the Matterhorn from 24th to 26th February. Listed one hundredth in the collection of the 100 greatest routes in Valais, it certainly is exceptional* "for the route as a whole and the combination of challenges it poses to mountaineers", according to the '100 most beautiful' bible. Guide and coach at the FFCAM's (French Federation of clubs promoting mountains sports) National Mountaineering Excellence Group, Mat Détrie talks us through this seldom climbed face, as well as the commitment and shared responsibilities involved in such a remarkable route, probably one of the greatest winter achievements in the Alps.
Why did you choose this unusual route up the north face of the Matterhorn ?
Mat Détrie : I'd long been dreaming about the Cerruti-Gogna route**. It goes up the acutely steep prow of the Zmutt Nose, the most vertical face of the Matterhorn, to the right of the standard north face route by the Schmidt brothers. To my knowledge, few have repeated the route, and allegedly not since autumn 2014, the year when favourable conditions on the north face enabled a French ascent party – Sébastien Ratel and Julien Ravanello – as well as an Italian team led by François Cazanelli to repeat it. François is also a friend of mine, and he gave me some tips, the same goes for Patrice Glairon-Rappaz and Cédric Périllat, who did it in 2011. In mid-February, there was an exceptional window of high pressure, and the more time went on, the more I thought to myself that we had to make an attempt. Another guide-coach who is part of the FFCAM's National Mountaineering Excellence Group, Damien Tomasi, was heading out to the south face of Mont Blanc. I suggest the adventure to Louis and Pauline, who weren't aware of the route. Sure, you can go to the other side of Mont Blanc [Ed. Note where rope teams line up one after the other along the Brouillard corridor], and take the easy option. There are a fair few rope parties, and you can find information and photos on social media. Time is ticking, and I sow the seeds, or rather the ideas, in the minds of my climbing companions !
Why did you not head to the south face of Mont Blanc, where the conditions were clear ?
Mat Détrie : What fires my imagination in climbing, is the adventure. I prefer to struggle in an attempt up the Zmutt Nose, rather than follow on people's heels on the other side of Mont Blanc!  I tell my climbing companions that at least by taking the Gogna route, we'll be alone, it'll be an adventure! For me, adventures happen when you open up a new way, or take routes about which there isn't much information, or recent information at least. Experience tells me that in winter, when using dry tooling techniques, it's better to be dealing with faces that are dry than piled with fresh snow. After talking to François, my Italian friend, I decide it's doable. We pack our bags. But before heading to Zermatt, we have to decide on a strategy. Planning and strategy are vital parts of this type of route. It's not a route you simply do over the course of a weekend, packing your bag that same day.
I PREFER TO STRUGGLE IN AN ATTEMPT UP THE ZMUTT NOSE, RATHER THAN FOLLOW ON PEOPLE'S HEELS ON THE OTHER SIDE OF MONT BLANC !
Preparing equipment, but also mindsets ?
Mat Détrie: There was the issue of hoisting. Patrice and Cédric had bivvied three times in winter, Seb Ratel only once. We had certainly improved our dry tooling skills since 2011, and I knew that hoisting would be a challenge. So, after a lot of thought, we decided on a 10 kg pack for each of the seconds and a 5 kg pack for the leader. Both my fellow climbers are in their third and final year of training. Louis is, for that matter, an aspiring guide. I decided to tell them from the outset that I wanted them to be involved in the strategic decision-making for the Matterhorn. When tackling routes like that, we couldn't just rely on me as a kind of last resort 'get out of jail free' card. It was a matter of sharing responsibility in advance, and in situ, taking decisions jointly. And in fact, we did share the responsibilities in what was a great and sometimes challenging adventure.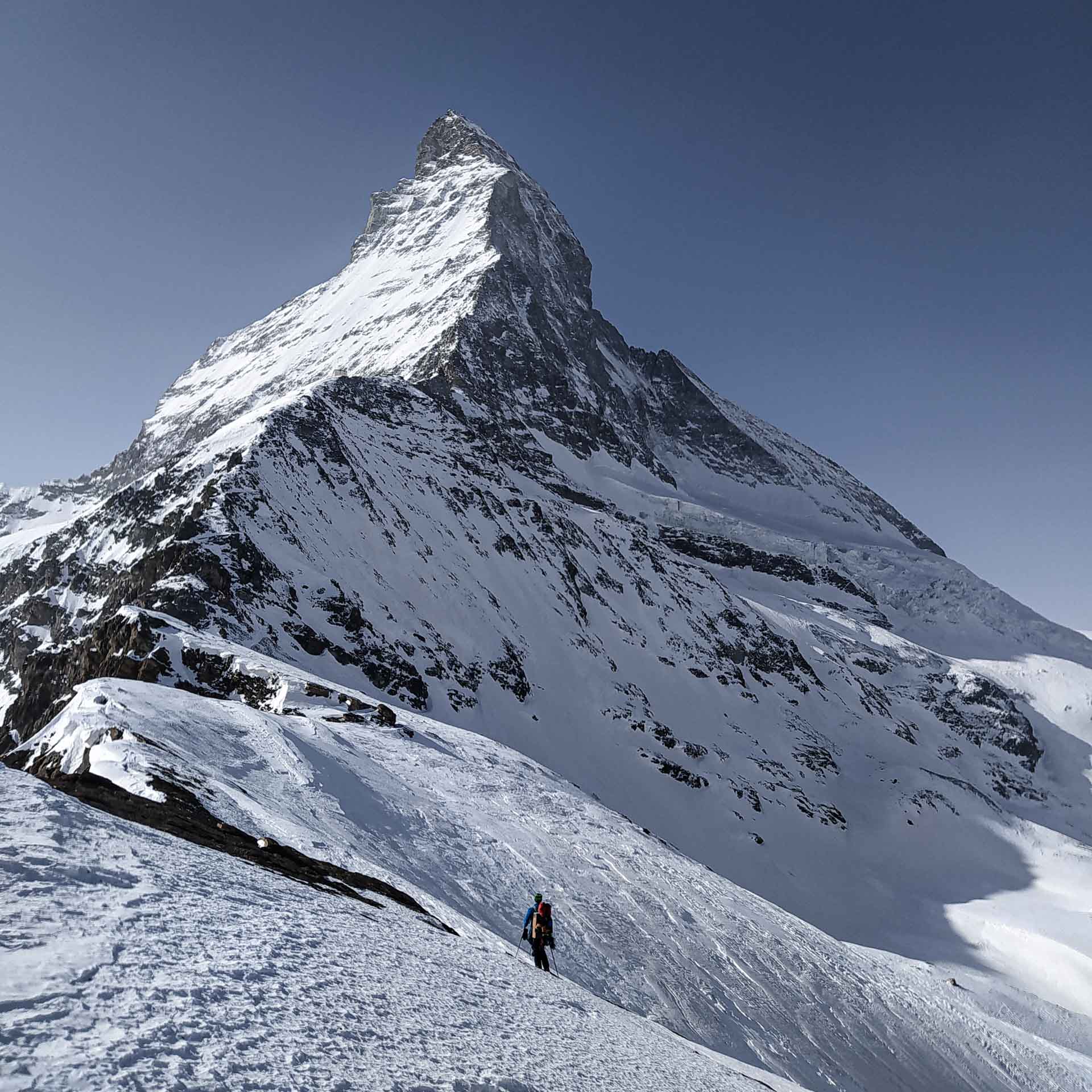 The Matterhorn, 23rd February. ©Champon-Détrie-Pachoud
So, it was a successful outcome for these budding mountaineers from the National Mountaineering Excellence Group ?
Mat Détrie : The National Mountaineering Excellence Group is in the third year of the course. In theory, it's over two years, but due to the pandemic we didn't go away last year. Hopefully, this autumn we'll be able to go to Nepal, and in December we'll put together a new team. We have only one mixed team, with seven guys and two girls, and it works really well. There is a team of trainers [Ed. note in addition to Mat, Damien Tomais and Camille Marot] overseen by Stéphane Benoist. Indeed, Stéph was really keen on the idea of attempting the Zmutt Nose. He himself had difficulties there, which put my mind at rest about being able to get back down in the event of a problem, even if it meant abandoning our equipment. In January, the young team members spent a great week climbing frozen waterfalls, particularly on the main Gramusat routes, in Hautes-Alpes.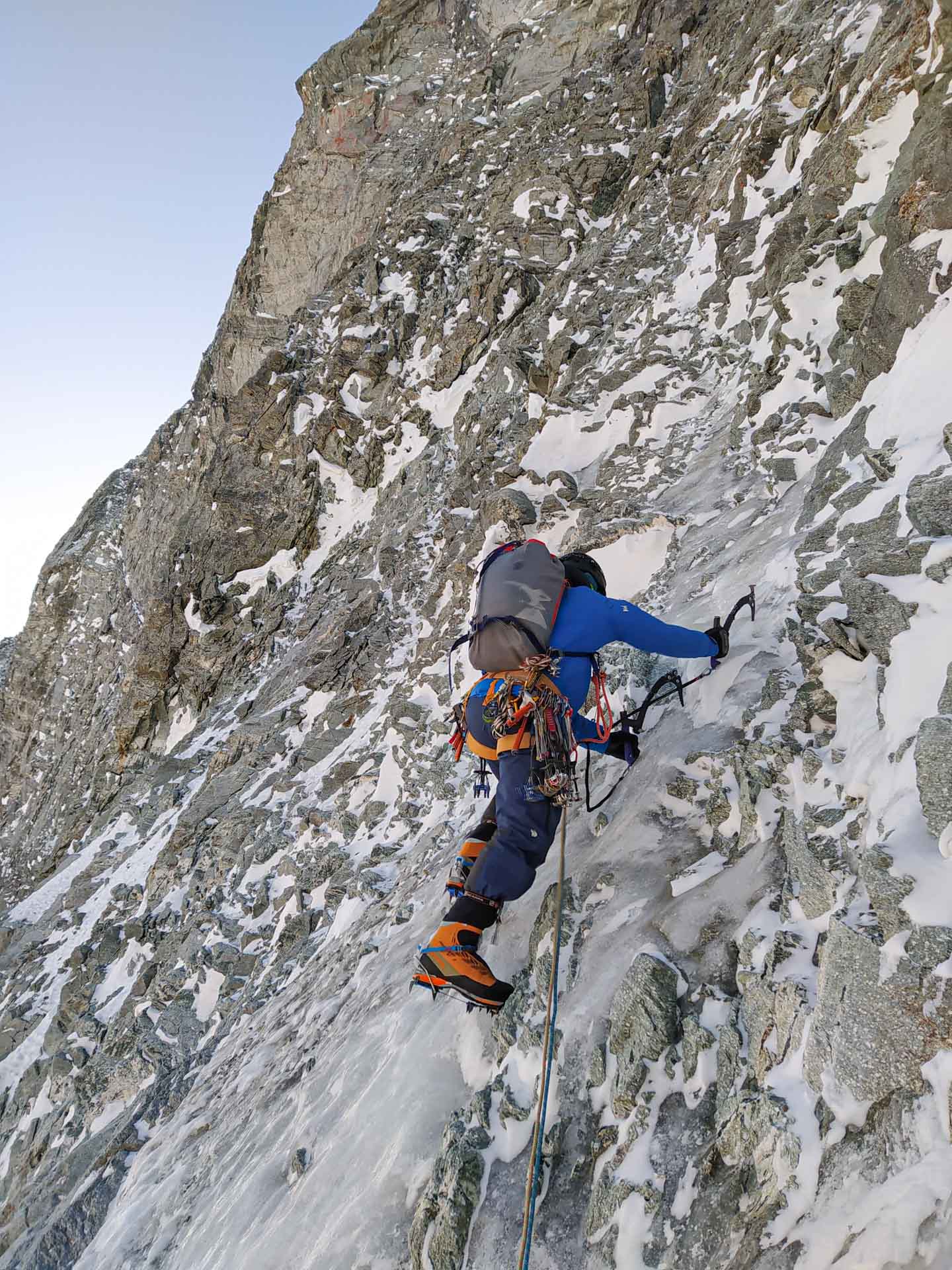 Photo 1 : Mat Détrie on bedrock ©Champon-Détrie-Pachoud
Photo 2 : Pauline Champon inching closer to the Nose. ©Champon-Détrie-Pachoud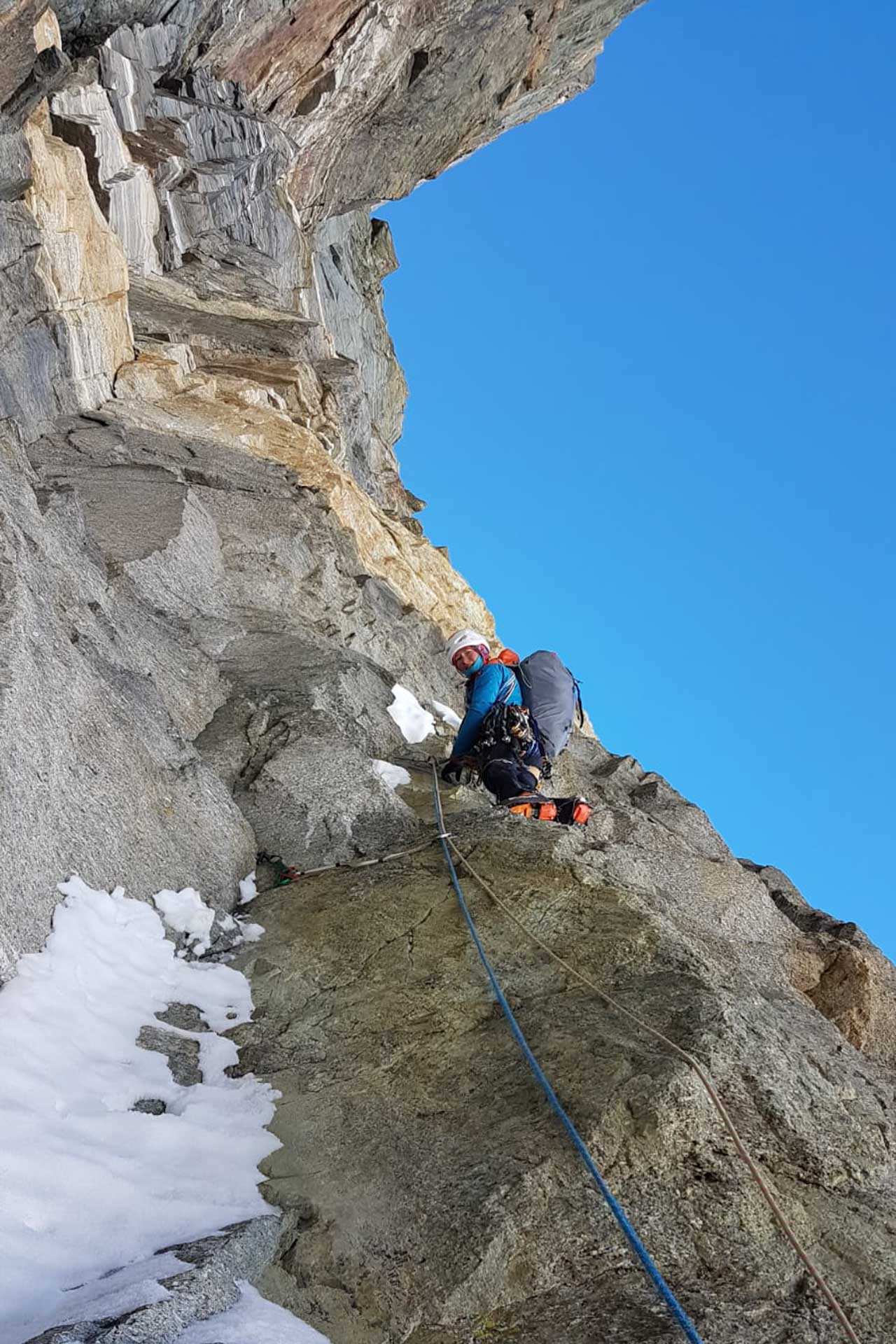 I TOLD THEM FROM THE OUTSET THAT WE WOULD BE SHARING DECISION-MAKING AND RESPONSIBILITY FOR SUCH A SERIOUS ROUTE.
What does the National Mountaineering Excellence Group offer these young mountaineers ?
Mat Détrie : The young climbers selected are already technically and physically very able. What we bring to the table is perspective, experience, and strategy. For ice climbing, for example, it might be how to choose your lines according to the conditions. They are very talented, but have little experience, especially in ice climbing due to the short winters over the past few years. They are between 20 and 25 years old and some have very little ice climbing experience. They are good climbers, but we try to teach them about the rest, like equipment, strategy, the descent, what I call experience.
How did it go on the Matterhorn ?
Mat Détrie : I told them from the outset that we would be sharing decision-making and responsibility for such a serious route. We took our time. On the Monday, we spent the night in Zermatt. On the Tuesday, we climbed up to Hörnli hut, then made a quick recon trip to the foot of the route up before heading back to overnight at Hörnli. We set off very early on the Wednesday to get started on the face around 5:30am.
THE ZMUTT NOSE CAN BE BROKEN DOWN INTO THREE PARTS : 400m MIXED, 400m STEEP ROCKFACE (THE NOSE), AND 300m OF ROCKY FRAGMENTS TO FINISH
How did you go about the climb ?
Mat Détrie : The first part of the route is arduous. Really dry, a killer for the calves! It's about 400 metres, mainly rock face rather than ice, and friable. Two pitches before the bivvy point marked in the only valid guide – the 100 most beautiful by Michel Vaucher – I notice an interesting option to bivvy alongside: I level it out while Pauline and Louis fix the next two pitches. We're able to lie down, so it's quite comfortable, if cold. The following day we set off very early. The next part of the face is extremely steep and requires steady climbing over 400 metres. I thought there might be a few easier pitches, but there weren't. The grades in the records [Ed. note VI+ and A2] don't mean much. Let's just say there's a 400-metre section, around M6 grade, with two aid climbing pitches including a section with rivets from 1969, which are nothing to write home about! We reach the pseudo-second bivvy point around 5pm, and there's just enough room for the three of us to sit down! That's what I call decision-making time.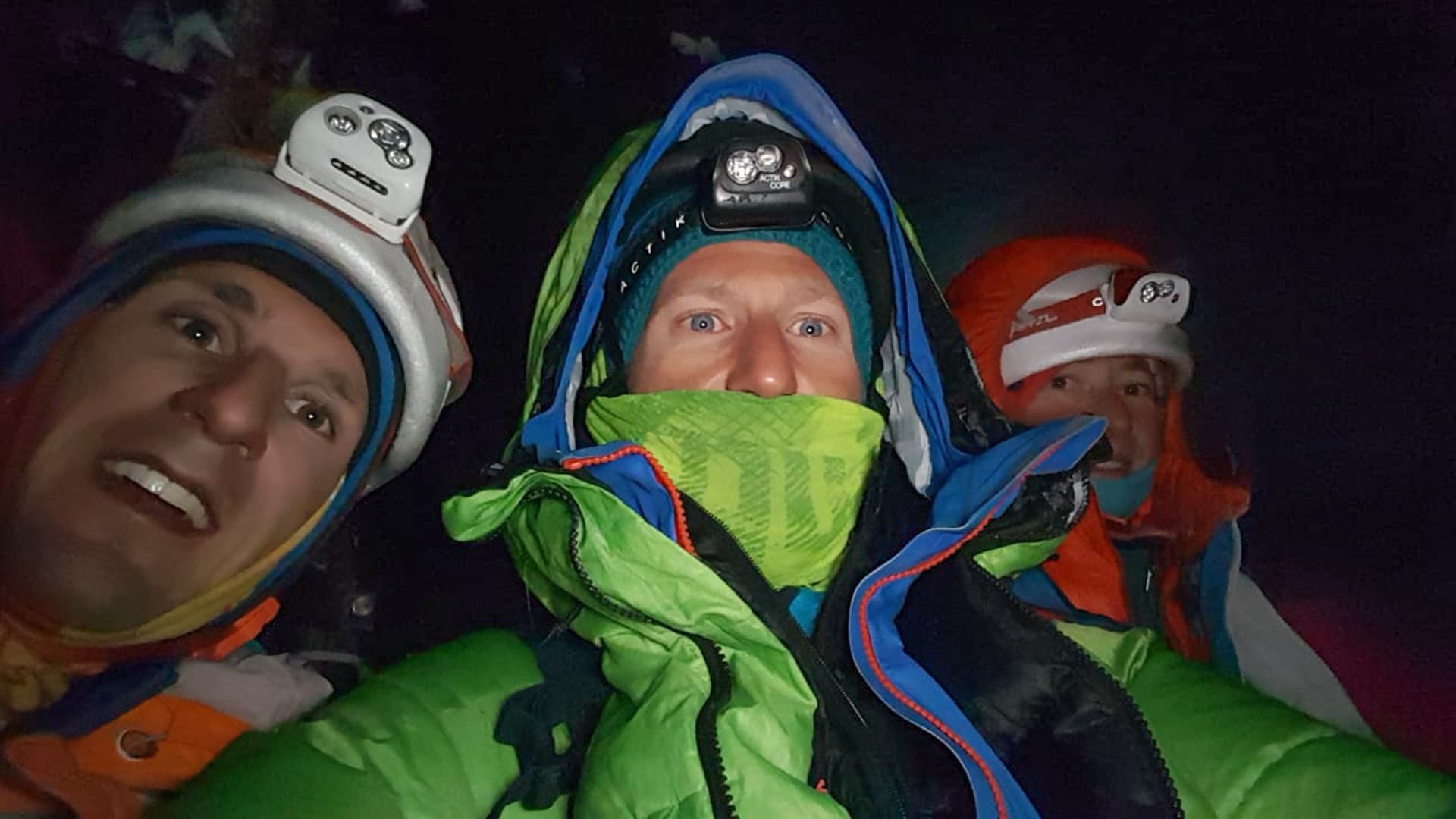 4am, Matterhorn summit for Louis, Mat and Pauline. ©Champon-Détrie-Pachoud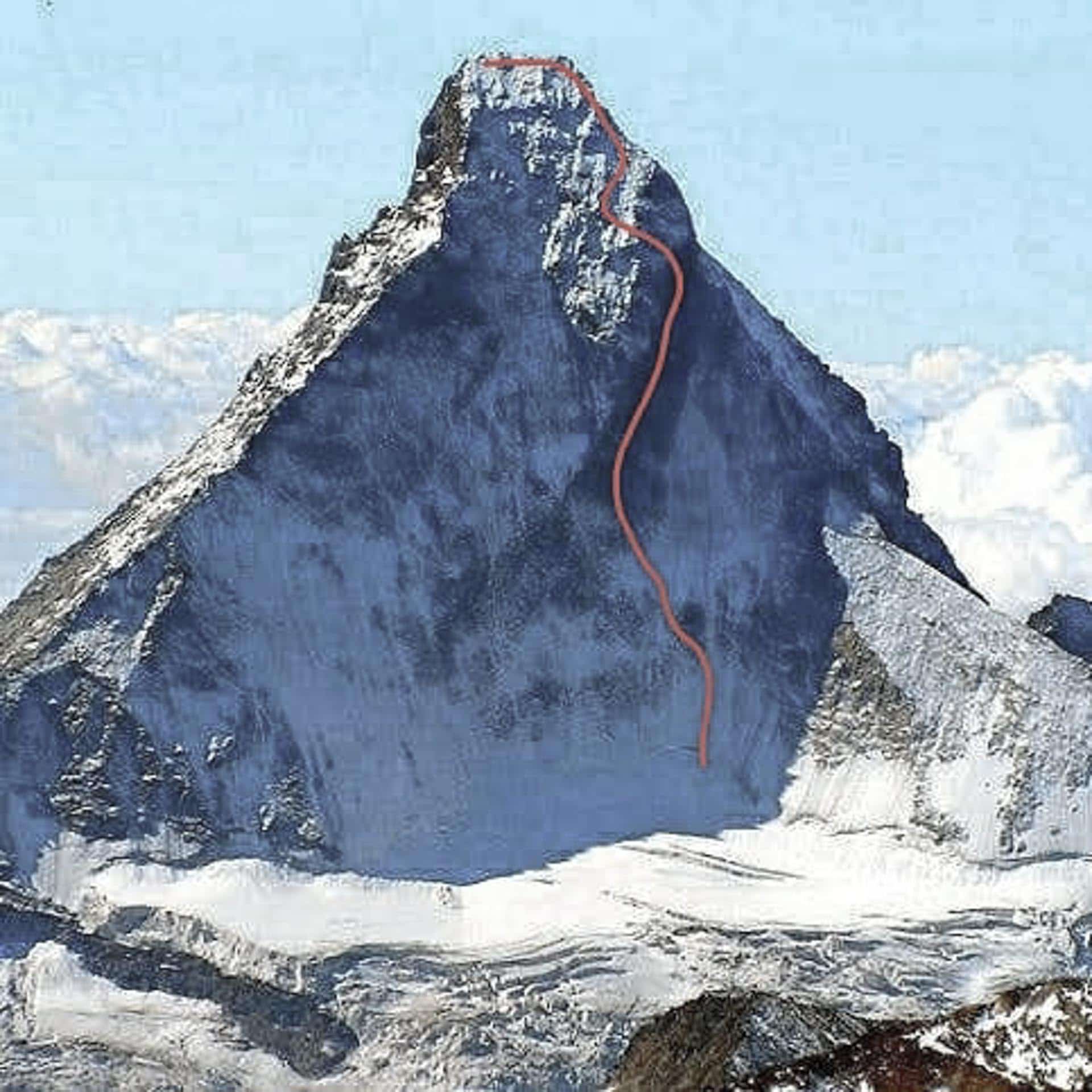 WE REACH THE TOP OF THE MATTERHORN AT 4AM, IN GLACIAL WINDS. THERE'S NO QUESTION OF LINGERING.
Was it at this point that the adventure took a serious turn ?
Mat Détrie : When we were at the pseudo-bivvy point, I knew the night was going to be awful, the wind was picking up and we were completely exposed, as well as already cold even wrapped in our down jackets. There was still an hour and a half of daylight left. I hit the last hard pitch and came out on to the ridge.  There was a new pseudo-bivvy possibility, but the situation was the same: at over 4,000m (13,123ft) with this wind we would freeze. We couldn't stay there. I told Pauline and Louis that we would continue climbing in the dark, that we would find something better further up and would stop as soon as we found a place to bivvy. In truth, I didn't tell them, but I did think we would have to continue to the summit where I hoped we'd find something better. We reached the summit at 4:10am, at 4,478m (14,692 ft). And the wind was still freezing cold !
What did you decide to do ?
Mat Détrie : We had struggled to find our way on the upper part of the route. In fact, you have to make a detour to the north face, not far from the Schmidt route, before heading back towards the peak. Once we had reached the summit, we quickly began our descent to Hörnli ridge. I'd climbed it before, but with the snow not only was the route impossible to recognise, but the equipment in place, fixed ropes and pegs, were often inconspicuous. It took us six hours (!) to reach Solvay hut, at over 3,700m (12,139 ft), at 10am. Decision-making time once again: do we lumber ourselves with another night on what's left of our gas and freeze-dried supplies, or move on? A two-hour snooze brings clarity to our thoughts: we have to push on down. Indeed, descending from Hörnli in winter, without a clear route, is extremely challenging. We belay each other and take our time. The temptation of going backwards down the very snowy east face (50° slopes) overcomes us. We unfasten the ropes, as with those kinds of slopes we cannot belay.
CLIMBING DOWN THE MATTERHORN IN MID-WINTER IS EXTREMELEY CHALLENGING.
This must have been a difficult decision.
Mat Détrie : It was an extremely difficult decision to make. I take full responsibility for it. We discussed it, then bivvied down outside before embarking on 36 hours of non-stop exertion aside a two-hour break. The climb down the east face went well, it was quick, and saved us another bivvy. But I'll never forget it. We spent the night at Hörnli again.
What did you take away from this experience ?
Mat Détrie : It was an amazing adventure. We suffered from altitude sickness, as none of us had acclimatised. Normally, I offer ski touring from the glacier at La Grave and I'm acclimatised at least a minimum, but not this time. The cold was palpable. But the conclusion to draw is that strategy and advance planning are vital elements. In the end, it was the implementation of this strategy, over almost a week, which made it successful. It was a sort of successful outcome for them, and for me, our little expedition on home soil. Personally, I would say that the Gogna route is more challenging than the Gousseault-Desmaison route on Grandes Jorasses, by way of comparison. See all the photos and the portfolio of this ascent.
*It would be the 3rd ever winter ascent on the Cerruti-Gogna route, on the north face of the Matterhorn (1,100m, VI+, A3, M7). First female ascent for Pauline. Opened in July 1969 by Alessandro Gogna and Leo Cerruti, the route goes up the wall of the Zmutt Nose.
**The Italian, Alessandro Gogna, was the first to complete a solo climb of the Walker route on Grandes Jorasses, in 1968.