Adam Ondra needs no introduction. The 27 year old Czech climber is a living legend in the climbing world. His long list of accomplishments include the first 9c sport route, a second free ascent of the Dawn Wall and qualification for the Olympics in Tokyo. Adam Ondra embodies what it takes to become a successful all-round climber. We got to talk to Adam to discuss his motivation while the Olympics have been postponed, his views on climbing hard and his advice for climbers during lockdown.
How was lockdown for you ?
Adam Ondra : I found that it was difficult to train during the first weeks of lockdown. The fact that we hadn't been told that the Olympics were to be postponed made it even harder to manage. However, I continued to train 5-6 hours per day as I normally do. I'm glad to fortunately have a little gym where I can train at home. In fact, all the gyms in my city were closed during lockdown. I spoke to a Spanish friend of mine who has been stuck in his apartment in Barcelona and hasn't been able to train at all.
How do you feel about the Olympics being postponed ? *
Adam Ondra : At the start I thought that the Olympics getting pushed back would mean I would have to continue practicing speed climbing for another year, and let's just say that I wasn't too keen on that. Then, I thought about it, and saw it rather as an opportunity to get better at speed. I still have a lot of work to do in this discipline, that's for sure (chuckles), so having more time has been a good thing in the end. In hindsight, I must say that I began speed climbing too late, properly starting at the beginning of 2019. Therefore, I decided to get a new coach for speed. He knows his stuff as he used to be an athletics coach, specialising in the 400m, and also happens to climb 8a. He was the first person to explain to me how to really use my legs; my legs being a weakness of mine. Yet, speed climbing isn't really climbing, but rather like running. With this coach, I have started to learn how to use my legs more dynamically. So, as it turns out, the Olympics getting postponed was a relief and a good thing for me.
*Adam Ondra qualified for the Olympics at the IFSC Combined Qualifier in Toulouse, 2019.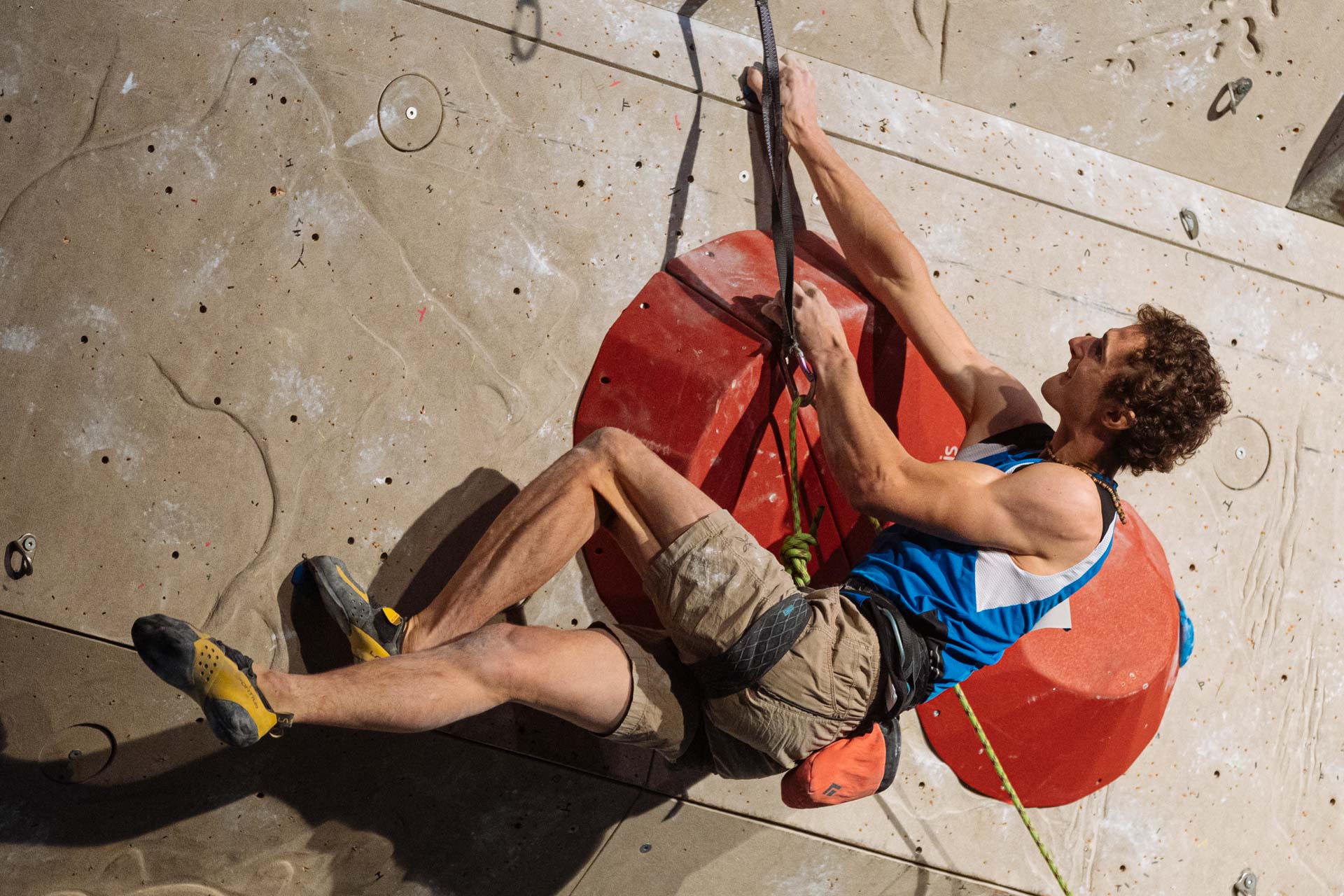 Adam wins the lead final in Kranj, September 2019. ©Lukas Biba / Black Diamond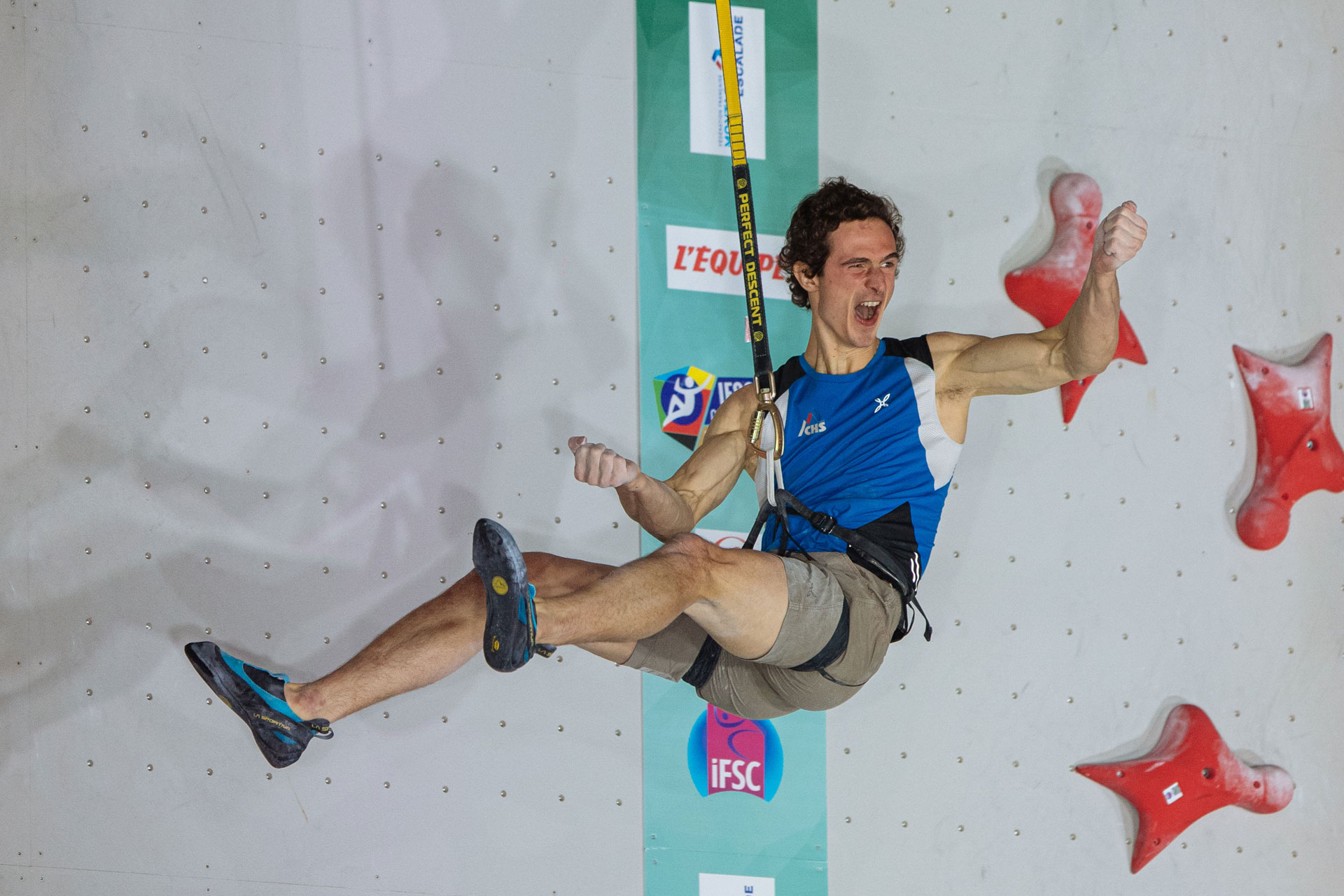 Speed climbing in Toulouse ©Lukas Biba / Black Diamond
Be patient. Don't do too much on the fingerboard… my advice is simple : don't train too hard! Adam Ondra.
Do you have a period of time where you adapt between climbing indoors and outdoors ?
Adam Ondra : The extra year before the Olympics will also give me a chance to go climbing outside as soon as lockdown is over (this interview was taken before the end of lockdown, 24 April in the Czech Republic, Ed.), and I'm going to make the most of it now that the Olympics aren't happening for another year. Mentally I need to go and climb on rock from time to time.
In my experience, I don't need a lot of time to get back used to climbing outside. Climbing on rock is what comes most natural to me. My climbing routine is more or less the same, whether that be training for rock or competitions. This year I'll do the same for the Olympics : train for long periods of time before going outside to see what benefits this training has brought me.
Do you have any advice for the climbers that are still in lockdown ?
Adam Ondra : I think many climbers will have a pull-up bar and fingerboard at home. But be careful ! I'm concerned that many people will get injured by doing too much on the fingerboard. If you're used to normally climbing 4 or 5 times per week, but this is just climbing with very little finger-boarding, and then you train the same number of hours of pull-ups and fingerboard at home, there is a large risk of injury ! Be patient. Don't overdo the high-intensity exercises, such as finger-boarding. My advice is simple: don't train so hard ! (laughs). If you really want to go all out at the end of a session, finish by doing some strength exercises on a mat.
How do you get motivated during these current times, but also for projects such as Silence (9c) ?
Adam Ondra : There are two sources of motivation. The first is linked to my goals. A goal is something I like to have, whether that be wanting to climb a route or being ambitious. There is also another source of motivation for me that is even more important, which is climbing itself. I climb because I love to climb. I train hard because I love to train. The problem last year was that I continued to train for speed climbing without actually liking it. Now, at least, I pretend to like it.
In the New York Times, you likened speed climbing to a circus. But could it actually help you in certain ways? For example, being able to speed climb El Capitan ?
Adam Ondra : Yes, there are still aspects of speed climbing that I like, such as looking  at ways to improve that I wasn't aware of before, like my legs, etc. Then I realised something else. If I wanted to climb 20 pitches of El Capitan – let alone doing it as a speed attempt – I would have seriously tired legs anyway. So I would have to train this. Having good footwork on small holds and legs that don't shake are important when climbing El Cap. In the future, if I want to do a route in less than 24 hours on El Capitan, I know that I'll also need to work on my legs.
Would that be climbing the Dawn Wall in less than 24 hours ?
Adam Ondra : Yes, of course! Not for right now, though, and maybe not for some time. Even after the Olympics I have projects outdoors that I need to complete before maybe going back to Yosemite. For example, a project in Flatanger in Norway (where Adam climbed Silence, Ed.). The possibility of going back to France to climb in the areas of Buoux and the Verdon also feature amongst the things I'd like to do. These places really inspire me. The Ramirolle sector is really futuristic. I would first like to get back on la Rage d'Adam, with the first ascent recently made by  Seb Bouin. I also think the Ramirolle holds even harder, and more futuristic climbs. You rarely find routes that are as long and sustained in the overhang with such a good quality of rock. In between the mains holds, the pockets and tufas, there are obviously bare sections, but sometimes there are holds, even small ones. Let's hope the borders aren't closed this Summer. I would love to do the classics in Buoux that I haven't done yet, such as Azincourt (8c) and la Rage de Vivre (8c). I would also love to try le Bombé Bleu (a route tried by Nicolas Januel, an international route-setter, Ed.)
Doing the Dawn Wall in under 24 hours is a goal for the future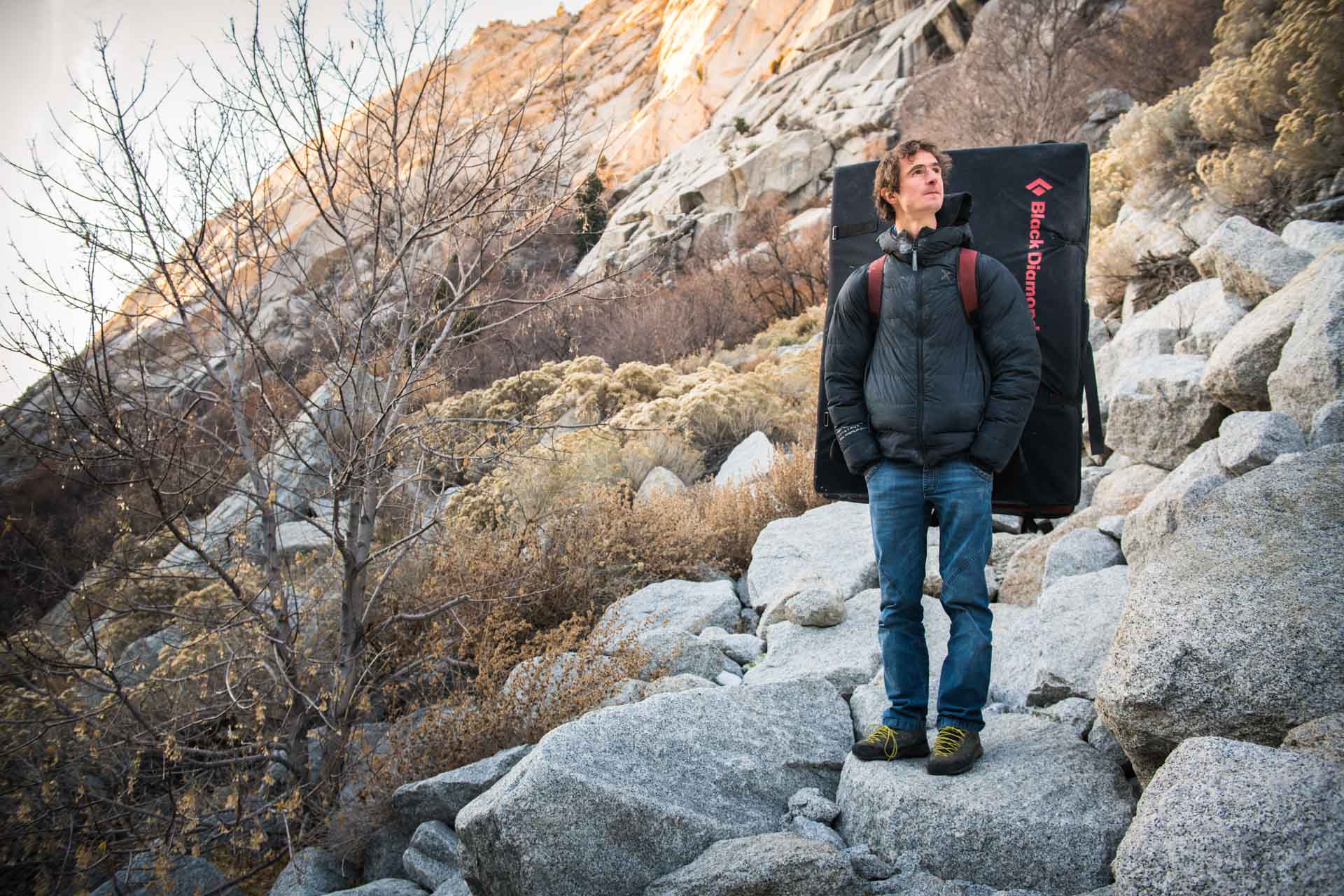 ©Andy Earl / Black Diamond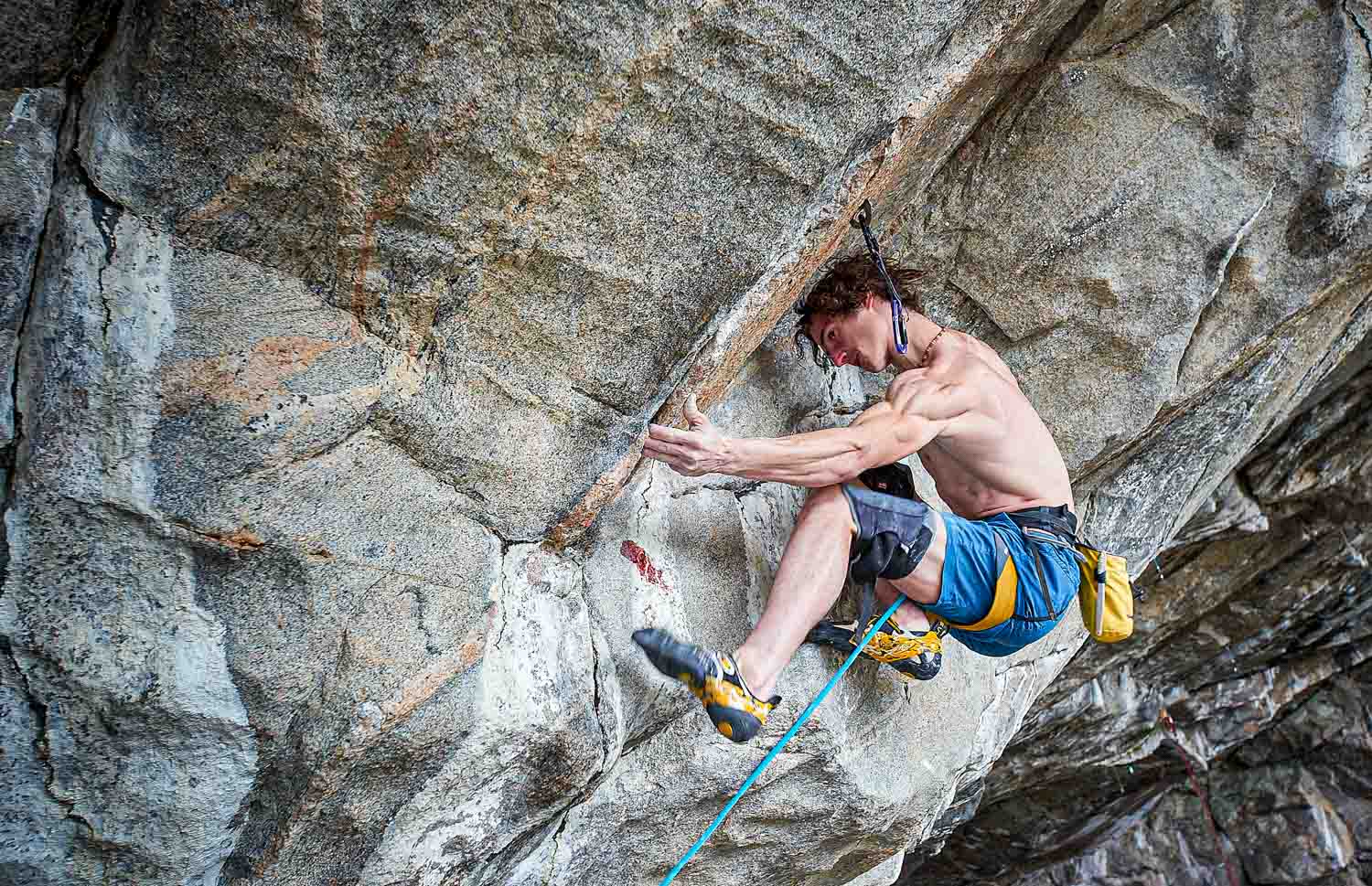 Adam Ondra on his route Silence, 9c, in Norway. ©Pavel Blazek – Wiki Commons.
In one of your videos you talk about a subject that has long been a source of debate for climbers : what is the ideal body shape for a climber ? Could you tell us a little more about that ?
Adam Ondra : I think all different body types have their advantages and disadvantages. The important thing is to be aware of this and adapt accordingly. Being tall, like I am, has certain benefits as well as downsides. For example, you have to be flexible, otherwise you'll be at a disadvantage in certain positions. If you're small, you'll have to learn how to dyno, because sometimes there won't be any other option. If you're small, you will likely be lighter, whilst being tall you will be heavier. Of course, if you have more muscle mass, you will undoubtedly be more powerful.
You also explain that there is no perfect body or body shape for climbing. This is the opposite for a sport like the 100m sprint where all the top athletes have a very similar shape.
Yes, just take a look at my personal development. At the start of my career I was very, very thin compared to these last years, where I have put on muscle. When my body was thin with less muscle ten years ago, it was probably closer to the body type that most climbers deem to be ideal, opposed to what I look like today. However, I believe that having more muscle today has made me a more complete climber than what I was ten years ago. I have also improved my weaknesses. In my opinion, you can be the best climber even if you are 5 foot tall. This being said, some of the current competition routes are impossible for those under 5'6". New routes should be made !
What do you think about the rapid rise of strong female climbers (Margo Hayes, Angela Eiter, Julia Charnourdie) who are climbing well into the 9th degree? Do you think that women have the capacity to climb even harder than men ?
Adam Ondra : Yes, I think so. On long routes, for example. If you take a route like Planta de Shiva, with 40 metres of endurance, that was done by Angela Eiter (first woman to climb 9b) if you can imagine a route like this but even harder, then I think that women and men would be at least on an equal playing field. This style is relatively hard to find, but it's on this type of route that women are really going to perform. Nowadays, I don't think that elite male climbers are much stronger than your Jerry Moffatts and Ben Moons of the 90s. If you compare pure strength on a campus board, then we don't do much better. But you need lots of other qualities than just pure strength, and fortunately, today we don't have to train in the rubbish climbing gyms that they had in those days! (laughs) Even outside, we have a lot more routes to get better on.
What do you think about the popularity of climbing ?
Adam Ondra : In reality, its popularity doesn't surprise me. Climbing is so fun. Even indoors, climbing has become more interesting, with higher walls. Compared to twenty years ago it is much better. It's no surprise that the sport of climbing has taken off. Besides, when I make my videos, I don't look to convert indoor climbers into outdoor ones. We're all climbers, whether that be in the gyms, at the top of Everest, or climbing El Cap, that's the beauty of climbing.
You recently posted a picture of David Lama's exploits on the Cerro Torre.
Adam Ondra : I also take inspiration from alpinism. Kurtyka, for example (we showed Adam several photos of books about mountains, Ed.). I think David Lama is particularly inspirational. He left the competition scene quite early in order to take on ambitious challenges, and after a tough battle that lasted two seasons, managed to send le Torre – a climb that looks so impressive and super exposed. I'd need to have more experience before attempting more big walls. The climbing itself is no problem, but you need a lot of experience with placing gear. Dawn Wall was climbed on "shitty gear", but placed on very hard pitches. This makes a huge difference, not to mention the difference with El Cap where you park right by the cliff.
I don't think that elite male climbers are much stronger than your Jerry Moffatts and Ben Moons of the 90s. If you compare pure strength on a campus board, then we don't do much better. But you need lots of other qualities than just pure strength.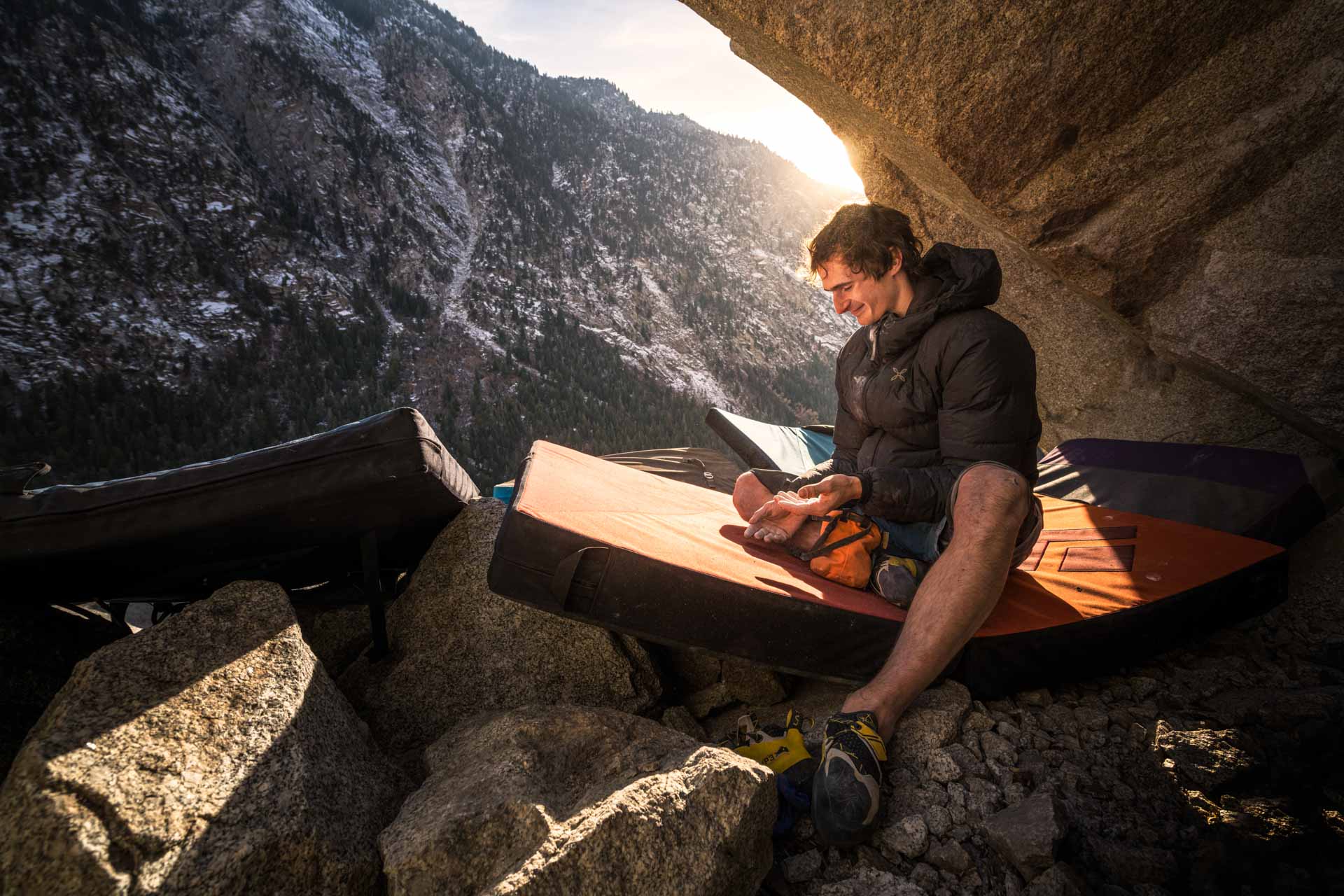 © Andy Earl / Black Diamond
Could you speak about your pro model harness, the Black Diamond airNet ?
We wanted a super light harness for the Olympics. I wanted a really light harness for myself and still keep the comfort. I wanted a harness that I could use at the crag to work on my projects. I think this is what we got – a balance between super light and comfortable. I actually got my hands on one of the first ones made, and I must say that I am a cautious person and I like to climb in a harness for several days before feeling good in it. With this harness, though, after only one day using it, I decided to choose it for the competition in Chamonix because it felt so good. And I won that competition, so it must work (laughs). There are two types of comfort with a harness : one when you're climbing and one when you're rappelling or at the anchor. The Black Diamond airNet is super light and great for climbing, and comfortable enough when you are just hanging in it.