At Millet, we know what an approach shoe is. You need grip: a Vibram sole with Climbing Zone. You need rigidity, because the goal is to crawl through the scree covering the approaches, scree in which running shoes get slaughtered – and your feet with it. The whole thing benefits from an extremely solid construction at first glance. The 2022 version of this Trident Guide test.
A solid shoe
The Millet Trident Guide is a bit overweight. At 505g, it's a slightly heavy shoe, but it's very useful. It is a real approach shoe, solid, with which you can climb without any problem in the III or IV, adapted to the cracks of crystalline massifs for example.
While the necessary rigidity is there, Millet had the good idea of adding comfort with a heel cushioning (Cushion Pad) that protects the skeleton. The Vibram Mulaz outsole is a great classic that is perfect for this typical mountain use. Millet has something even more precise and rigid (and heavier): the Friction, but it's not nearly as comfortable as the Trident. You can't have everything.
The forefoot is perfectly protected (stone guard) as well as the heel. You can go straight downhill! The suede upper seems is very well made. This Millet Trident Guide exists in a gore tex version but its price is skyrocketing, approaching 190 euros.
So let's stick with this version without GTX, which is satisfactory for all those who don't spend their life in the snow (and there are no more after July 15). A real approach shoe, precise, resistant, which meets the specifications of a climber or mountaineer.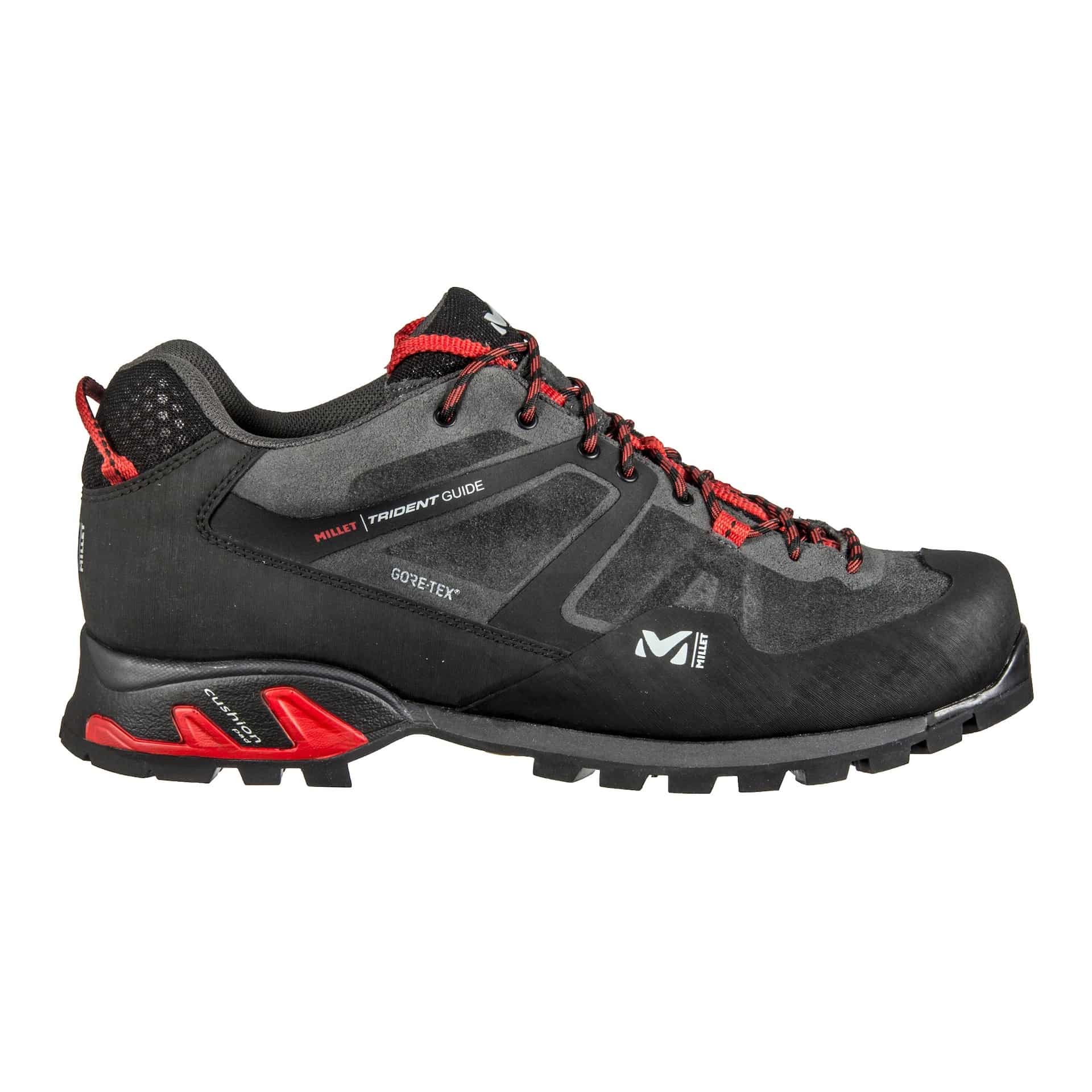 Millet Trident Guide version GTX
OVERVIEW
The Millet Trident Guide is a sturdy, precise and comfortable model, perfect for approaching terrain, including rough terrain. Recommended!
Specs
SHOE WEIGHT: 505 g in 42 PUBLIC PRICE: 169 € SOLE: Vibram Mulaz