The bag that carries, supports and protects
your equipment and your back
+
Total weight
Versatility
Robustness
–
Missing a pocket for everything
Test conditions
5 weeks expedition in Nepal : approach trekking, in all weathers, from the Nepalese villages through the high valleys, to the base camp (5000m).
In the bag, all the equipment to be autonomous in taking pictures. It's heavy, but you can see how comfortable and practical the bag is:
– 2 x Sony A7R3 & A72 cameras
– 3 lenses (18, 55, 70-200)
– Mavic Pro Drone + Remote Control
– Ipad Mini
– Go Pro 6
– Micro canon Rhode Videomic
– Goal Zero Sherpa 100 battery
– Goal Zero 28+ Solar Panels
– Vanguard Veo 2 Carbon Tripod
– Miscellaneous battery set + SD/microSD memory cards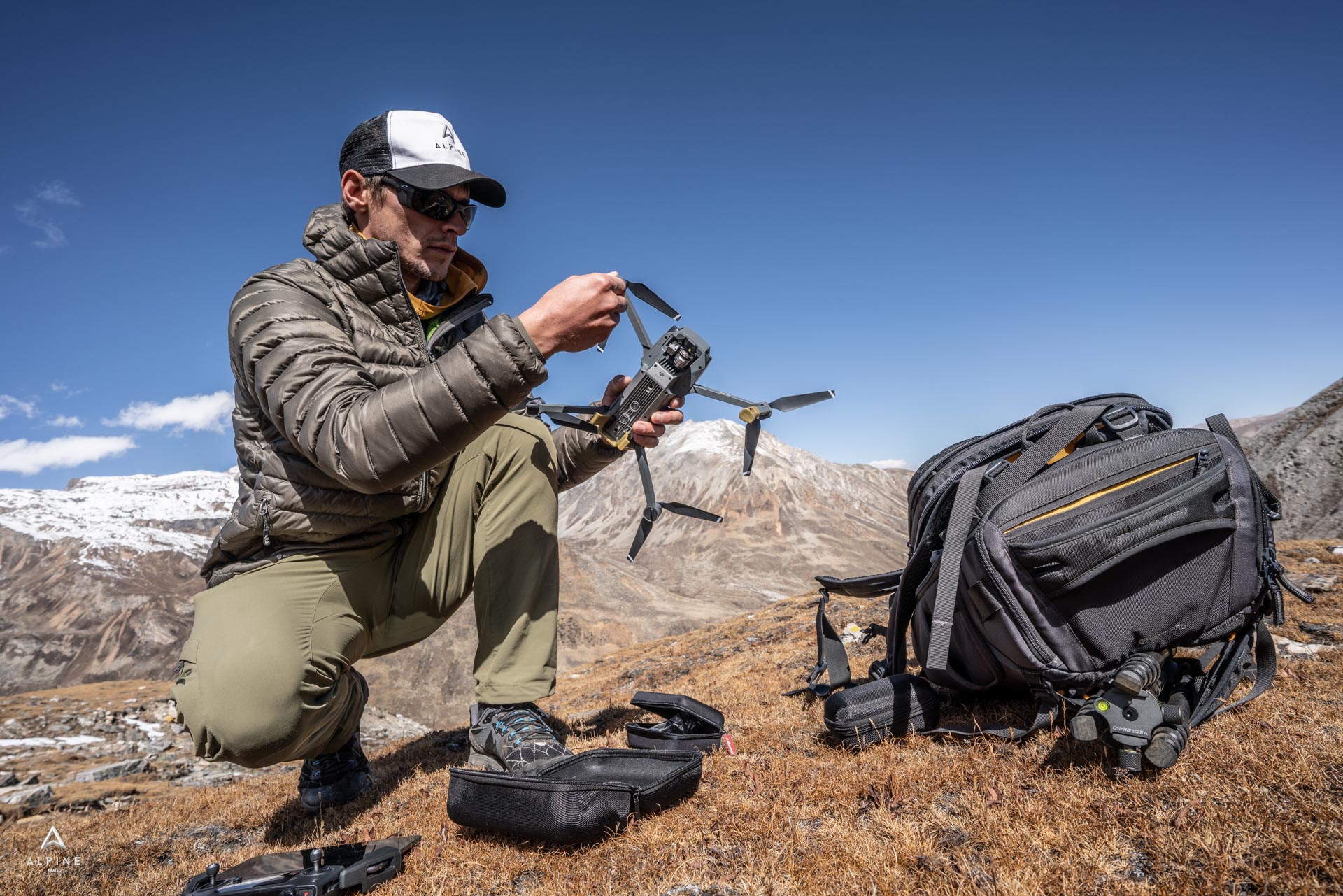 The drone fits perfectly in the bag alongside the camera bodies and lenses. ©François Damilano
Handling
Having used a lot of photo bags of all kinds, brands and volumes, I have to admit that the Alta Sky 53 is surprisingly light when you hold it. Considering the volume of the beast and its numerous accessories, this bag passes under the 2kg mark with only 1.99kg on the scale. An excellent start.
The second kiss cool effect confirms the good feeling from the comfort point of view. Even before you have it on your back, loaded, this bag shows its ergonomics and padding through wide and soft shoulder straps and a wide and airy chest. The back is also made of thick, honeycombed foam. Most importantly, and this may be a detail for you, but for the photographer on the move it means a lot: the bag stands on its own! With the help of the large handle on the top of the bag, it is quick and easy to put the bag upright, without having to find a hypothetical balance, thanks to a rather rigid and thick bottom. Practical between two shots that are a little more "active" than others where the bag can stay on the ground for a long time
In practice
We might as well say that we feared that the bag would be badly damaged by the weight of the "day" equipment brought along (we're not talking about the 2nd Go pro, the multiple additional batteries for the drone, the camera, the Go pro… or the MacBook also brought along to be able to work at the base camp…)
And yet: once all this is put in its place in the bag, it doesn't move and, even better, it can be transported without looking like the pack-saddle mules that are following behind us. The multiple velcro compartments allow you to arrange the interior volume as you wish, according to the equipment you are taking along. The main access is from the top of the bag, through a large opening. The brand suggests using the main compartment for a 300mm case. As I don't use this kind of gear, and preferring good storage to quick access, I organised the inside of the bag by closing off this large compartment.
This also creates a miscellaneous storage space accessible from the top of the bag. This is all the more useful as the bag does not have an "all purpose" pocket, which is perhaps one of the only negative points we can find. What about sunglasses? What about sun cream? What about the Snickers bar? And the Swiss Army knife? In short, you've understood that you have to create a space in the middle of the photo area yourself, because the small zipped pocket can at best hold a notebook or a card. Once this is done, the bag is a bottomless pit. I had to load it at 13 or 14kg, which is a lot for a camera bag. This Alta Sky 53 packs in all the gear and remains very comfortable, even on shoulders that have become skinny after 25 days of Dhal-Bat. It's even surprising. The laptop compartment is also large and there is another integrated pocket for an iPad. Practical for drone pilots who use the tablet to steer their drone.
On the front, a clever system allows you to put a small tripod (the VEO2 Carbon from Vanguard is very good) or to put a jacket when the temperature rises. Two large side gussets are useful for the water bottle or the wild genepi found on the way. On the practical side, the zips are robust and easy to grip, even with gloves, thanks to large plastic tips. A rain cover ensures that the whole thing is waterproof.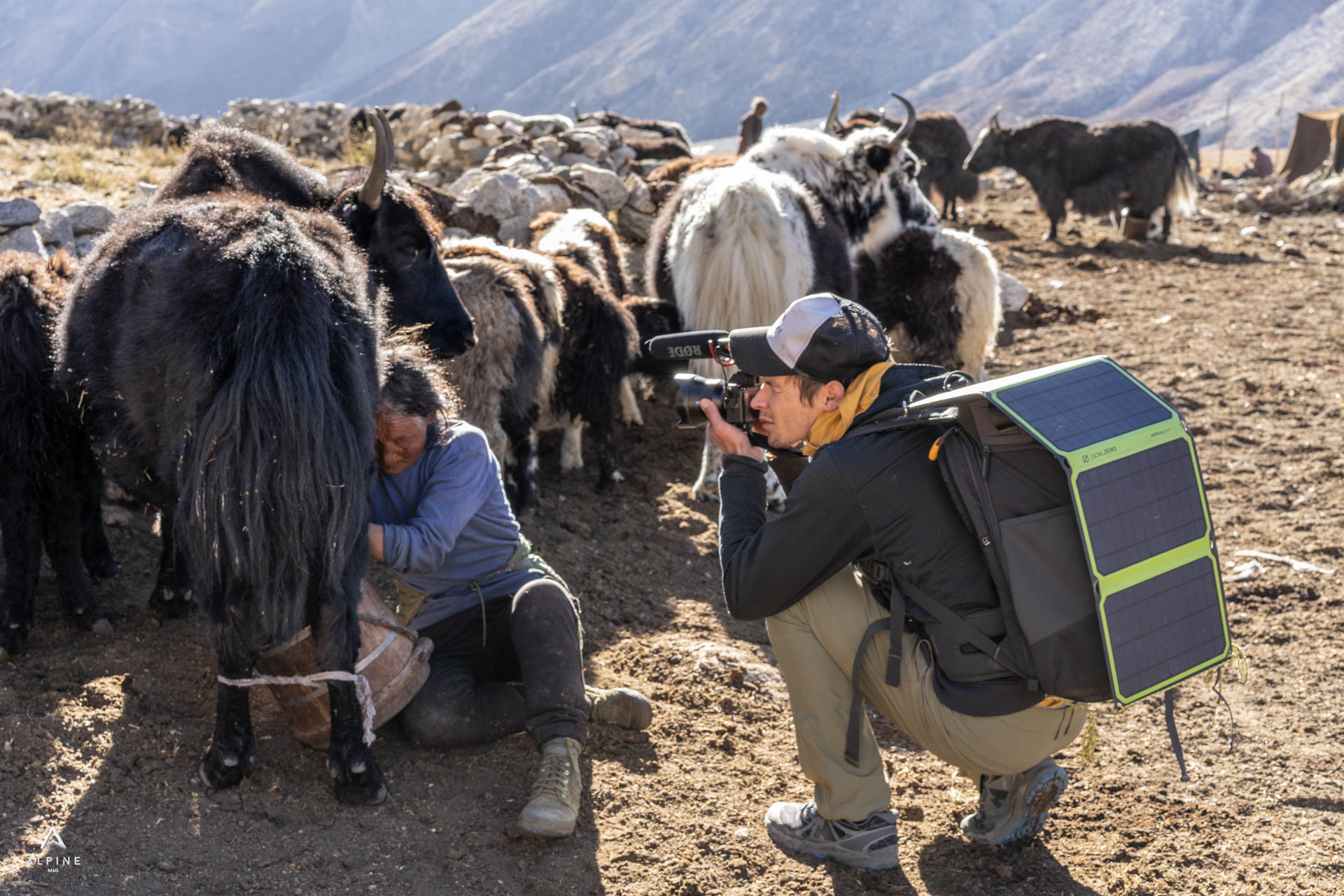 In Ninja Turtle mode, so you can recharge your batteries while walking. ©François Damilano
Verdict
For walking and travelling, this bag is a real bottomless pit, as comfortable as it is bulky. It clearly stands out for its light weight, under 2kg, when the competition is more like 3kg. It is the bag for outings or trips requiring a large quantity of various equipment.
Specs
INTERNAL DIMENSIONS 320 x 200 x 530 PUBLIC PRICE : 209€ CAMERA BODIES 2 LENSES 6 WEIGHT 1,99kg  LAPTOP Yes, 17″