They were too good to be true. The whole world has seen Kittiya Pawlowski's photos of a snow leopard, snapped in the distance and surrounded by magnificent Himalayan mountains. The problem is that the lighting in the American photographer's pictures is a little strange and the images show collage effects reminiscent of photomontages. Given these doubts, we decided to analyse the images in detail. We can now prove that at least three of the photos have been manipulated, having identified the bits of mountain used to create the backgrounds. As to whether snow leopards are likely to be seen on glaciers, Vincent Munier, a snow-leopard specialist, is categoric – the answer is no. Here's the truth behind these fake photos.
In short:
Three photos are demonstrably fake (collage of several fragments of photos)
The photographer's real identity remains in doubt
The leopard is shown in an improbable location, confirmed by snow-leopard specialist Vincent Munier
Four photos. Only four, with no introduction or history. Their author, Kittiya Pawlowski, claims to be an American photographer. But no-one in the world of wildlife photography has heard of her. The same goes for the world of mountain photography in general. But beginner's luck does happen, and you can't begrudge Pawlowski if she was lucky enough to grab some shots of a snow leopard, an animal some people have barely glimpsed even after spending years in the Himalayas.
The problem is in the nature of the photos, their composition, the light, their location. In other words, their veracity.
The problem is in the nature of the photos,
their composition, the light, their location.
In other words, their veracity.
Pawlowski's photos are superb, but they are creations, compositions of several images combined into one using software such as Photoshop. One of the main problems with the publication of these images is that they are not presented as creations, but as actual photographs, accompanied by a long spiel in which Pawlowski describes her trek to Gorak Shep, at the foot of Everest, to look for the leopard.
Vincent Munier, a photographer who has tracked snow leopards for many years, is clear: 'I've got nothing against this type of creation, but it has to be presented as such."
A Photographer with no (other) Photographs
Kittiya Pawlowski's work is little known. Her website, devoted entirely to her four snow leopard photos, does not contain any other shots of animals. Her Instagram account is the same; there are just five photos: the four snow-leopard photos and a photograph of her. She has more than 50,000 followers. How many photographers don't show their photos on online galleries? A few, perhaps, but only a handful. 
To find more of her photos, you have to trawl through the internet. Dig down to the nominees for the Fine Art Photography Awards and you'll find a photo called 'Alien Worlds.' This photo is a visual creation showing a woman underwater surrounded by jellyfish and illuminated by a beam of light. This image is a gem of digital graphic art, that is, a work created using Photoshop image editing and design software. 
A Doctored Profile Photo
It's the same for the profile photo Pawlowski provides. Detailed perusal reveals a 'superfluous' lock of hair that doesn't match the rest of the young woman's hairstyle. Undeniable proof the image has been manipulated. And several suspicious areas can be seen in the outline of her body, with artefacts and anomalous blotches. But why doctor a profile photo? Why portray yourself against a fake Himalayan backdrop if you have actually been there?
One thing is certain, Kittiya Pawlowski is an expert in visual arts and using Photoshop.
Kittiya Pawlowski is an expert
in Photoshop
An Unlikely Story
The only article on her blog is the story of her photo trek to Gorak Shep, in Nepal, not far from Everest. This story, Ghost of the Himalayas, explains how seeing a leopard spoor in Mustang led Pawlowski to the Khumbu Valley. After a few sentences describing the classic difficulties of a trek in this part of the mountains (the fatigue, the cold, the kilometres), the photographer gets quickly to the nub of the story: 'Squinting through my camera's telephoto lens, I noticed something in the shadow of Mount Pumori. At first, I thought it was a rock, but it was exactly what I was looking for.' The leopard is already there, like in a film where everything is resolved in a snap of the fingers, deus ex machina. Too good? Too blurry? 
The implausibility of these photos
struck me immediately
Vincent Munier
Most mountaineers who have visited the area in the last three decades have not even glimpsed a snow leopard. People who know wildlife photographers fascinated by this elusive animal are aware of how difficult it is to see one.
France's best known wildlife photographer wouldn't tell you any different. Vincent Munier: 'The implausibility of these photos struck me immediately. I've seen leopards going over passes, but they move very fast and are almost impossible to capture. A leopard posing sitting down is highly improbable. But there, with that background, it's uncanny. In one of the photos, it's the light that doesn't fit, it looks like there are two suns. They are the sort of photos you can spend a lifetime trying to get. I think it's really bad not to differentiate. Especially, as she accompanies it with a tall story. What's more, I've seen leopards when they've been running, whereas the breath coming from the leopard's mouth [on the vertical photo of the sitting panther printed by The Times of London] is totally unreal.'
They are called snow leopards,
but they almost never venture on to snow,
even less into areas of ice and crevasses 
Vincent Munier
Is it worth mentioning that snow leopards do not venture above 5,500 m? The leopard in Pawlowski's photos is 'sitting' in a high-mountain environment, in a spot we have identified as the east shoulder of Nuptse, above the icefall, at almost 6,300 m. As Vincent Munier says: 'They are called snow leopards, but they almost never venture on to snow, even less into areas of ice and crevasses where there is no prey. They never look for difficulties. They stay on rocky terrain.'
And given their reclusiveness, it's obvious they would stay away from such busy places as Gorak Shep, one of the most visited parts of the Himalaya, with a constant stream of helicopters flying in and out of Everest basecamp.
the two parts of the image
cannot be part of a single photo
A Clear Photomontage: PHOTO N°4
It took the eagle eye of an experienced Himalayan photographer Jocelyn Chavy to identify the two areas (about a kilometre apart) that form the two halves of photo n°4. The upper part of this image shows a narrow ridge with very steep snow spurs. This ridge exists; it is the southwest ridge of Nuptse. This 'bit' of mountain has been inserted to form the top part of the image, in the sun. The lower section of the image looks like a col, which the (fake) leopard is moving over.
This col lies on the west ridge of Nuptse, which borders Everest's famous icefall (and the ordinary route). A Japanese expedition traversed this 'col' in 1977, and, according to Rodolphe Popier, it is at the top of the route Marc Batard's expedition followed last year, reaching 5, 920 m. The altitude of this hard-to-reach col, as shown on the Finn Map, is 6,300 m. Most importantly, the two parts of the image cannot be part of a single photo because they show two very different parts of Nuptse. Hence, image n°4 is a total invention.
Another Photomontage: The Three Plains in PHOTO N°3
As for photo N°3, the impression of superimposed plains is striking. 
The foreground shows a glacial plateau whose seracs yawn above gaping crevasses. As we have said, snow leopards would ever go anywhere near such a place. We have identified this place as Lho La, at 6,006 m. The same pattern of ice and rock can be seen in a photo the skier Andrzej Bargiel took earlier this year (see our annotated photo). Ironically, the same col forms the backdrop to 'Pawlowski's' photo-portrait. But the background of leopard photo N°3 does not correspond to the backdrop of the Lho La. The photo is undoubtedly a photomontage. 
We are still trying to identify the backgrounds in the other two photos. One surprising detail, the presence of four pigeon-like birds (hill pigeons?), flying poetically. Too good to be true!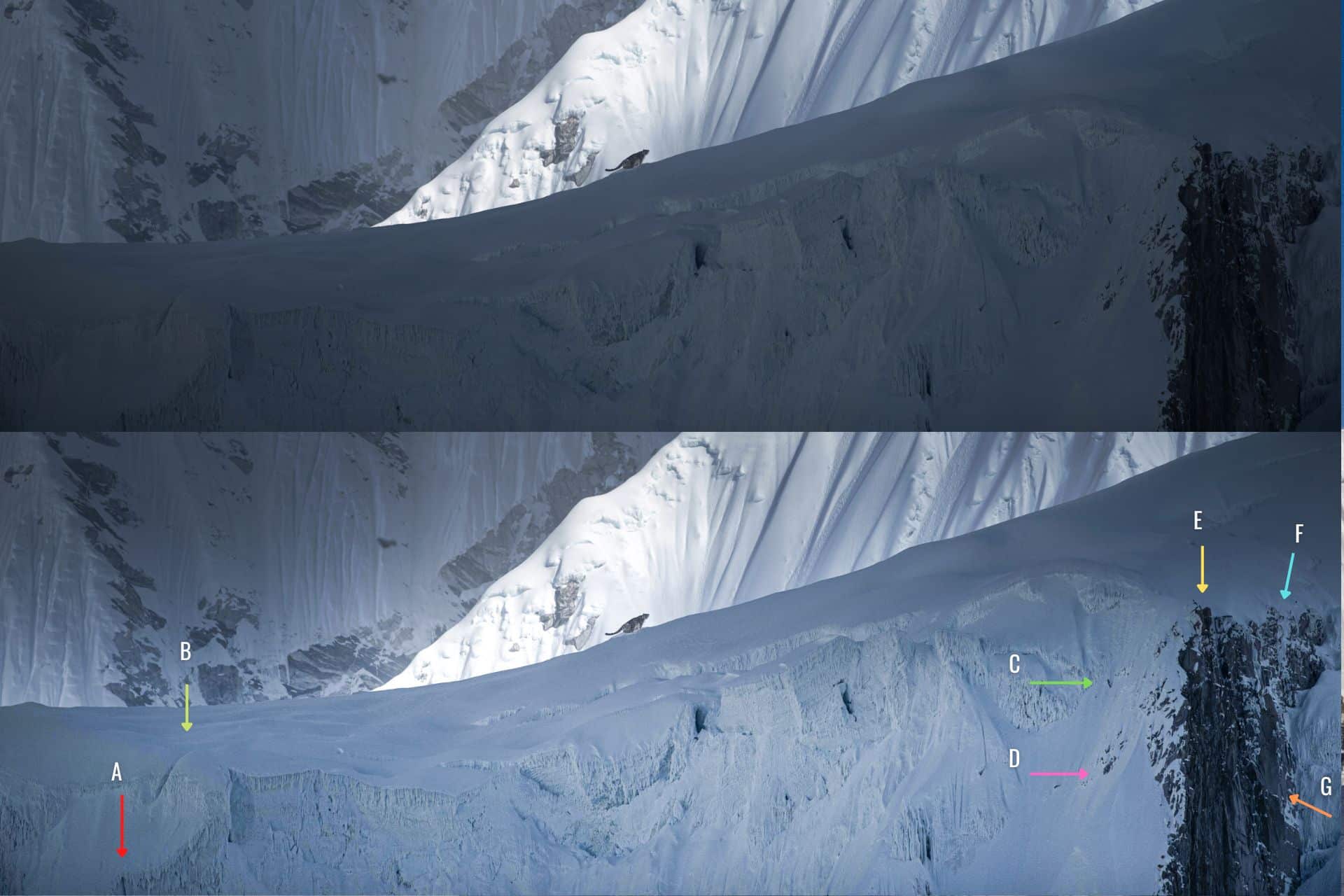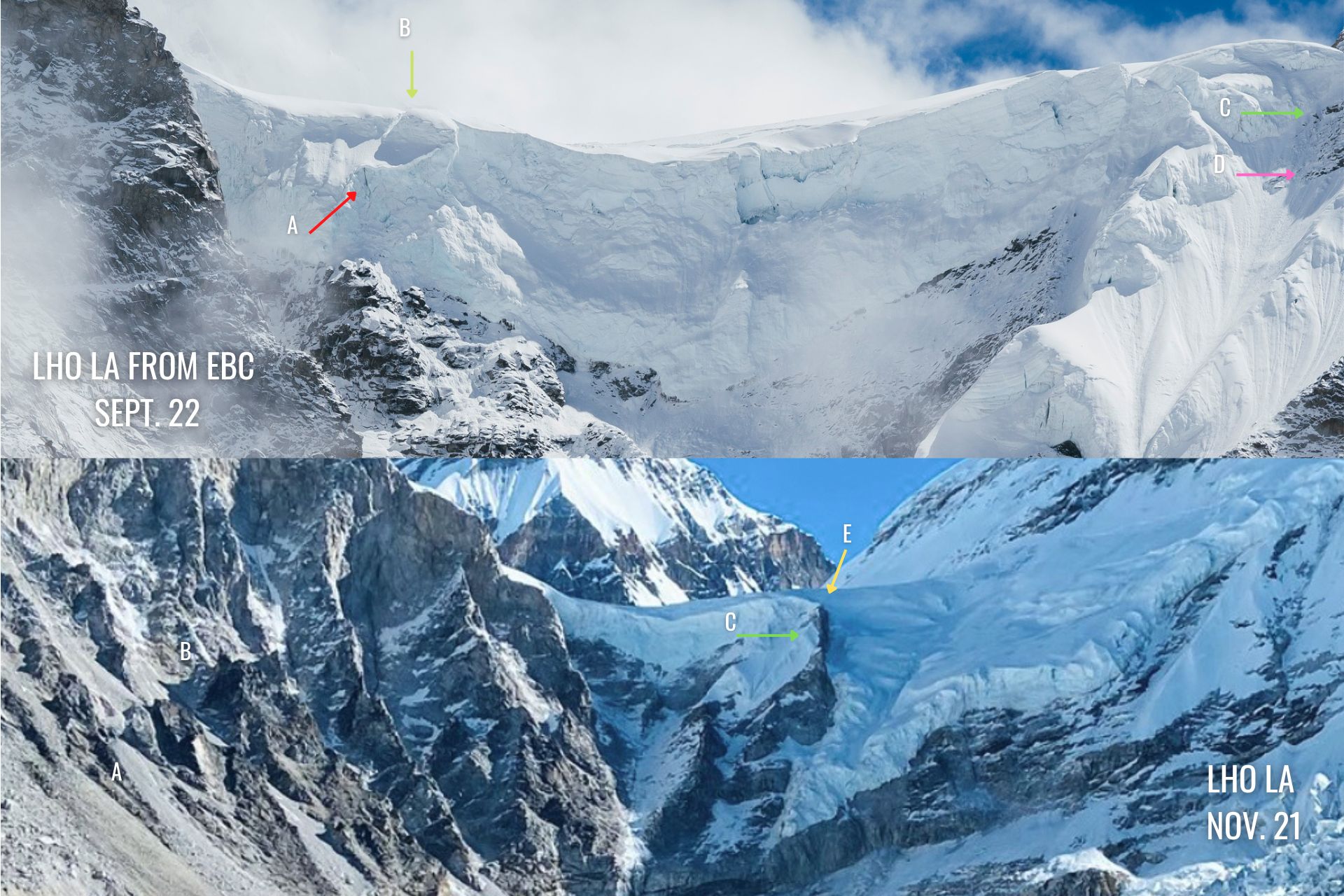 Photo Lho La september 2022 : Facebook Andrezj Bargiel, 09/11/2022
Photo Lho La november 2021 : Flickr Gokarna Magar
(annotations Alpine Mag)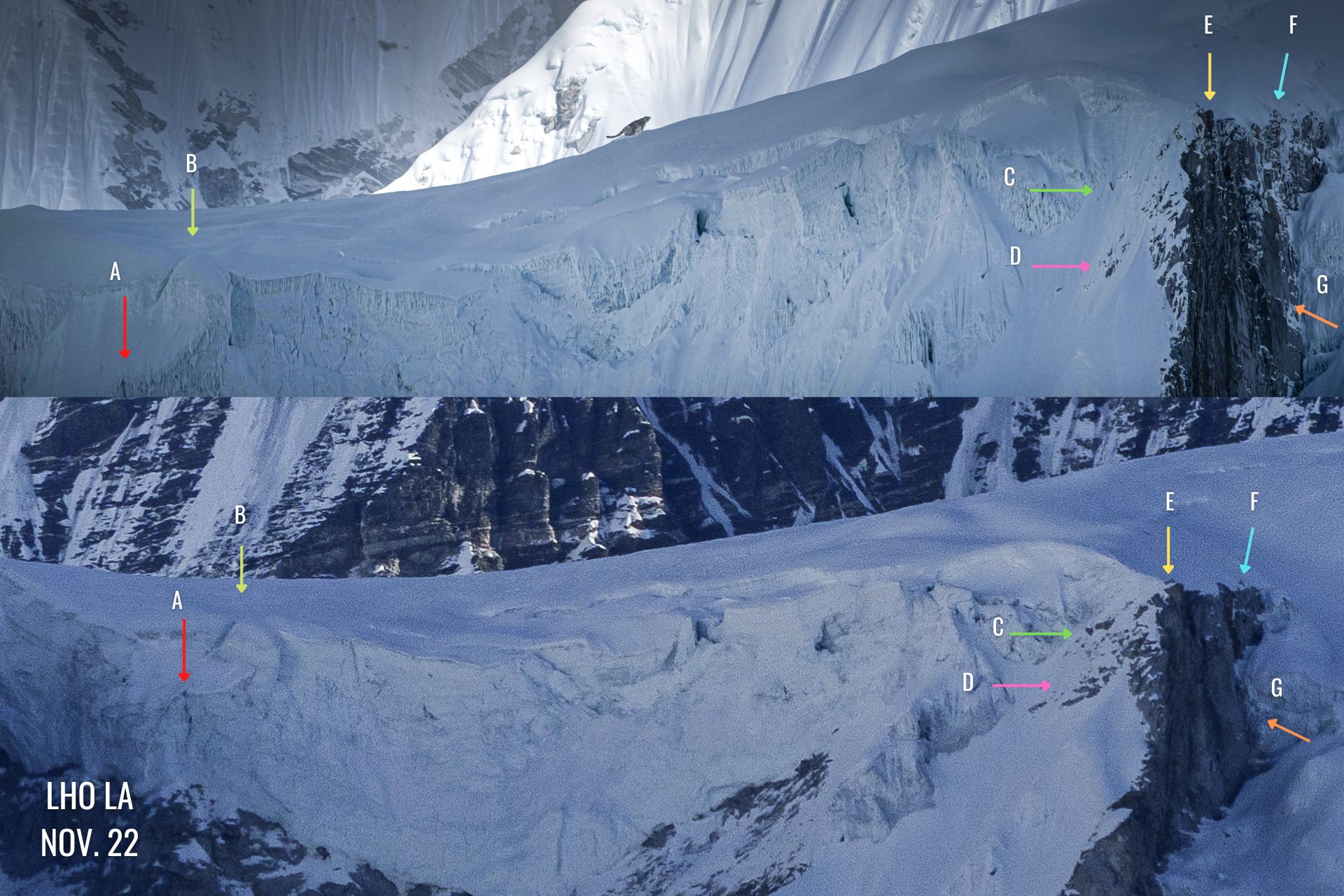 Another proof from November 2022. Look closely to the background, different from Pawlowski's pic. ©Christophe Angot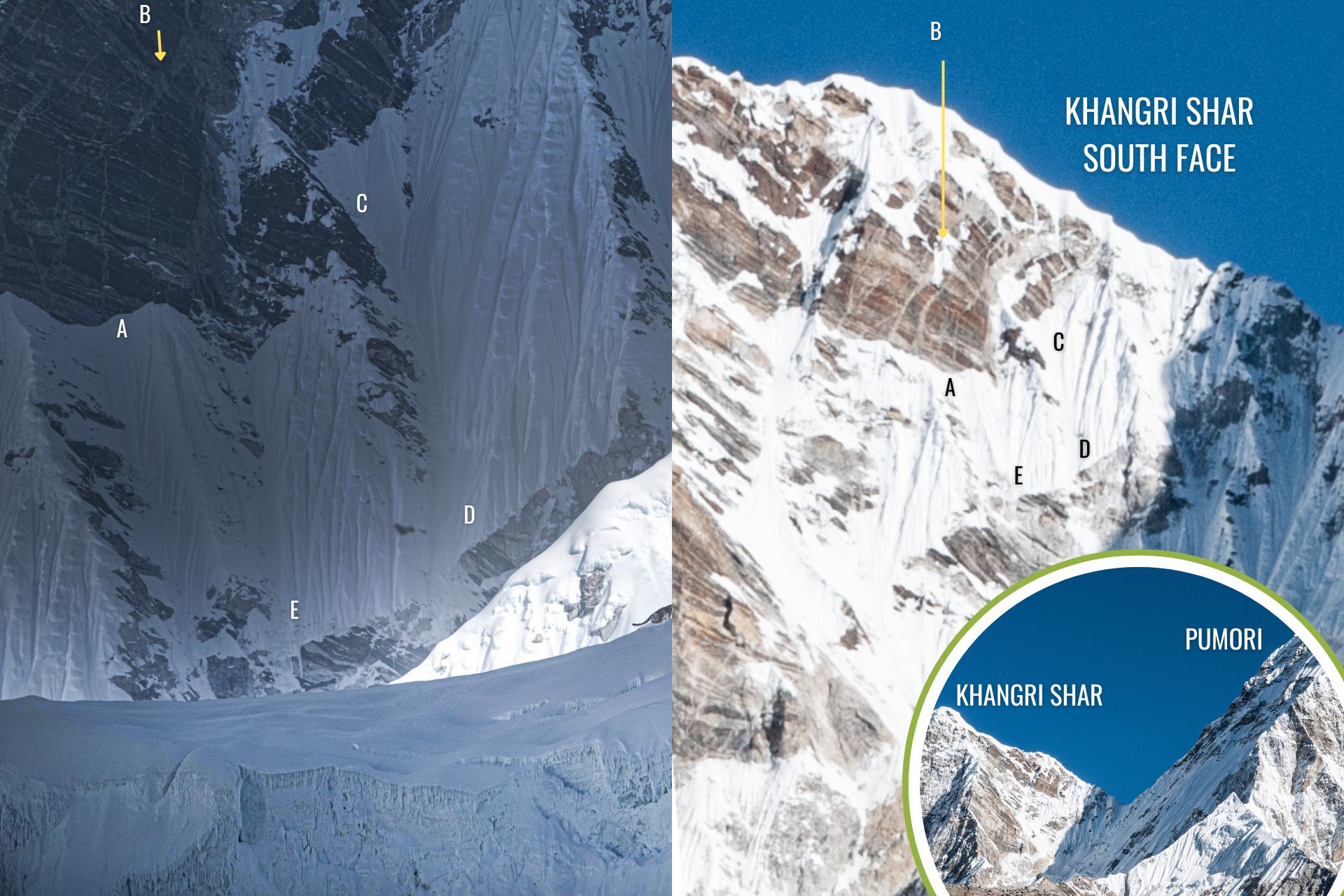 On the left : the upper part of Pawlowski's pic. 3. On the right : the exact location of it ©J. Chavy, Khangri Shar, South Face, located left of Pumori, and behind the Pumori satellite summit that was used by Pawloski to make the vertical photo. 

Another photomontage : vertical photo with snowy mountain N°1
It is perhaps the most seen and shared photo: the vertical one showing the snow leopard (always tiny) and a background of snowy mountain very aesthetic and imposing.
In reality, this summit which seems immense is a very small satellite south of Pumori, a 7161m summit located just above the famous viewpoint of Kala Patthar. Thanks to the effects of a powerful zoom lens such as the 500mm or 600mm used by Pawlowski, the shots are crushed and the small becomes large. Thanks to Photoshop, the rocks and other surrounding mountains have been erased to make the snowy mountain stand out.
In the foreground, on the right and in the shadow, snowy and rocky slopes that do not exist near this small satellite peak (see our annotations below) have been added, confirming the impression of collages of several photos.
This photo N°1 is therefore also a pure photographic montage.
The Whole World Taken In
On 11 November 2022 the photos went round the world. The few sentences on Pawlowski's Instagram account were translated and presented as unquestionable truth. Even the world's biggest media outlets, including The Times of London, fell into the trap and published them as real photos, as did specialist photo websites such as Petapixel and Chasseur d'images, as well as other organisations, including the American Embassy in Nepal and Instagram's star wildlife photography account Animal Planet.
Here at Alpine Mag, we emailed Kittiya Pawlowski to ask for high resolution copies of her four photos. She replied and sent them within a few hours, enthusiastically explaining that 'I've sold about 50 prints from this series and the majority of them were to France, so I believe this will interest your audience.'  The information contained in the photos (metadata and EXIFs, that is, each photo's identity card) shows that the camera used was a Nikon D850 with a 500-mm Nikkor lens, the same model Pawlowski is holding in the two photos of herself with the suspect background.
None of the snow leopard photos
can be dated
Amazingly, the date of the photograph is given as 01/01/2018. Every photographer, whether amateur or professional, knows how important that setting is. Date and time are usually set when the camera is bought and remain correct, even if the camera's battery dies. 
Conclusion: None of the snow leopard photos can be dated. 
To clarify things further, we asked 'Pawlowski' to send us one or two unalterable source-files for the photos, in RAW or NEF (Nikon Electronic Format) format. She has not replied. 
A Question of Honesty
Our investigation of these photos too good to be true has revealed a bundle of evidence in which each element is insufficient on its own but which, taken together, paints an eloquent picture. 
Our work has only begun, and we will eventually put together all the pieces of this puzzle. 
People who have bought prints of her work
will have to accept that they have bought digital paintings built from scratch
Graphic art is a specific field of photography. 'Kittiya Pawlowski' appears to have entered a lot of photo competitions in this field. But her work must be identified as such and not presented as wildlife or documentary photos. Vincent Munier puts it very well: 'This is serious and it's important to call it out, otherwise it'll get worse and worse. It works, she has written a good article and she's boastful. It's the quest for great photos. It's both incredible and sad.'
People who have bought prints of her work, paying up to €1500 on an art gallery website, will have to accept that they have bought photomontages, digital paintings built from scratch.
Many Questions Still Require Answers
Several points remain unclear. Unless 'Kittya Pawlowski' explains her work openly, more work is needed to determine: 
Where did the pictures of the snow leopard come from?
Does Kittiya Pawlowski, whose Instagram pseudonym is the evocative 'Girl_creature', really exist?
More difficult: where do the pieces of the picture showing the sitting panther (not reproduced here) come from? Moraine in the foreground, cracked glacier in the second, and in the middle, still this panther which must have been borrowed somewhere….